Don't forget to vote for My Judy the Foodie in the Top 25 Foodie Moms 2013 Contest.  You can vote 1x per 24-hour time period until 6/4/13!! So, go ahead spread the word and, vote here!
It's almost officially SUMMERTIME!
School is winding down and my kids are ready to take full advantage of their carefree days.  Not only are we breaking out the super high SPF sunscreen, we're also tweaking our grocery list and stocking up on essentials so we're prepared for any impromptu summer picnics and grill outs.  Because we live in the concrete jungle of NYC, where our "back yard" is shared with hundreds of strangers, we seek out every opportunity to escape the hustle and bustle of the city, to go east and hang out and grill out.  Plus, our annual garden planting takes place in two weeks!
As I'm constantly learning each new summer, it's important to stretch your imagination at the grill and to try to break the meat barrier.  And, there are plenty of veggie and fruit side dishes I've leaf-eared for our summer repertoire which I hope make it on to your summer BBQ hit list too.  So, enjoy, there's lots more to come.
Do you have any unusual summer recipes for your grill?  Share them with us!
In the meantime, try these recipes:
Grilled Ribeye w/ Coca-Cola Reduction (created by Daniel Nemec of Kirby's Steakhouse in Atlanta)

Makes 4 servings
Ingredients:
4 8-ounce Premium Ribeye Steaks
¼ cup cracked black pepper
Truffle salt to taste
Steak Sauce
2 liters of Coca-Cola
2 cups veal or beef stock
Instructions:
Coat steaks with black pepper and salt to taste, cover and set aside, allow the steaks to rest for 30 minutes.
Preheat your grill and let it heat to medium high.
In a medium sauce pan combine Coca-Cola and beef stock, reduce mixture by 2/3.
Grill steaks until desired temperature is reached.
Plate the steaks and ladle the sauce equally on top of each steak.
Plate steaks and ladle the sauce equally on top of each steak.
Grilled Potato Salad (created by chef Daniel Nemec of Kirby's Steakhouse in San Antonio)

Makes: 4 servings
Ingredients:
Salad Dressing
1/4 cup mayonnaise
2 tablespoons Dijon mustard
2 tablespoons steak sauce
2 tablespoons brown sugar
Potato Rub Seasoning
2 teaspoons celery salt
2 teaspoons white pepper
2 teaspoons paprika
2 teaspoons garlic powder
2 teaspoons onion powder
2 teaspoons fresh thyme, chopped
2 teaspoons fresh rosemary, chopped
4 large potatoes, diced into medium pieces
1 large sweet yellow onion, sliced onion ring style
2 large jalapeno peppers, cut in half and deseeded
1/4 cup olive oil
8 slices thick cut bacon, cooked and diced
Instructions:
In a medium bowl, combine salad dressing ingredients, set aside and refrigerate.
IN a small bowl, combine potato rub seasoning ingredients, set aside.
Preheat grill to medium heat.  If using charcoal, until briquets are consistently ashed over.
In a large bowl combine potatoes, sweet yellow onions, jalapeno peppers, potato rub, seasoning and olive oil.  Mix until ingredients are completely covered.
Place mixture on a grill basket and grill until potatoes are fork tender, about 2 minutes.  Cool mixture completely.
Roughly chop the sweet yellow onions and jalapeno peppers.  Mix all ingredients with the salad dressing and serve.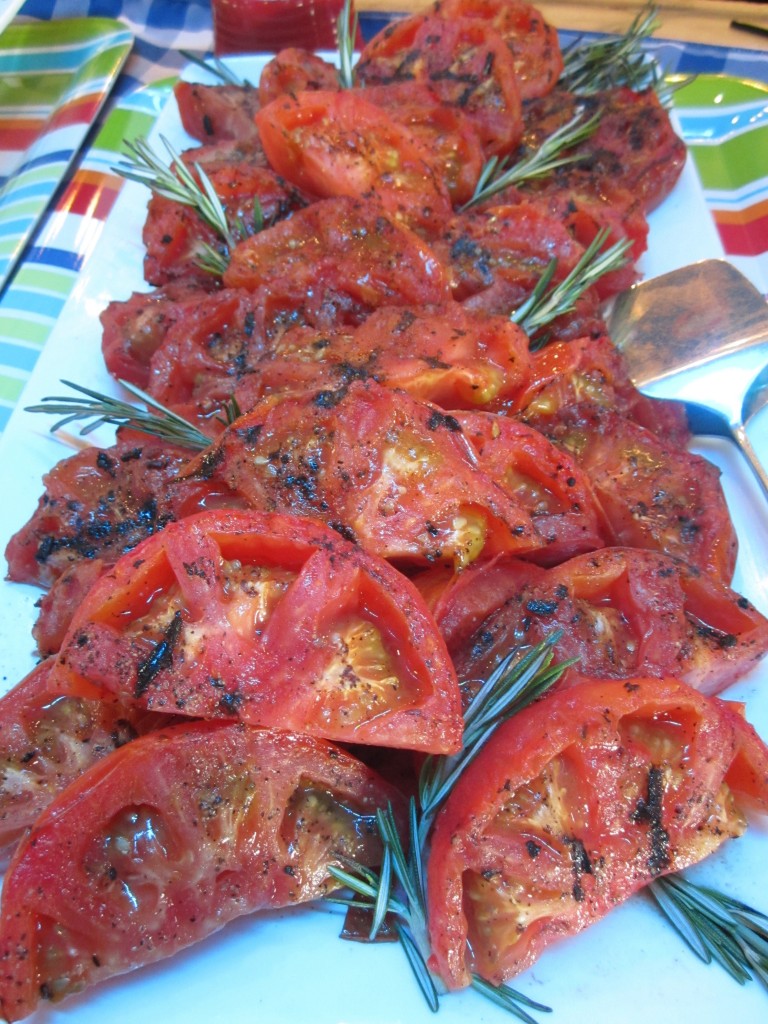 Grilled Beefsteak Tomato w/Himalayan Pink Rock Salt Crust (recipe created by Chef Eric Lackey of Flamestone American Grill in Florida)
Makes: 4 servings
Ingredients:
4 large vine ripe tomatoes – preferably large steak tomatoes
4 ounces Himalayan pink rock salt or rock sea salt
4 ounces olive oil
Instructions:
Trim off top and bottom of tomato and remove core for grilling.
Rub each tomato with 1 ounce oi and 1 ounce salt.  Let stand in refrigerator for at least 2 hours.
Preheat the grill to high heat or, if using charcoal, until briquets are consistently ashed over.
Find hot spot and grill tomato until it starts to blister on top and bottom, about 4 minutes.  Move to medium heat and cook until tender to touch (not mushy and collapsing), about 8 minutes.