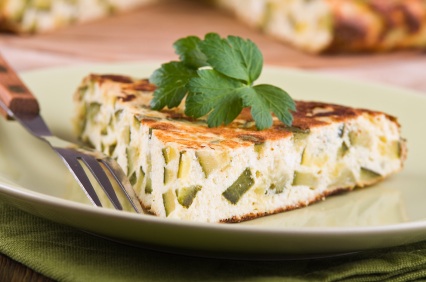 Summer is around the corner.  It's getting warm outside.  With the sticky weather, I've been searching for light, refreshing dishes to make for my family.   Whether I'm blending smoothies, mixing salads, or whipping puddings, the operative word is "light."  So, even though the crock pot was my soulmate this past fall-spring, I'm stowing it away and focusing on planting my garden in two weeks, honing my grilling  skills and enjoying my Ninja blender. Our Wednesday night breakfast-for-dinner theme nights needed some adjustment too. Challah French Toast was our family fave but, the thought of pouring heated maple syrup on anything right now makes me sweat.  Last week I decided to make my first-ever frittata for our breakfast dinner.
I was never able to distinguish between a frittata and a quiche.  I knew quiche has a crust. I also knew my kids loved the zucchini/cheese quiche I served partly because of that crust.  So, I figured odds were on my side that they'd enjoy another egg and cheese based meal.
Having baked both, I finally understand the difference. A quiche is made by adding ingredients to a custard base, a combination of eggs and heavy cream, which gives it a deliciously creamy consistency when baked. (You can replace the cream with half and half or milk to cut the fat.) The quiche usually has a crust, but it doesn't have to.  Eggs get top-billing in a frittata.
Frittatas have no crust and little, if any, milk or cream. Frittatas are cooked first on the stove top, then it's finished in the oven or under the broiler.
Mom definitely baked many quiches but, I don't remember any frittata's gracing our table.  My kids didn't seem very excited at the prospect of eating frittatas either.  However, the smell of the eggs baking with the cheese won them over (and the fact that I told them it's like an omelet but puffier and served in wedge shapes).
The dish is so light tasting yet so compact in texture.  We each ate two generous pie-shaped pieces.  There's no runny cheese to contend with, no scrambled parts making a mess.
It's simply a skillet-shaped egg dish.  And, the best part?
You can make this on a whim because you only need two staple ingredients.
Enjoy…
Zucchini Cheese Frittata
makes 4-5 servings
Ingredients:
1 cup shredded zucchini
1 teaspoon olive oil
3 eggs, beaten
1/4 teaspoon salt
1 cup shredded Mozarella Cheese
Instructions:
In an 8-in. ovenproof skillet over medium heat, saute zucchini in olive oil for 2-3 minutes.
Pour eggs over top; sprinkle with salt. Cook until almost set, 6-7 minutes.
Sprinkle with cheese. Bake at 350 degrees for 4-5 minutes or until the cheese is melted.
Enjoy.