I've taken at least two weeks off from cooking.  Between the end of school year activities, send off to sleep away camp, a trip to LA  and an unexpected surgery, my kitchen has not been used other than to heat pre-made food or to enjoy some carry out.
And you know what? It was ok.  I'm learning that sometimes it's good to take a break from something and take time to regroup.
Well, I'm happy to say that I (finally) got back in the kitchen yesterday.  It's also the first time I've felt up to putting together a meal.
And, I'm so happy I did.
I definitely felt like something was off-kilter.  Believe it or not, I was experiencing some sort of cooking withdrawl.  I missed the part of the day where we sit down as a family and discuss the days' event over a home-cooked meal.  Even though I only have one kid at home while the other is at sleep away camp, I was craving that special meal time and also the satisfaction that comes with serving a home cooked meal.
However, since it was over 95 degrees yesterday, there was no way I was going to cook anything in the oven– too hot outside, too hot inside.
So, I decided to cook some fish.  We've eaten too many variations of chicken and hamburgers and hot dogs for the 4th of July holiday weekend so fish seemed like a nice, light, summery alternative.
I've cooked tuna, salmon, and tilapia with success.  Next on the hit list, Flounder.
There's nothing easier and quicker than Flounder Picatta.  It's simply a filet of flounder cooked with oil, butter, lemon and wine.  It's light, sweet and extremely flavorful.
I actually cooked the flounder on the stove because, like I said, it was too hot to be standing over the grill. And, it's only cooked in the skillet for a total of 5 minutes so you're kitchen won't get too hot either.
I served the fish with rice and kale and it was delicious but really any side would go well with the fish.  Everyone gave it two thumbs up, including my husband who wasn't convinced he'd like it!
See for yourself.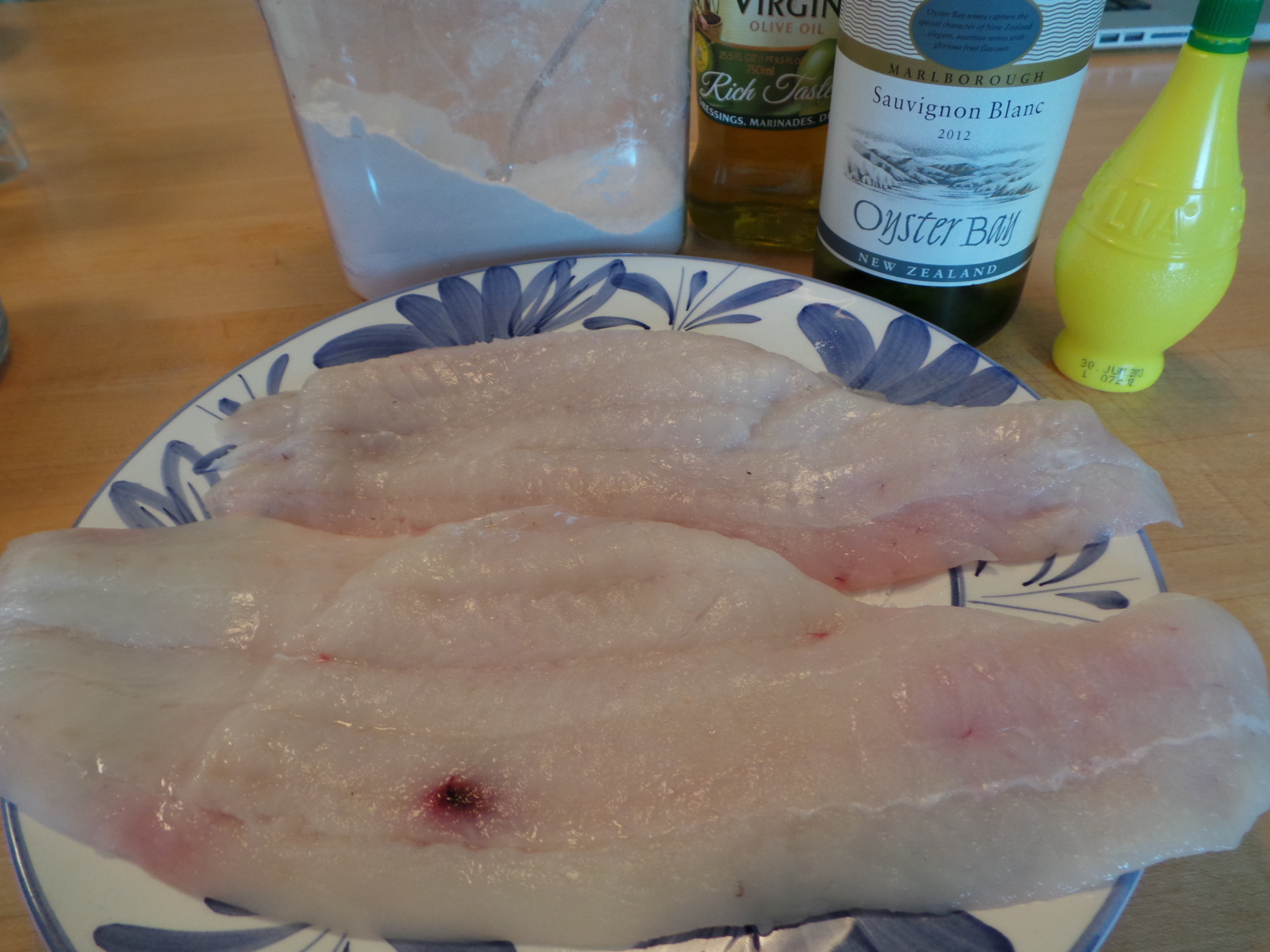 Flounder before
Flounder Picatta
Serves 4
Ingredients:
3 (6-8 ounce) flounder fillets*
1/2 cup all-purpose flour
3 teaspoons olive oil
1/3 cup dry white wine
3 tablespoons fresh lemon juice
2 tablespoons butter
Instructions:
Sprinkle flour onto plate and dredge fish fillets so that each side is completely coated.
Heat oil in a  nonstick skillet over medium-high heat. Add fish to pan and saute approximately 1 1/2 minutes on each side so that  fish flakes.
Add wine, lemon juice and butter to pan and cook 1 minute.
Remove fish and sauce from pan; keep warm.
Add salt and pepper to taste before serving.
*can be substituted with sole, tilapia or any other white flaky fish.