I am thrilled to take part in Dole Bananas "Peel the Love Campaign" celebrating the fun, irreverence and universal "belovedness" of bananas (www.dole.com/peelthelove).
The program includes everything from delicious new banana recipes, serving, pairing and entertaining tips to special content for Dole's more than 600,000 Facebook and Twitter followers.  A main highlight to the campaign is the coast-to-coast Peel the Love Food Truck Tour that has visited the D.C./Baltimore area and seven other banana-loving cities this past summer from Memorial Day through Labor Day!
Since August 21st the Dole truck has been in the New York City area dispensing yummy treats and information.  To capitalize on this celebration, I was encouraged to host a Peel the Love Blogger Home Party for 10 people where I not only got to got to purchase tons of bananas but, I also received a Yonanas Machine, Dole glasses, aprons, bags.  Basically, on one summer afternoon I  went bananas.
I hosted the party when my family was in town visiting from Miami.  I mean, who wouldn't love bananas as much as me than my sister and kids who, according to my kids, live in the "tropics" where they can literally pick bananas from trees.
Everyone was most eager to try the Yonanas machine which makes delicious, creamy, low-cost,healthy frozen banana treats in just minutes.
The dishes we made looked and tasted exactly like soft-serve frozen yogurt. We served our frozen yogurt in our margarita glasses and enjoyed this refreshing treat on one of the hottest afternoons of the summer.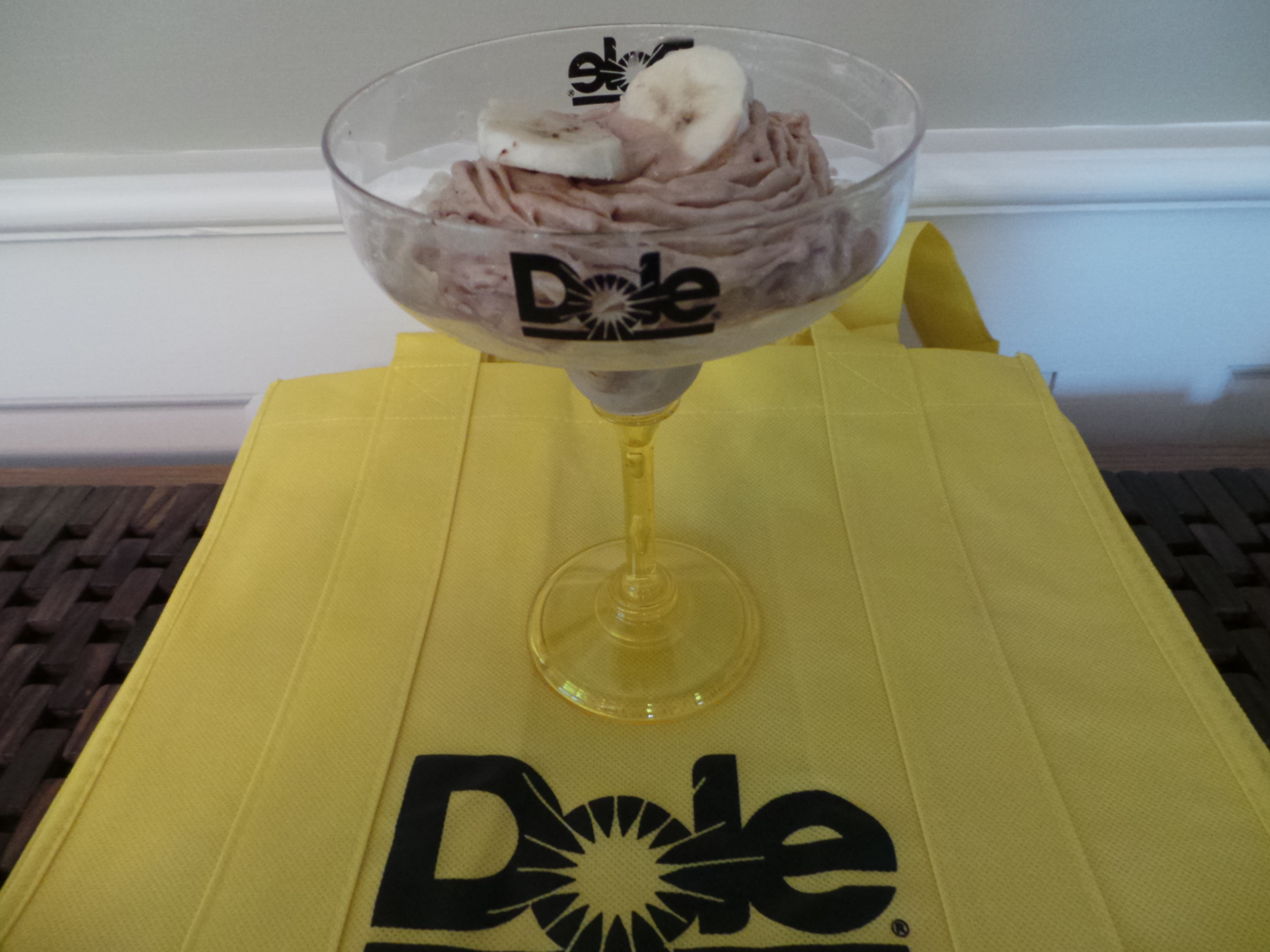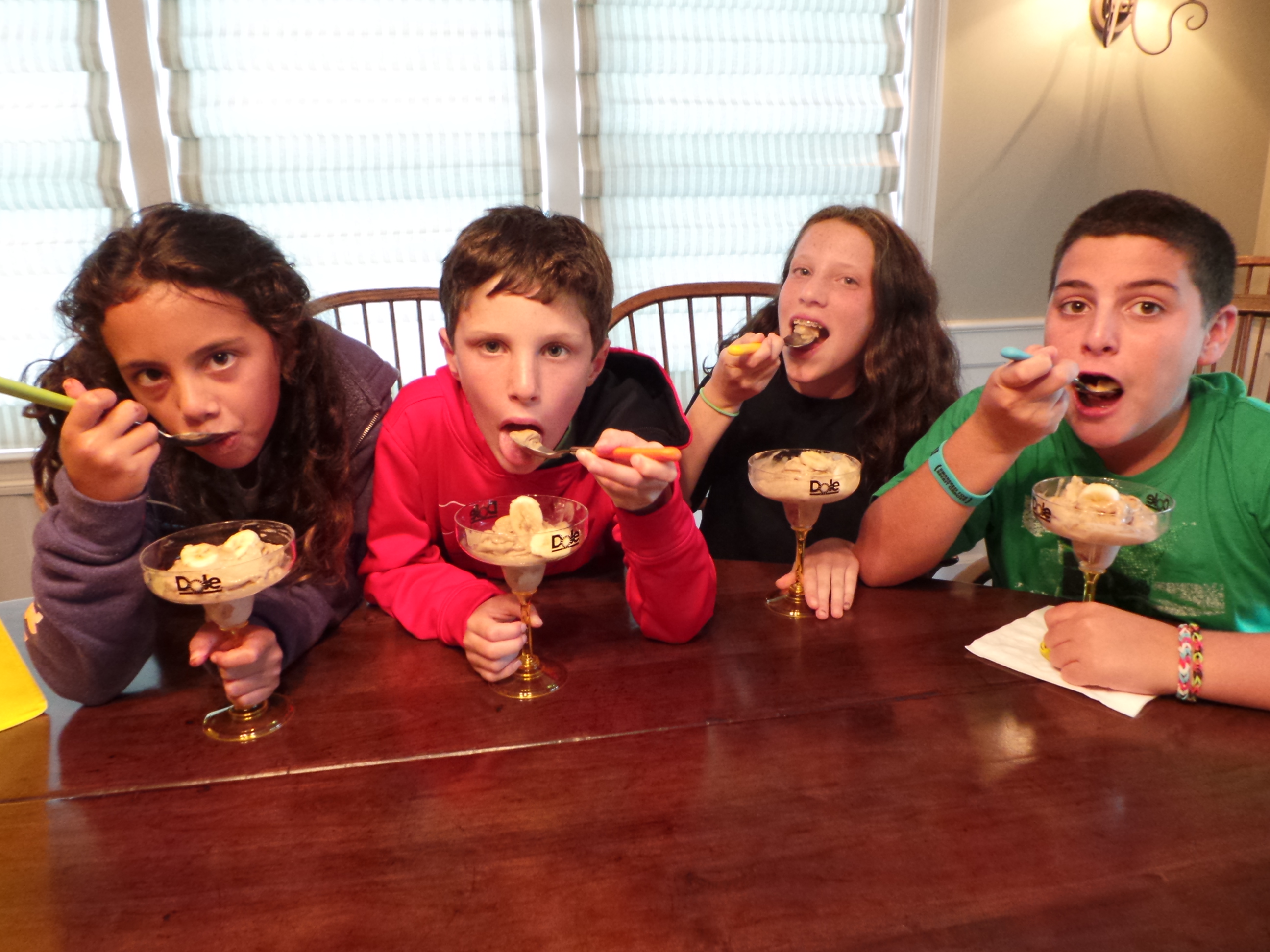 The best part? Our treats were healthy:
Bananas are high in potassium, a mineral that helps in the building of muscles and protein synthesis.
 Bananas contain all natural energy from three natural sugars: sucrose, fructose and glucose. No other fruit contains more digestible carbohydrates.
 Bananas contain NO sodium, fat or cholesterol.
In addition to my kit, I also received a banana-shaped flash drive downloaded with over a dozen DOLE Banana appetizer, salad, entrée, dessert and cocktail recipes created specifically for summer 2013 and the Peel the Love Tour.  We've already earmarked that we're going to make Banana Whoopie Pies with Dulce de Leche as well as frozen Banana Pops.
I must admit, when I was asked to take part in this program, I jumped at the opportunity (also because I'm currently working on my own banana-based promotion for Breast Cancer Awareness month).  I've always supported the Dole brand as it's the top-selling banana in America and the world — in both conventional and organic product categories. The DOLE brand stands for more than 150 years of quality produce — and the world's largest supplier of fresh fruits and vegetables, including bananas. I know Dole strives to grow, produce, harvest, transport and distribute its bananas and other produce in the most environmentally and socially conscious way possible.
My fellow NYC/NJ area readers, summer isn't over yet.  You must check out the Peel the Love truck stop through 9/5/13.  Click here for locations near you.
And if you go bananas for bananas like we do,  you can enter to win your own Peel the Love party pack for 10 people (Valued at $200)
Peel the Love Party Pack Giveaway

One (1) winner will receive a Dole Peel the Love Party Package ($200 value):
$20 in FREE DOLE Banana coupons
One Yonanas frozen dessert maker (a $50 value; for info, go to www.yonanas.com)
One Dole yellow apron
One large yellow serving platter
Ten (10) Dole yellow totes (for each guest)
Ten (10) Dole yellow margarita glasses (for each guest to sample one or several optional banana cocktails)
How to Enter
To enter to win, simply leave a comment in this post telling me what recipe you'd make with bananas.  That's it, you're entered to win!
Additional (Optional) Entries
To up your chances of winning, you can receive up to FIVE ADDITIONAL ENTRIES to win by doing the following (these are optional, not required):
1. Subscribe to My Judy the Foodie by RSS. Come back and let me know you've subscribed in an additional comment.
2. Become a fan of My Judy the Foodie on Facebook. Come back and let me know you became a fan in an additional comment.
3. Follow My Judy the Foodie on Pinterest. Come back and let me know you've followed in an additional comment.
4. Follow @myjudythefoodie on Twitter. Come back and let me know you've followed in an additional comment.
5. Follow @myjudythefoodie on Instagram.  Come back and let me know you've follow in an additional comment.
The Fine Print
Deadline: Friday, September 6th, 2013 at 11:59pm EST.
Winner: A winner will be chosen at random using Random.org and announced at the top of this post. The winner will also be notified via email and the My Judy the Foodie fan page on Facebook; if the winner does not respond within 24 hours, another winner will be selected.
Disclaimer:  I was not compensated to write this post.  Dole Bananas did provide me one Peel the Love Party Kit for purposes of this post.  All opinions expresses in this post are my own (as always).