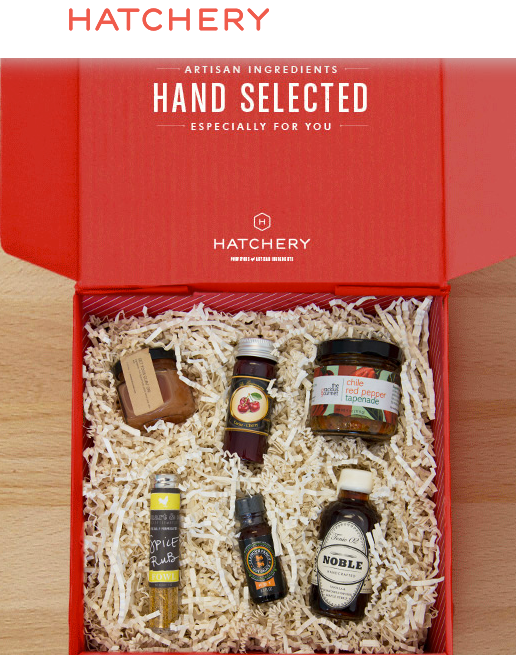 Quite unexpectedly, writing this food blog has provided me the opportunity to work with a variety of national and local brands. Whether it's testing out new appliances, cooking with specific ingredients, or helping to raise awareness for a new campaign/program, I've completely widened the aperture in my own culinary journey (and hopefully yours too).
One of my newest discoveries is a company called Hatchery:

Hatchery is a program where subscribers receive a delivery of curated, sample-size artisan ingredients and condiments to their doorstep every month.
I received my first box last week and thoroughly enjoyed the combination of ingredients.  The particular box featured hand-selected and meticulously wrapped (to avoid breakage when shipping)  jelly, peach chutney, marinara sauce, dark chocolate malted fudge and spices.  However, the boxes each month can include any number of ingredients like: vinegars, oils, spreads, cooking sauces, honey, syrups, salts, and other specialty baking ingredients.
Let's be honest, the marketplace is flooded with myriad subscription box companies. I am sure you're probably wondering, what makes Hatchery so unique?
Hatchery actually deploys a dedicated team of people who travel across the country, sifting through green markets, visiting family farms and literally traveling dirt roads in search of the most incredible flavors to share with its members every single month.  Many times, these small-batch partners don't even offer their products in sample sizes so they actually produce smaller sizes solely for the Tasting Boxes!
Some other important details to $20-a-month (shipping included!) Hatchery membership:
Hatchery members receive 5-6 sample size artisan products each month.
Members can purchase full-size versions of their favorite sample products from Hatchery's online marketplace.
Hatchery takes it one step further and provides easy-to-master recipes (and printable shopping lists) so that you can continue to enjoy each of the products in the tasting boxes beyond just the sample.
Hatchery's online magazine is full of video how-to's, kitchen tips, chef tutorials, tastemaker profiles, producer stories and more.
Hatchery's online marketplace and magazine are available to everyone but, the subscription members receive exclusive access to limited edition products, special promotions, and shipping discounts, in addition to their monthly tasting box delivery.
I have yet to have a positive experience with food-based subscription boxes. Most often, I've found that the actual product samples were so esoteric, I would never actually use them in my day-to-day life. I'd find myself pawning off the miniature samples to anyone who'd take them.  Otherwise, they'd get stowed to the back of my pantry, never to be seen again (until the next clean out).
But, Hatchery is so dedicated to providing tasty artisan ingredients that can actually be used in traditional, easy-to-make recipes. And, they take it many steps further to insure that their subscribers will find recipes with their featured ingredients; they'll even provide ways in which to use them. If you like a product, you won't have to start a scavenger hunt across the US, you can simply click over to Hatchery's online marketplace where you'll also find full–sized versions of your favorite products as well as detailed  descriptions and relevant information.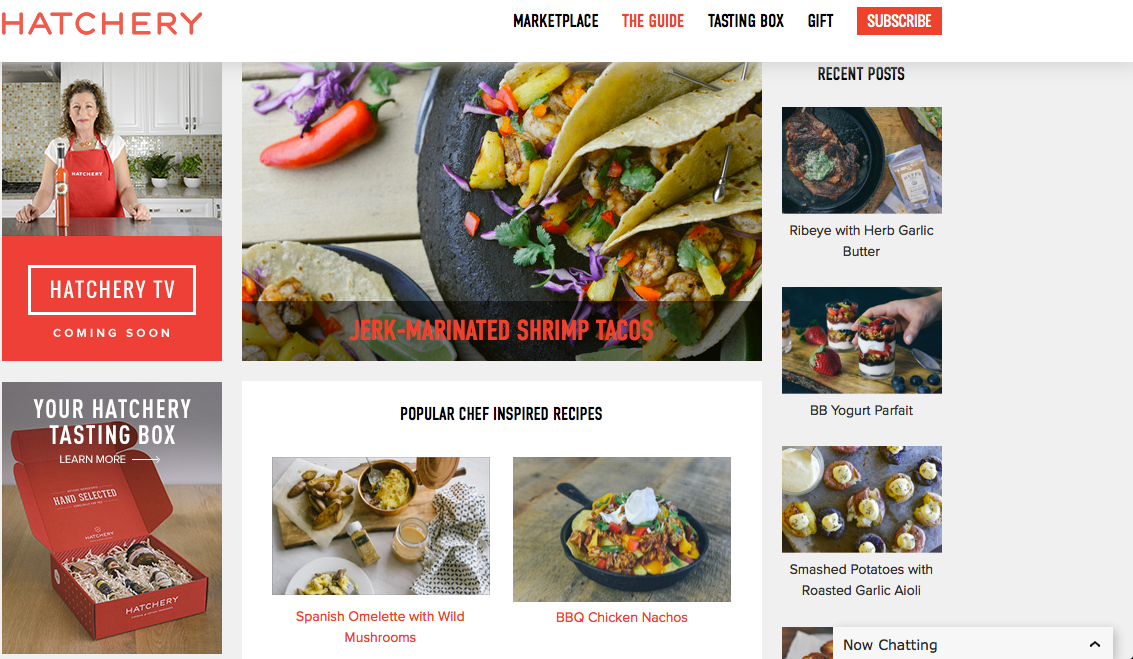 If you're interested in exploring an entirely new world of ingredients created by passionate artisans all over the USA, then the Tasting Box from Hatchery is a great deal.  You'll receive quality-curated items hand-selected from a very passionate team every single month.
To request an invite from Hatchery, click here.
PS -I used The Virginia Chutney Company's Hot Peach Chutney (from my Hatchery box) in Mom's Chicken Salad recipe and it tasted divine and refreshing.
Chicken Salad with Hot Peach Chutney
Ingredients:
For the Salad:
4 boneless, skinless chicken breasts (about 2 pounds), rinsed patted dry with paper towels
2 tablespoons mayonnaise
¾ cup The Virginia Company's Hot Peach Chutney
4 scallions (white parts plus 2 bunches of green), thinly sliced
1 carrot, shredded
1/2 cup sliced almonds
1 1/2 cups snow peas, rinsed and cut into julienne strips
1 tablespoon minced fresh cilantro, plus extra whole leaves
salt and freshly ground pepper to taste
lettuce leaves (such as Boston lettuce) (optional)
Instructions:
Bring a large pot of water to a boil.  Add the chicken breasts and cook until the chicken is almost cooked through, about 7 to 9 minutes, depending on thickness of the breasts. (you'll want to slightly under cook them as they will continue to cook when you remove them from the water).
Remove the chicken from the pot.  When it's cool enough to handle, tear the chicken into pieces that are roughly 1-inch-wide (bite-size) chunks.
In a large bowl, mix 3/4 cup hot peach chutney with the mayonnaise and scallions.  Add the chicken and toss to coat.  Add the shredded carrot, almonds, snow peas, and minced cilantro and toss again.  Season with salt and pepper.  Serve in a bowl lined with lettuce leaves and garnish with whole cilantro leaves.  Enjoy!
Disclaimer:  This post is sponsored by Hatchery. All opinions expressed in this post, are 100% my own.