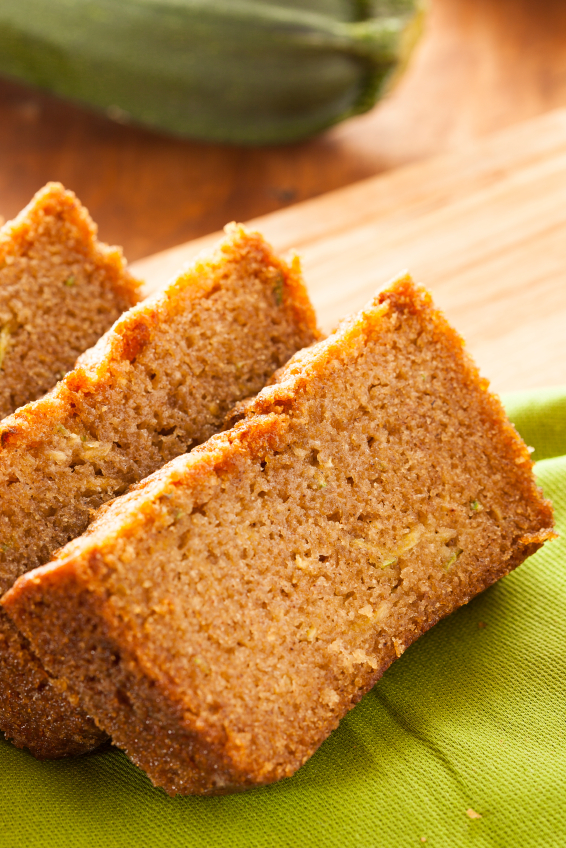 Today is apparently National Zucchini Bread Day. I am not sure who dedicated this day to my favorite green veggie, nor have I seen it marked on any printed calendars but, who cares. It gives me an excuse to bake one of my favorite breads (aside from Mom's Banana Chocolate Chip Loaf).
My go to fail safe recipe for Zucchini Bread is always taken from Sheila Lukin's Silver Palate. Usually by the beginning of August, our garden is bursting with over-sized zucchinis.  Therefore, it's not unusual to find one or two freshly-baked Zucchini Breads on the cooling rack every week.
For today, I was eager to try a recipe from a local chef, Maria Zoitas, creator of "Maria's Homemade" line of prepared food sold exclusively at Westside Market in NYC (one of my neighborhood faves).
Easy-to-prepare, Maria's recipe is savory and sweet and perfect for a mid-day snack or an after-dinner treat or for breakfast too. Basically, we've been eating it round the clock. It's light, super moist and spongy.  In other words, it's perfectly wonderful.
Definitely put this on your to bake list.
Zucchini Bread
Makes 2 9×5 loaves
Ingredients:
3 ¼ cups of all-purpose flour
1 ½ teaspoon salt
1 teaspoon nutmeg
2 teaspoons baking soda
2 teaspoons ground cinnamon
3 cups sugar
1 cup vegetable oil
4 eggs
1/3 cup water
2 cups grated zucchini
1 teaspoon lemon juice
Instructions:
Preheat oven to 350 degrees.
In a large bowl combine flour, salt, utmeg, baking soda, cinnamon and sugar.
In a separate bowl combine the oil, eggs, water, zucchini and lemon juice.
Mix ingredients from both bowls.
Fill 2 9×5" loaf pan (sprayed with nonstick spray) and bake for approximately one hour.