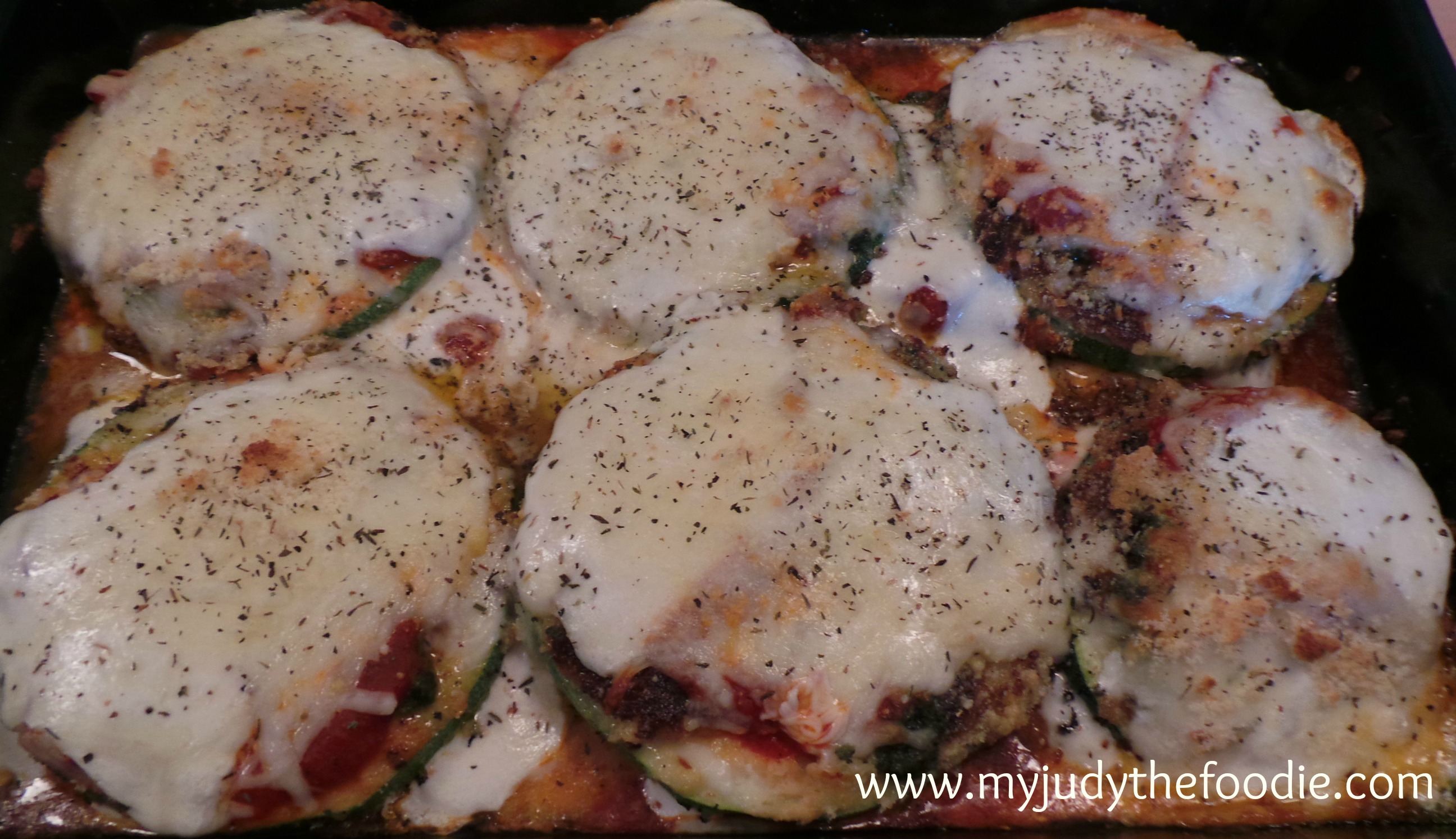 It's nearing the end of summer and it's hard to believe that many kids have already gone back to school.
In addition to the requisite back-to-school photos in my feed, there have been an equal number of over-sized homegrown garden zucchini shots too.
From experience, it's hard not to boast a handsome crop.  In fact, a few years ago, our garden yielded a 22″ zucchini that was so big, my son needed to hold it with two hands….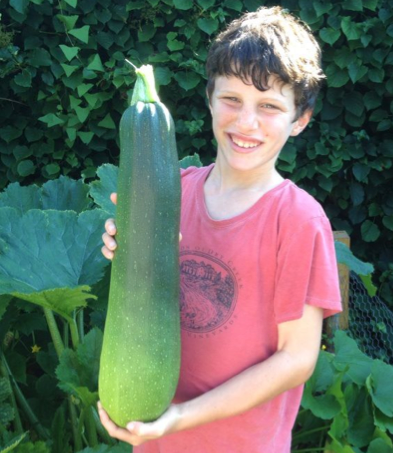 summer 2013
summer 2013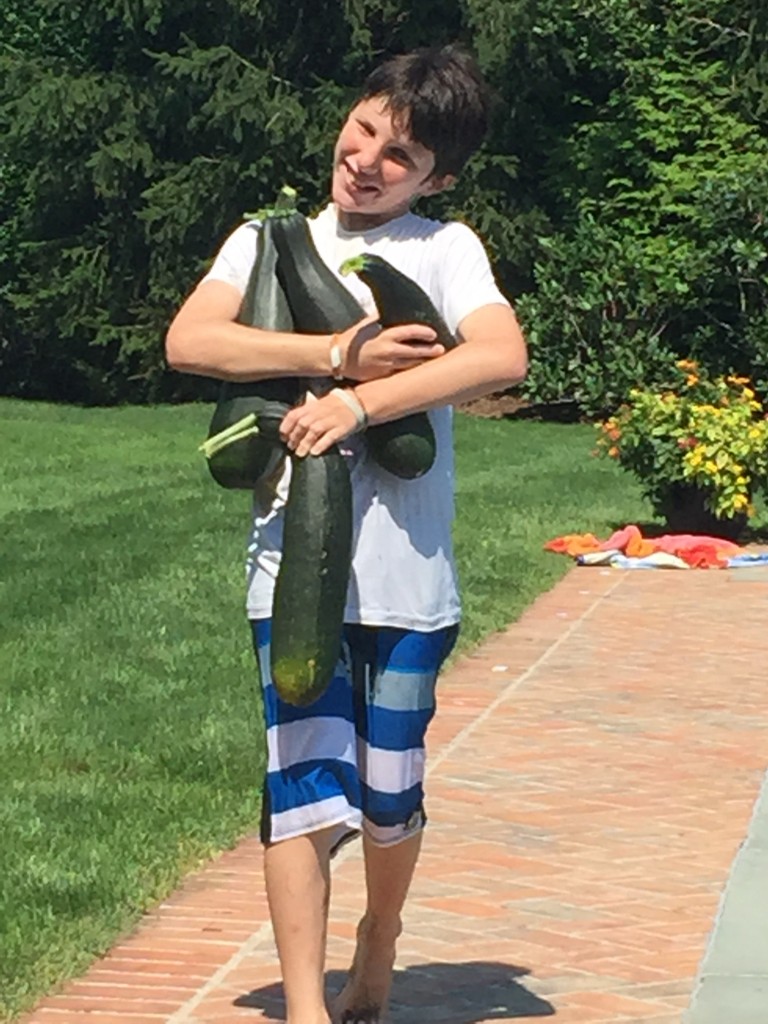 summer 2015
What was more thrilling was that, from just one massive zucchini, we were able to make three different dishes.
In addition to the Chocolate Zucchini Cake that we love, we also make our version of Zucchini Parmesan.
In my family Chicken Parm is our celebrated dish but Veal Parm and Eggplant Parm come in close seconds.
Zucchini Parmesan is exactly what it sounds like:  substitute the main ingredient in your regular Parmesan dishes with zucchini.
It's that simple.
We started out by cutting substantial disk-shaped pieces from the zucchini.  You need to make sure your zucchini pieces are as thick as a piece of meat or eggplant.
Then your following steps are easy and a very fun activity for kids (if you don't mind some mess):  cover pan with zucchini disks, coat zucchini with tomato sauce, spread some pesto, layer over top with mozzarella cheese, sprinkle Parmesan and repeat until you've reached the top of your pan.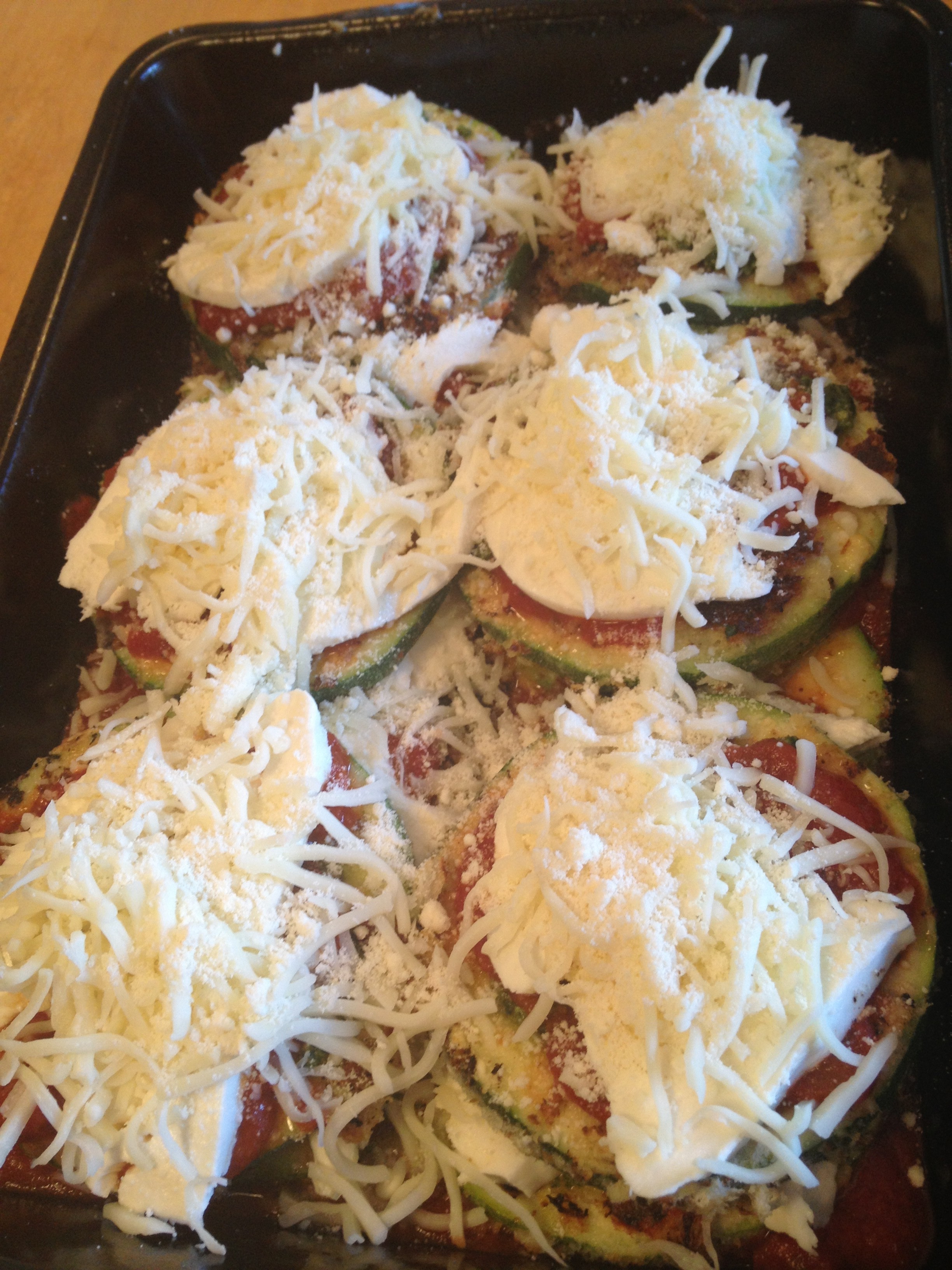 After just a short time in the oven, we were ready to eat.
I must say, I was a little skeptical of how this dish would taste but soon remembered anything slathered in tomato sauce and lots of cheese is always a crowd pleaser.
This dish was amazing– cheesy, tangy –and the zucchinis were meaty enough that we were truly full after one portion (something you'd might not expect from a veggie-based dish).
In fact, this dish was so good, my son requested it to be reheated the next day for lunch!
Zucchini Parmesan
serves 6
adapted from Food Network Magazine
Ingredients:
2 large zucchinis
3/4 cup all-purpose flour
2 large eggs
1/3 cup milk
2 cups panko breadcrumbs
3/4 cups grated Parmesan
1 clove garlic
1 cup olive oil for frying
1/2 cup fresh pesto
1 bag freshly shredded mozzarella
Instructions:
Preheat the oven to 400 degrees. Cut the zucchini into disks 1/4 inch thick.  Put the flour in shallow dish.  Whisk the flowers and milk in another dish.  In another dish combine panko, breadcrumbs, Parmesan, garlic, salt & pepper to taste.
Dredge zucchini in flour and shake off the excess. Dip in the egg mixture, turning to coat; let the excess drip off.  Dredge in the panko mixture making sure it sticks on both sides.  Set aside.
Heat olive oil in large skillet over medium-high heat.  Add the zucchini in batches and fry until golden brown (3 minutes per side).  Drain on paper towels.