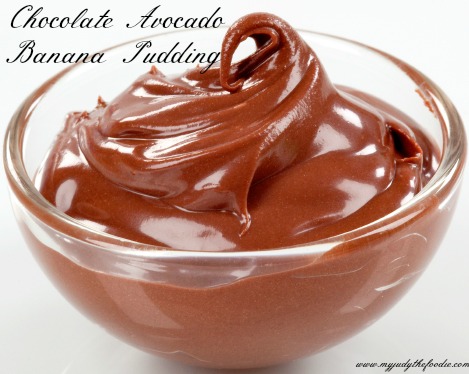 Finally, the temperature soared into the low 80's this weekend. New York City was bursting with people who seemed to come out of an extended wintry hibernation. Every last remaining patch of grass was reserved for picnic blankets and strollers, bubble blowers and panting canines.
Every year, it's like clock work.  With he warm weather comes my quest to create  cool treats that are as refreshing as they are healthy. We're trying to avoid the weekend multi-visits to the ice cream cart that always overcharges and under delivers.  An argument always ensues when my kids plead with me to buy the artificial Dora the Explorer ice cream with bubble gum eyes.
That's why I was thrilled to find an Avocado Chocolate Banana Pudding recipe over at Oh Snap Let's Eat. I've made Avocado Pudding before but, this recipe celebrates the addition of coconut milk and bananas — two ingredients my family independantly loves. The best part about this particular recipe? It takes only 10 minutes of prep time and 5 minutes of cook time. And, you should probably have most of the ingredients in your stocked pantry.
The pudding is quite refreshing, very flavorful and, you can't even taste the avocado. You don't have to give it top billing if your family isn't't avocado fans. If you get adventurous, you could even turn the pudding into frozen pops!
Try it for yourself.
Chocolate Banana Pudding
from Oh Snap Let's Eat
Prep Time: 10 minutes
Cook Time: 5 minutes
Yield: 2 servings
Ingredients:
1 ripe avocado
2 bananas
1/4 cup cocoa powder
1-2 tbsp honey (optional if using sweetened cocoa powder)
Sprinkle of chocolate chips (optional)
0-1/4 cup of coconut milk (optional, explained later)
Instructions:
1.  Half your avocado, remove the pit and skin.   Cut it up in to a few pieces so it fits in to your blending device (next step).
2.  Peel bananas and slice into small pieces/
3. Throw avocado, bananas pieces, cocoa poweder and honey into blender and blend.
4.  After everything is blended well, add some coconut milk if you want a thinner 'liquidy' consistency.
5.  Sprinkle some chocolate chips, shaved coconut  (totally optional) or anything else on top and enjoy!