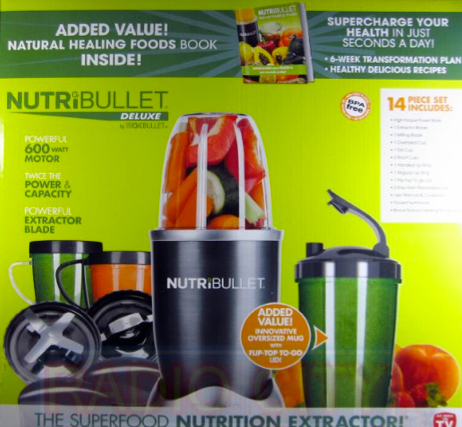 We bought a Nutribullet almost a year ago and it's safe to say our breakfast routine has completely changed for the better.  We make smoothies and shakes and are constantly coming up with new concoctions to blend in our appliance.  Living in a NYC apartment, we don't have a ton of storage room in the kitchen so the Nutribullet is ideal.  It's small in size but I promise, quite powerful in function.  Not to mention, whatever you choose to make or blend in the Nutribullet can then be taken on-the-go so it's truly adaptable to your any lifestyle.
It has a powerful 600 watt motor and extractor blade that can open seeds, crack through stems, shred skins, and access hidden nutrients in food. It breaks down food to its most digestable state so you can drastically improve your health and energy levels. The unique combination of the all-new NutriBullet® Extractor Blade and our exclusive Cyclonic Action generate the power to break down, pulverize and emulsify foods so you can access the hidden nutrition inside.
Check out these other cool features to the Nutribullet 14-Piece Nutrition Extractor 600 Watt Blender Juicer:
Effortlessly pulverizes fruits, vegetables, super-foods and protein shakes.

Powerful high-torque 600 Watt motor power base.

Power, patented blade design with cyclonic action.

BPA-Free, Non-Toxic Plastic. No phthalates, No bisphenol A.

Includes a power base, 1 tall cup, 2 short cups, 1 handled lip ring, 1 non handled lip ring, 1 extractor blade and 1 milling blade, 2 re-sealable lids, 1 Flip-top to-go lid with oversized mug, pocket nutritionist, natural healing foods book and manual
So, have I whet your virtual thirst?
Want to win one for yourself to help kick off the summer season with shakes and juices?
Enter here:
a Rafflecopter giveaway