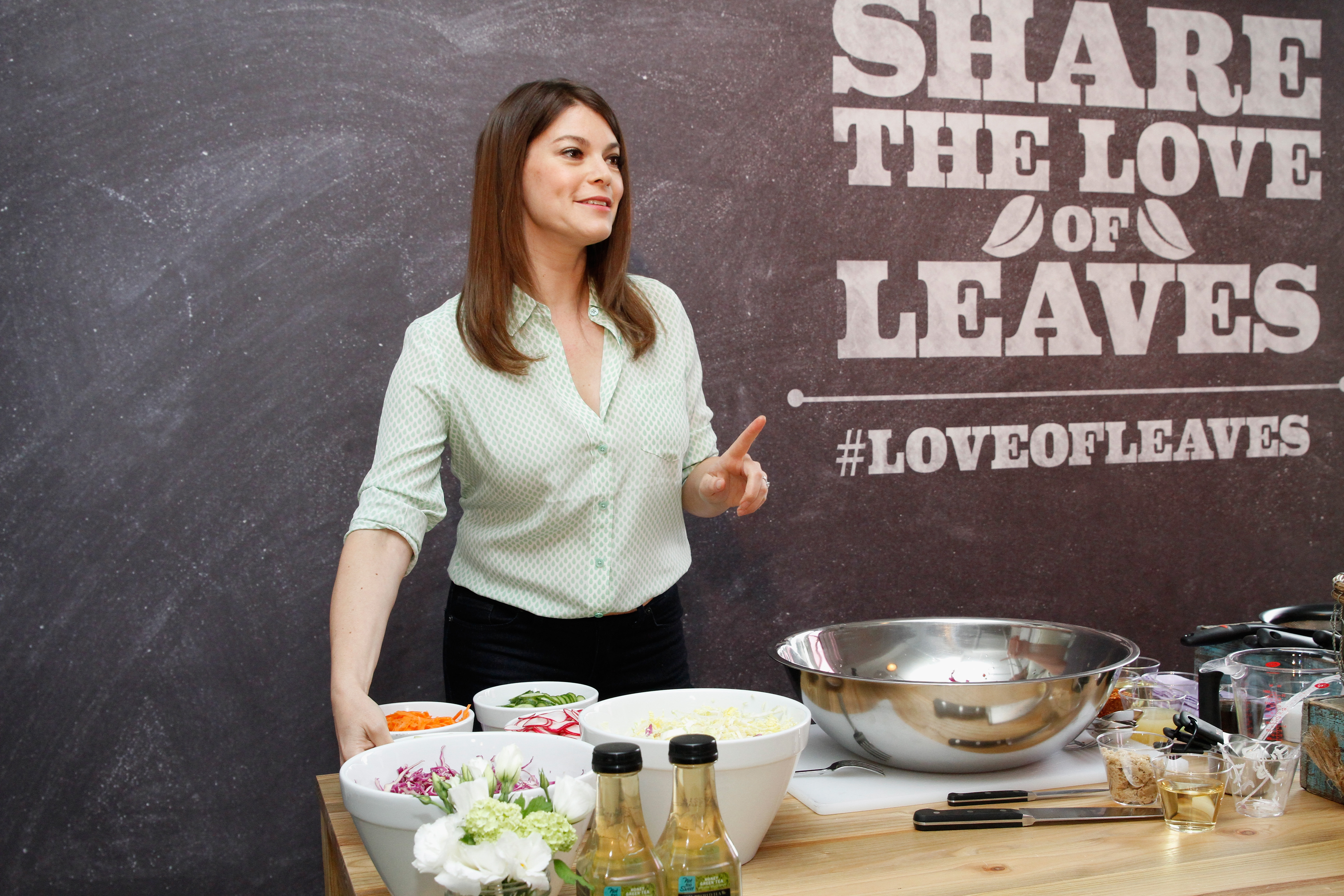 Living in NYC, I am certainly spoiled when it comes to accessibility to farmer's markets.
Every weekend there are two farmer's markets that set up their stands with gorgeous organic fruits and vegetables within 10 block of my apartment. I had never really given too much thought to the fact that I have endless access to fresh, organic foods. That was, not until I went to a media luncheon the other day sponsored by Pure Leaf™ Iced Tea and Gail Simmons (TV personality) and special projects director of FOOD&WINE magazine.  The luncheon served to raise awareness and to support the "Share the Love" campaign whose mission is to bring fresh fruits and vegetables to communities nationwide by donating $150,000 to the non-profit Wholesome Wave.
hanging with Gail Simmons to talk farmer's markets and recipes
Wholesome Wave's initiatives improve health outcomes among low-income populations, generate additional revenue for small and mid-sized farm businesses and bolster local and regional economies.
Thanks to Pure Leaf™ and Gail Simmons, the passion and efforts to provide under-served communities with access to fresh produce through local farmers markets will soon become a reality for communities in need across the country.
The "Share the Love of Leaves" (www.theloveofleaves.com) program will serve as the destination for fans to experiences recipes, household tips, DIY projects and daily inspiration. Additionally, for every social engagement from fan's on Pure Leaf's Facebook or Tumblr, and with the use of the #loveofleaves hashtag on Instagram or Twitter, Pure Leaf will donate $1, up to $50,000, for a grand total of $150,000. This will translate to 100,000 pounds of locally grown fresh fruits and vegetables for communities nationwide.
Gail led a cooking demo where she prepared an amazing summer coleslaw dish that only uses the fresh tastes of the season with products from farmer's markets.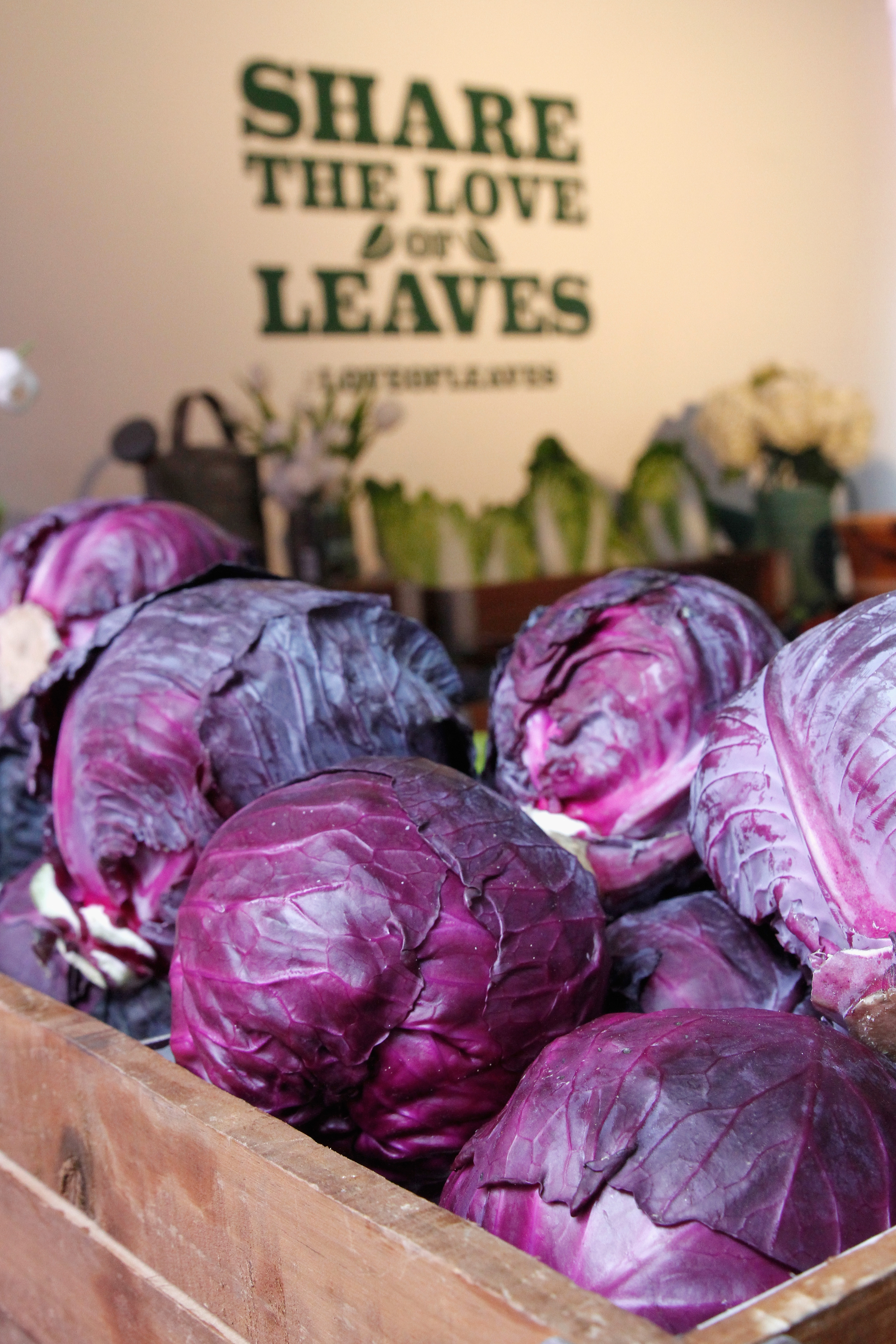 Watching her pick from the fresh vegetable and fruit stands at the event reinforced to me the importance of the campaign in raising awareness to help fund the Wholesome Wave programs all over the country. Wholesome Wave believes everyone in the world should be able to put the same beautiful ripe tomato on their table. That's their mission, according to Michel Nichan- award-winning CEO and founder, to make healthy, locally grown food available to EVERYONE!
So, what are you waiting for?
Help "share the love of leaves" so health, locally grown food can become affordable and accessible to all!  And, enjoy this amazing recipe too!
Vietnamese Slaw with Peanuts and Cilantro
Recipe created by Gail Simmons
Serves 4
For the dressing:
1/4 cup rice vinegar
2 tablespoons light brown sugar or palm sugar
1 lime. zested and juiced
1 tabelspoon fish sauce
1/4 tablespoon kosher salt
1 pinch crushed red pepper flakes
1 large shallot finely sliced
For the slaw:
1/2 head small red cabbage
1/2 head small Napa cabbage
2 medium carrots
4 radishes
2 mini seedless cucumbers
2 small Granny Smith apples
1/4 cup roughly chopped peanuts for garnish
Instructions:
Begin by making the dressing so the shallots have time time marinate.  In a large mixing bowl, combine everything except the shallots in the dressing and set aside.
Using a mandolin or food processor with the slicer and grater attachments, finely slice the cabbage and radish and cucumber.  Grate the carro and separate the cilantro leaves.
Core the apples and finely slice to yeild their half-moons.
Place everything into a mixing bowl with the dressing and sliced shallots and toss together well.
Serve slaw topped with chopped peanuts and extra cilantro leaves.
Disclaimer:  I was NOT compensated for writing this post.  I was invited as a media guest to the luncheon and received a bag of fruits and vegetables to replicate the Vietnamese Slaw recipe at home!  All opinions expressed in this post are my own.