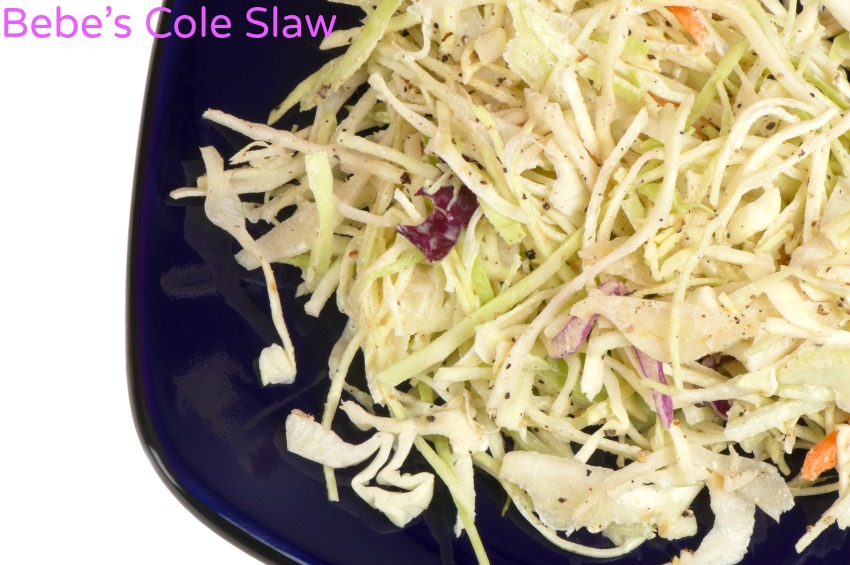 The temperature reached the mid eighties today and we enjoyed two out of three of our meals al fresco.  It's safe to say the cole slaw is a staple summer side.   We adore Mom's Venezuelan Cole Slaw and last week I posted Gail Simmon's recipe for Vietnamese Slaw with Peanut and Cilantro.
I believe you can never sample enough Cole Slaw recipes and the tweak of just one ingredient drastically changes its taste.
I reached out to Hunter Boone to share one of her slaw recipes. Hunter is a southern transplant who loves to cook and entertain and truly believes that to make good food and to entertain good company you don't have to be professionally trained. However, many of her dishes taste 5-star.  Be on the look out for their website 'Get Together with the Baker Sisters' coming to the virtual world very soon.
Here's what Hunter has to say:
Are planning a fun summer get together?
Are you constantly searching for something different to serve to your friends other than the traditional  mayonnaise-y coleslaw and/or potato salad?
You must try "Bebe's slaw."  Bebe was my Dad's mom.  I learned so many things from watching her cook when we had sleepovers at her house. She let me and my siblings cook whatever we wanted!  I also vividly remember Sunday night dinners at her house.
We grew up in Memphis, so we love bbq and Bebe loved to smoke her own pork and have pulled pork sandwiches.   As a side dish, she would serve her homemade potato salad, but she also made a coleslaw that was very mysterious to me.  It's light and tart, but also has quite a kick!  The best part about this coleslaw is NO MAYO!!  Therefore it's much healthier and lighter than the traditional goopy slaw!
It is also best served very cold so it's the ideal refreshing side to a BBQ'd main dish.
I am so lucky to have her hand written recipe of this slaw and happy to share it with you.  Enjoy.
Bebe's Slaw
Ingredients:
One head of cabbage
1 cup apple cider vinegar
salt, pepper to taste
Instructions:
Slice cabbage for slaw as thinly as possible. If you have a mandolin, use this appliance as it slices the cabbage evenly.
Place cabbage in a bowl covered with ice until ready to serve.
When ready to serve, drain off excess water and pour vinegar over slaw, add salt and TONS of black coarse pepper.
Final slaw should be crispy, crunchy, and rather tart.  Taste and add more vinegar and salt accordingly.