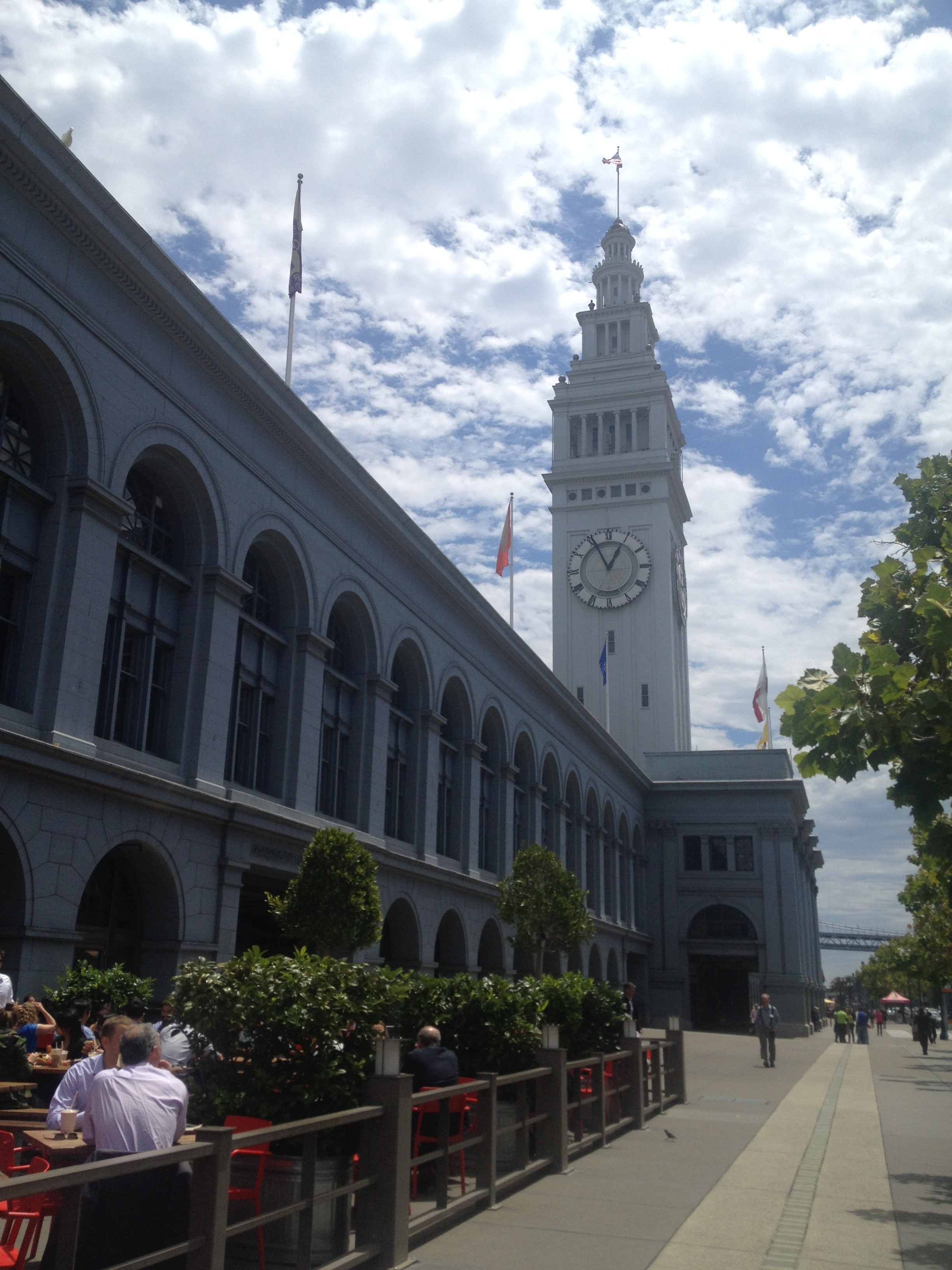 One of my favorite spots in San Francisco is the Ferry Building.  I adore weaving my way through the Farmer's Market stalls as well as the shops large and small that celebrate food in all its forms.   From restaurants to cafes, artisanal cheeses to fresh local fish, the quality and cultural diversity of San Francisco is on display.
But, my favorite aspect to the Ferry Building is the gathering of local farmers, producers, and independently owned and operated food businesses and the customers they serve.
I sampled meat rubs and olive oils, cheeses and cocoas and even a first-time snack of Chocolate Covered Crickets!
Yes, you heard me correctly. And the chocolate covered crickets tasted like chocolate rice crispy treats.  While I didn't taste the chocolate worms, apparently they are spongy and not crunchy, like chocolate-covered gummi worms.
Where did I eat these samples?
Well, I spent a lot of time talking to the people from La Cocina, a kitchen incubator for artisan producers.  La Cocina's goal is to cultivate low income food entrepreneurs as they formalize and grow their businesses by providing affordable commercial kitchen space, industry-specific technical assistance and access to market opportunities.  Their focus is primarily women from communities of color and immigrant communities.
La Cocina (pronounced la co-see-nah, meaning "The Kitchen" in Spanish) was inspired by its current home, San Francisco's Mission District. This ethnically diverse and economically vulnerable neighborhood that thrives in part due to the many small informal businesses that serve the community. Food lies at the heart of this community, and you don't have to look far to find hidden entrepreneurs in the kitchens of many homes.
I loved hearing about their vision: that entrepreneurs gain financial security by doing what they love to do, creating an innovative, vibrant and inclusive economic environment.
Let's look at Don Bugito – one of the kitchen incubater companies at La Cocina.  It's a food company that offers tasty edible insects prepared as gourmet foods and treats (where I got my chocolate-covered crickets). Monica Martinez, the founder, was inspired by pre-hispanic and contemporary Mexican cuisine, specifically by the "bugs" she snacked on as a child. This cuisine has been consumed by people in Mexico and within cultures throughout the world for thousands of years.
It's amazing that Monica is now able to share her new versions of these classic foods with an American audience as well as support a healthier world by providing a sustainable, ecological food.
Have no fear, not all of the female entrepreneurs are offering such esoteric products as Monica.  La Cocina is currently working with many different participants who boast foods from all over the world.  Click here for complete list.
I do hope you'll take the time to read more about this important organization. You can read about all of the phenomenal chefs and you can help donate by clicking  here!
Disclaimer:  this is NOT a sponsored post.  I'm just fascinated with this program and wanted to help get the word out.