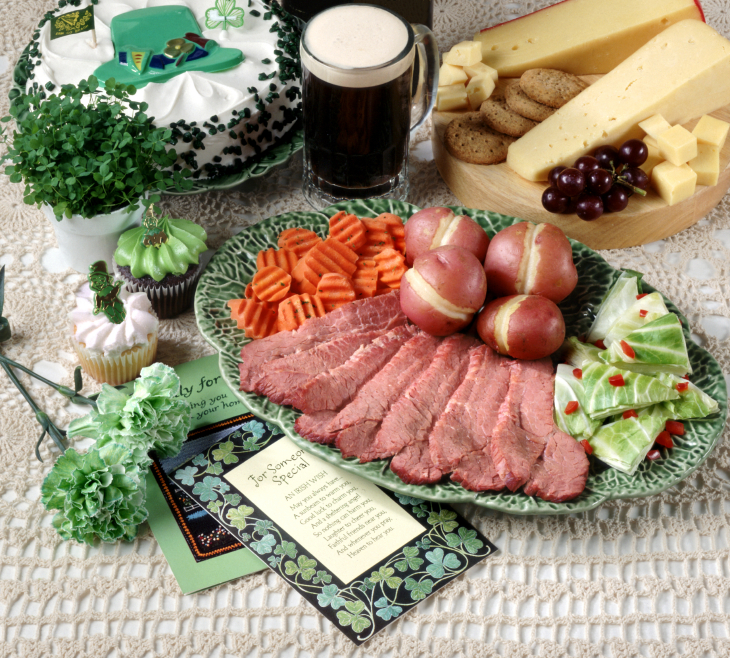 Today's guest post comes from Claire Abenante, a resident NYC foodie-forward friend.  Since I don't personally celebrate St. Patrick's Day, I simply reached out to Claire to see what she was cooking up for the festive holiday.  Of course she couldn't wait to share her classic Slow Cooked Corned Beef recipe with us.  Here's what she has to say:
Nothing says St Patrick's Day to me more than Irish Soda Bread and Corned Beef. While you may think of corned beef as a typical dinner in Ireland, you'll be surprised to learn it's really an Irish-American meal. A more traditional Irish dinner is pork or lamb stew. Pork and lamb were abundant meats in Ireland, and even a small amount of meat could go a long way in feeding a family when combined with vegetables and potatoes and made into a stew.
The Irish weren't introduced to corned beef (brisket) until the 1800's when they immigrated to the United States. Irish immigrants lived in close proximity to many other immigrant cultures including Jewish immigrants. It was the Jewish immigrants that first introduced corned beef (or brisket) to the Irish through the abundance of Jewish delis and lunch carts. Corned beef is cured and cooked much like Irish bacon, so the taste was welcome and familiar. Because corned beef was an inexpensive cut of meat, easy to cook and so tasty, it became poplar with working class Irish families.
Growing up, we always celebrated St. Patrick's Day with a corned beef and cabbage dinner. I have continued that tradition with my family with a few changes; I omit the cabbage and prepare the beef in a slow cooker. I always make extra so we have plenty of leftovers for corned beef sandwiches!
Slow Cooked Corned Beef
serves 6-8
Ingredients:
6 carrots -cut into chunks
2 onions, chopped
2-3 lb. corned beef brisket with seasoning packet
12 oz. can beer (non alcoholic is fine) – I prefer Guinness
2 tablespoons yellow mustard
1/4 cup brown sugar
8 wedges cabbage (optional)
3 potatoes, cut into chunks (optional)
Instructions:
Place all the ingredients in the slow-cooker and cook on low for 6 – 8 hours.