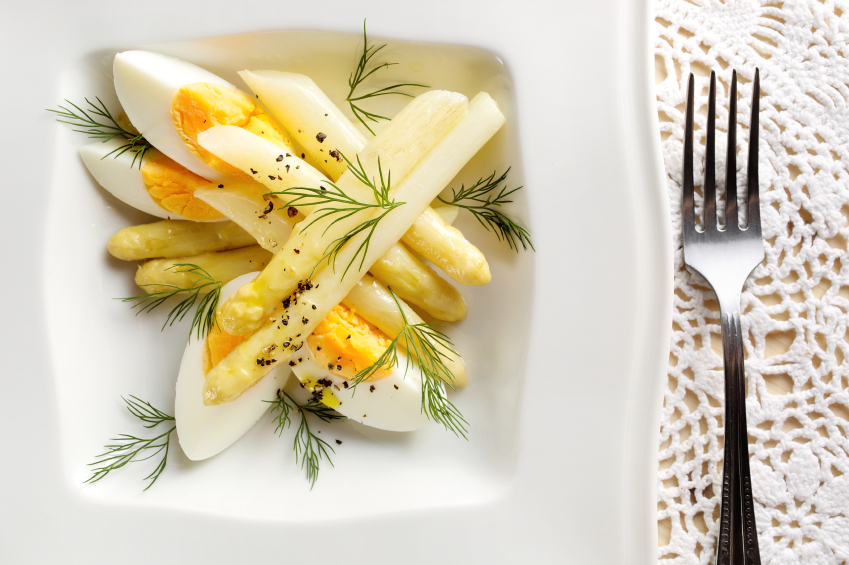 It's spring and asparagus is in season!  Asparagus has been on my vegetable hit list for quite some time.
Both of my kids detest the vegetable so I've been desperately searching for one recipe that might, just might, make their eyebrows perk and their taste buds surrender.
Admittedly, I grew up eating very little asparagus— mainly steamed.  And, I didn't like it either. So, the hunt was not only for my kids but, myself as well.
I finally hit the jackpot with a recipe a stumbled upon over at skinnytaste.com.  It's an asparagus salad with bacon egg and vinaigrette.  It's quite easy to make, high in fiber and protein, and it's low carb.  Not that we're counting carbs but, BONUS.
The crunch and flavor of the bacon against the backdrop of the egg and asparagus is delicious.  Top it off with some Dijon vinaigrette and you'll be eating this for lunch AND dinner!
Pictured above is the salad vegetarian style—- no bacon–and it's still tangy and tasty.
Asparagus Egg and Bacon Salad with Dijon Vinaigrette
from Skinnytaste
Ingredients:
1 hard boiled egg, peeled and sliced
1 cup chopped asparagus (I like using white asparagus too)
2 slices cooked and crumbled center cut bacon
1/2 teaspoon Dijon mustard
1 teaspoon extra virgin olive oil
1 teaspoon red wine vinegar
salt and pepper to taste
Instructions:
Add asparagus to boiling water and cook up to 3 minutes until tender yet firm.
Drain and run under cold water to stop vegetable from cooking further.  Set aside.
Mix Dijon, oil, vinegar and a pinch of salt and pepper.
Place asparagus on plate and top with egg, bacon and drizzle with the vinaigrette.