My garden is THRIVING right now and I have barely been around to take pleasure in the day to day progress. While it's only an 8×6 plot of land, managing the veggies has been quite an adventure over the past three years. While my thumb is definitely getting greener, the zucchini plant never ceases to overwhelm me.
Have you watched a zucchini plant grow in a garden?
The tiny little leafed plant turned into a monster overnight; something resembling a plant from the Little Shop of Horrors.   Every summer I'm overwhelmed and fearful.  Last year the elephant-sized leaves eclipsed the tomato plant.  The thick roots jutted across the soil and crushed my rosemary.  After a week, thanks to the robust zucchini plant, my garden looked like an overgrown mess.  So this year, I basically gave the zucchini plant it's own plot.
However, hiding underneath all the leafy chaos are the beautiful yellow zucchini blossoms.  And, zucchini blossoms are edible flowers!  You can literally pick them off the plant and eat them raw.  When you do, you'll enjoy a sweet flavor with a very slight hint of zucchini.  I love to try making a version of Mom's stuffed zucchini I found in her archives.
Mom's stuffed zucchini blossoms recipes was half complete which is so frustrating to a burgeoning cook like myself.  Having never cooked zucchini flowers, I needed to find a  a recipe that allowed me to fill in the holes, not excluding a single step.
Lucky for me, I rode my bike down the street to consult the local farmer at the farm stand for his wisdom and guidance.  I soon learned that there are two different types of zucchini flowers, male and female.
The female flower is a golden blossom on the end of each emergent zucchini: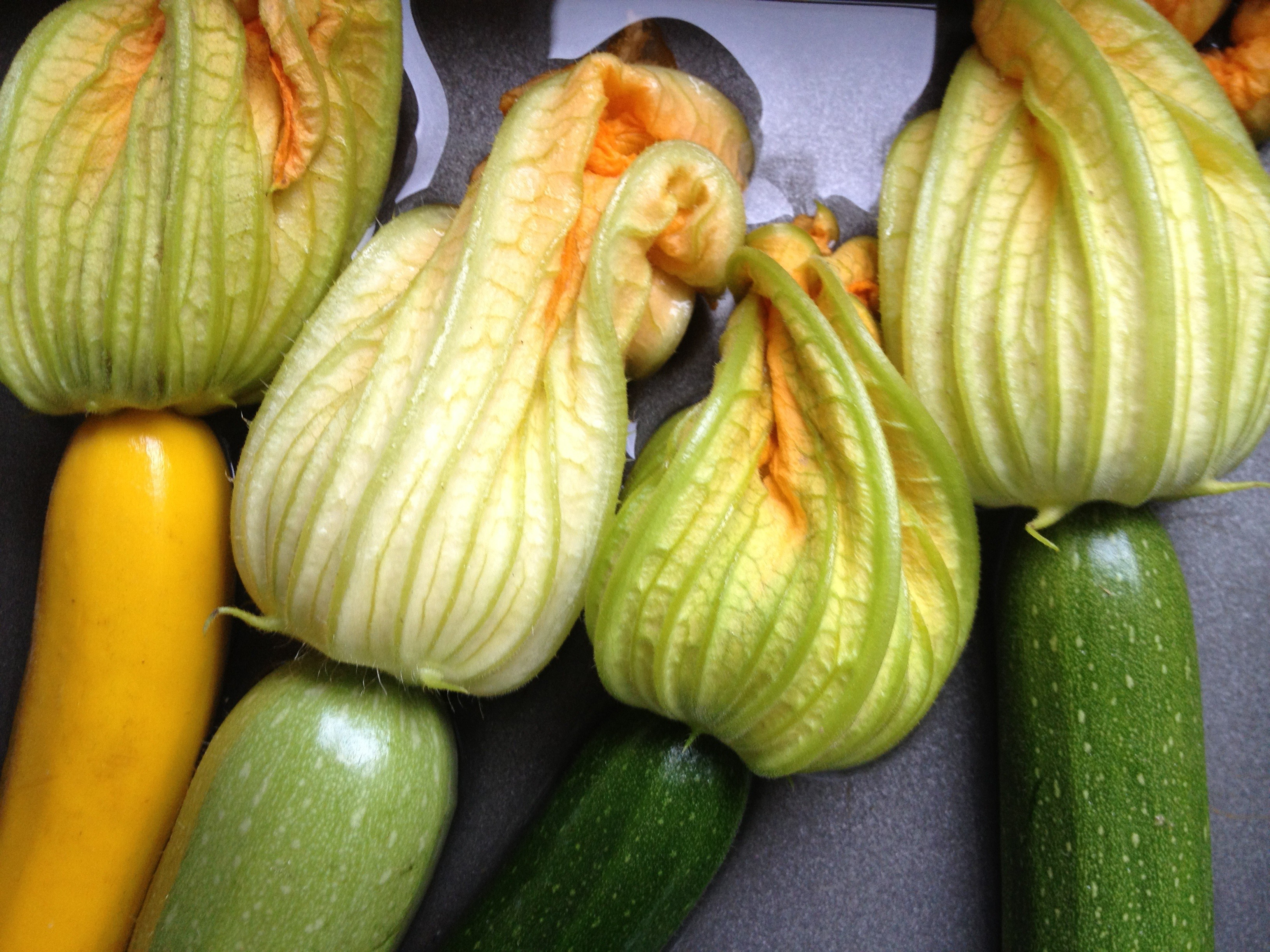 The male flower grows directly on the stem of the zucchini plant in the leaf axils on a long stalk, and is slightly smaller than the female.
I only picked the male flowers because the female flowers were attached to 2 inch baby zucchini hopefuls already starting to plump into their future form. Also, I was instructed to look for vibrant, fresh-looking zucchini blossoms that are tightly closed. And, since the flowers are very delicate and perishable, it is best to use them that same day. I did pick extra blossoms that I stored for a two days in the refrigerator floating in a container of ice water.
The Stuffed Zucchini Blossoms with Ricotta Cheese recipe I tweaked was amazing and surprisingly very easy to prepare.  I felt like I was in a biology plot lab class when I had to cut open the male flowers to remove their stamens before stuffing them with the ricotta cheese mixture.
I loved dunking the flowers into the batter. I delicately placed them in the skillet to start the deep fry process.  Within minutes, the blossoms once growing on the stem were stuffed, fried and ready to be eaten.
My 9-year old son comes home from sleepaway camp today.  Last summer  he was actually quite defensive, proclaiming he "likes zucchini" but he "doesn't like to eat flowers".  When I told him it was fried and would taste like dough with cheese in the middle, he couldn't resist and he loved it.  So, that will be our project when we get home!
Go ahead, try it, it's too tasty to pass up!
Stuffed Zucchini Blossoms with Herbed Ricotta
adapted from Food and Style
yield: 16 blossoms
Ingredients:
Batter
1 cup white flour
1/2 teaspoon sea salt
3/4 cup warm water
1 large egg
Ricotta stuffing
1 large  egg – lightly beaten
1 cup fresh ricotta cheese
3 tablespoons finely chopped garden herbs (rosemary, basil, oregano, thyme and sage)
1/2 teaspoon sea salt
freshly ground pepper to taste
16 large or 20 small fresh zucchini flowers
1/2 cup olive oil for pan-frying (or enough oil to cover the pan generously)
Instructions:
For the batter – Mix flour, salt and water in a large bowl. Set aside and let stand for 1 hour. Just before dipping the flowers into the batter whisk in the egg.
For the stuffing – Mix the egg, ricotta, herbs, salt and pepper until well blended and set aside.
To stuff the flowers – Make a slit lengthwise in each flower and remove the stamen. Using a  spoon, place a small amount of the stuffing at the base of each flower and twist the petals so that the stuffing is held safely inside the flower. Place on a baking sheet.
Heat a large heavy-bottom skillet to high heat. Add the oil. When the oil is hot, dip each flower in the batter and add them to the pan. Sauté for 2 to 3 minutes until golden. Flip the flowers and continue to sauté for 1 to 2 minutes until golden.
Repeat until all flowers have been used, reducing the heat to medium-high when the pan is very hot so the oil doesn't burn.
Serve immediately while hot.