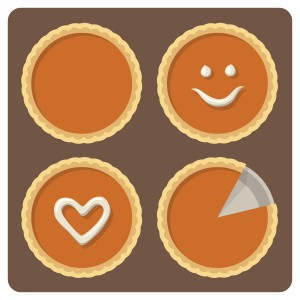 Growing up, my Grandma Sylvia was known in many different circles in Baltimore, Maryland simply as "the pie lady."  In the late 1940's, she used to home bake sinfully sweet, deliciously fresh pies and sell them to the local store for some extra cash.  Extended family dinners at Gram's apartment became the Friday night ritual.  If you missed a dinner, you'd miss the opportunity to get a coveted piece of one of her pies, where homemade crusts and fresh whipped cream sealed in a variety of intense flavors from: chocolate to pecan to pumpkin spice.  Oftentimes my Grandmother, having a keen sense of humor like her three crazy sons, was known to hide at least one of the pies to prevent any tampering before dessert time.
As with much of Mom's gourmet cooking, the idea of actually making one of Gram's pies was out of my realm of thinking.  I simply enjoyed being the consummate consumer of her pie handiwork.  I truly never imagined that one day I'd find myself in the kitchen, let alone in the kitchen making a pie.
So, today, in celebration of National Pumpkin Day (and to try to get rid of the BIG pumpkin sitting on my SMALL counter top), I decided to make a pumpkin pie for the family.  I found a pumpkin pie recipe of Mom's that I'm fairly certain isn't Gram's secret recipe but, appeared spicy and probably tasty nonetheless.
I promise that I had every intention to make the pie from scratch, every last bit, from the filling to the crust.  However, after about thirty minutes of scooping out the pumpkin innards and then carefully pulling at the hopelessly tangled pumpkin seeds, I gave up.  Knowing that there's also a pumpkin shortage this fall, I ran down to Whole Foods in search of the coveted cans of organic pumpkin like a frantic person stocking up before a storm.
Ok. Since I've confessed that I cheated a little and didn't use completely fresh pumpkin, I must also divulge that I didn't hand make the pie crust like the one I created this summer as part of the Peanut Butter Pie for Mikey Project.  Since I was in a time crunch, I bought a pre-made pie crust from Trader Joe's (they do have a great selection).   However, I did purchase and work with an ingredient that I've never used before: condensed milk!  Condensed milk and evaporated milk mysteriously lined the designated baking area shelves in Mom's pantry but, I never knew or cared when, why, or how these ingredients were used.  In fact, until today, I halfheartedly believed evaporated milk was what magician's used for the Pour-the-Milk-in-the-Newspaper-Over Someone's-Head trick.  What's the benefit of being kitchen-clueless?  With each new recipe, there's always a teachable moment!
In under 20 minutes, I mixed the ingredients for the filling, poured it into the shell and popped it in the oven.  Within 30 minutes, the pie looked amazing.  When I took it out of the oven I couldn't believe my eyes.  To me, it was the vision of pie perfection.  Of course the crust was perfectly browned and completely symmetrical all the way around and, the burnt orange center filling was evenly cooked from side to side.  I couldn't wait to try the dessert out on my difficult panel of judges: my kids.  I did what any insecure person would do.  From school pick up until dinner time, (that's 3 hours) I continually talked up the pie like it had won the gold ribbon in the town pie bake-off.   And, when I got the pie warmed up, I made a spectacle out of cutting the most perfect pie triangles for each kid.
I created a lot of hype before that first piece of pie was served.
Maybe too much hype.
Without having tasted the pie myself, and before each kid could even swallow their first bite, I hassled them, "Isn't it soo delicious?"
My daughter smirked and claimed with a crooked grin that it tasted "a little bit like baby food."
My son looked at my daughter first and then looked at me.  After detecting the disappointment in my eyes, he unconvincingly proclaimed, "it's pretty good Mom."
I then took my first bite. And it was good! Even with the canned (organic) pumpkins and the store-bought crust.
And, the consistency of the pumpkin and spice filler did resemble that of baby food!
The best part? It was made in my own kitchen.
Enjoy.
Easy Pumpkin Pie (adapted from Farmer's Market foods)

Ingredients:
16 ounces of fresh pumpkin or 1 15 ounce can of pumpkin
1/2 teaspoon ground nutmeg
1/4 teaspoon ground ginger
1/4 teaspoon ground cloves
1/2-3/4 teaspoon of sea salt
1 teaspoon ground cinnamon
1 14 ounce can sweetened condensed milk
1 -2 eggs slightly beaten
1 9″ pie shell
Instructions:
Preheat oven to 425 degrees.
In medium sized bowl, mix pumpkin and spices together.
Add remaining filling ingredients and blend together until smooth.
Pour filling into pie shell.
Bake at 425 degrees for 15 minutes and then continue to bake at 350 degrees for an additional 40 minutes.
Let pie cool before serving.
Top with vanilla ice cream.
Enjoy.