I'm amazed that some of my friends have kids who have already gone back to school. To me, summer is finally in full bloom.  Due to the harsh winter, none of our flowers even showed signs of budding until the end of July.  The corn stalks are finally as high as high as an elephants' eye.  The farmer's stands are BURSTING with a plethora of colorful fruits and veggies that it's hard not to stop and simply take in their visual beauty and splendor.
From August through Labor Day, my kitchen is usually stocked with  fresh fruits and vegetables  so I can make a quick, light, refreshing summer recipe on the fly.  For instance, last night, for dessert, my son asked for fruit salad.  This has never been requested before so I jumped at the opportunity.
Simply cutting up a variety of fruits:  apples, pears, strawberries, and bananas, and serving them with a homemade fruit dip (that literally took five minutes to prepare) was the the perfect answer to his request.  Not to mention, we enjoyed it this am for breakfast too.
Time to enhance the flavor of fresh, ripe fruits to give them the added attention they deserve.
Enjoy.
 
photo courtesy of P&G Everyday
Cherry Fruit Dip

Serving Size: 4
Ingredients:

1 pear, peeled and diced
1/2 cup dried cherries
1 cup Greek-style plain yogurt
1 tablespoon honey
Instructions:
Place all ingredients in a food processor and blend until smooth.
Refrigerate at least 45 minutes before serving.
Serve with sliced fruit.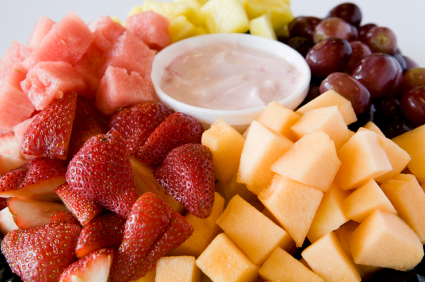 Cinnamon Yogurt Fruit Dip
serving size: 4
Ingredients:
   8 oz. plain unflavored yogurt
   1/3 cup honey
  2 tsp. cinnamon
Instructions:
 Blend all ingredients together and refrigerate 1-2 hours before serving with sliced fruits.