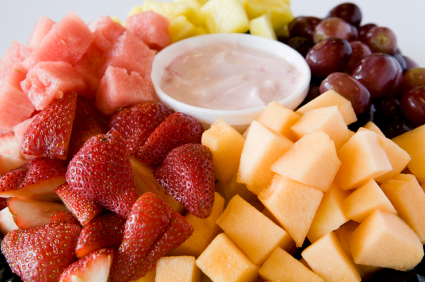 There's nothing better during the summertime than freshly picked fruit – especially all of the seasonal melons readily available at the local farm stands.
Fruit is always enjoyed in my home: baked in homemade pies, boiled down to jams, sliced and sprinkled over top our cereal, grilled, steeped in sangria.  You name it, we try to integrate it wherever.
But, it's time to give fruit the spot light it deserves.  Instead of adding fruit to other dishes, let's focus on the fruit itself.
My latest article at P&G Home Made Simple features a family favorite fruit dip (that we actually eat with granola layered on top). We love it because it's so easy to make and it's very refreshing. It's a welcomed addition on any hot summer day for breakfast, lunch or even after dinner!
So go on, click here and enjoy not one but three amazingly tangy and tasty fruit dip recipes…