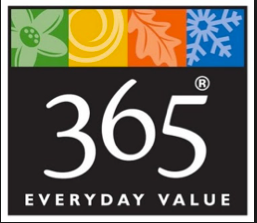 With the school year upon us, time, patience and creativity will ultimately become our adversaries in the kitchen.  Wouldn't we love to serve our families fresh, delicious homemade meals every night? Often we'll find ourselves short on time and ideas.
Don't fret.  You can make the freezer your secret weapon this back-to-school season.
If you live near a Whole Foods Market, (if you don't you can still use these idea starters for your meals) you're in luck.  I'm not sure a week goes by without a visit to the market.With a visit to Whole Foods Market, where I've discovered my freezer's potential by planning healthy, flavorful meals in advance and I love the 365 Everyday Value® products.  You can fill your freezer (and pantry) without emptying your pocketbook. With value prices every day of the year, it's just become easier for you to stock on on some of the best products without sacrificing your wallet!
Here are some suggestions:
Breakfast
You can start the day off right by getting your fruits and veggies first thing in the morning.  Prepare a great breakfast with the 365 Everyday Value® line of organic frozen fruits and veggies— all free of artificial preservatives, colors, and flavors. Create an easy morning smoothie, or simply defrost some frozen fruit and toss in your yogurt or oatmeal.
Lunch and Dinner
When it comes to lunch and dinner planning, high-quality meals can be arranged simply and quickly with the proper preparation.
Whole Foods Market leads the industry in seafood sustainability, and the freezer section is no exception. The retailer's expanding selection of frozen items conveniently offers shoppers high-quality seafood with exceptional value:
·      Whole Catch® Fillets are available in Sockeye Salmon, Mahi Mahi, Turbot and Monkfish. The fillets are all wild caught, vacuum-packed and flash frozen, so home cooks can make as much as they need and save the rest for another meal. Try this Easy Teriyaki Salmon Rice Bowl for dinner in a flash.
·      Whole Catch® Crunchy & Peppery Popcorn Shrimp is great finger food to make seafood fun for the whole family.
·      365 Everyday Value® Lightly Breaded Calamari is great on its own with cocktail sauce, or use it to make this Crispy Calamari Lettuce Wraps for lunch or a light dinner.
Another easy go-to freezer staple is Whole Foods Market's frozen meat, which is not only a great value, but is also in convenient freezer-ready vacuum packs to avoid spoilage. Plus, all meat sold in Whole Foods Market's meat case has been raised on a vegetarian diet without antibiotics or added hormones. Some specific frozen options include:
·      Nature's Rancher Ready-to-Cook Chicken Burgers are a great weeknight meal option. Serve with seasonal vegetables or add 365 Everyday Value® Organic Frozen Sweet Yellow Corn atop your burger.
·      Nature's Rancher Hot Dogs are a favorite for the whole family. If you want to spice it up for the adults, use with this Homemade Fennel Mustard recipe.
·      365 Everyday Value® Meatless Burgers are the perfect option for the vegan or vegetarian at your dinner table. A good source of fiber and protein, these vegan burgers have no cholesterol or saturated fat—making them a healthy meal option for the whole family.
·      Nature's Rancher USDA Certified Black Angus Beef Burgers are a great option for family meals or even a quick tailgate because they're pre-grilled to perfection and frozen to lock in flavor. Just heat and eat!
And last, but certainly not least, are the grains and vegetables! 365 Everyday Value® frozen organic vegetables are frozen at the peak of freshness and are a fraction of the cost. You cook veggies with 365 Everyday Value® Organic Brown Rice for a quick and nutritious dinner.
Disclaimer:  I was not compensated by Whole Foods Market to write this post.  I am a HUGE fan of Whole Foods and their 365 brands of products and simply wanted to share my experiences.