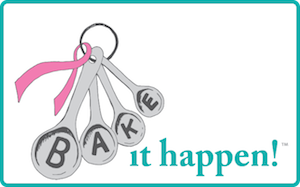 It's the LAST day of our month-long Bake it Happen campaign for breast cancer research.
My sister and I are completely overwhelmed from the mass participation this year.
It's so meaningful for us to have received pictures of Bake it Happens from complete strangers from all over the country.
From cheer leading squads to play dates, Starbuck's Baristas to high schoolteachers, everyone has enjoyed baking one of mom's famed baked goods, all in the name of breast cancer research.
There's still one day left, to Bake it Happen.  It's not hard, I promise.  In fact, I just whipped up a batch of the Pumpkin Chip Brownies early this morning for a Halloween party I am hosting tonight.  They're too tasty to pass up.
So, please consider Baking it Happen with us.  You get to bake a treat and we'll do the donating to breast cancer research for you.  That's it.  You BAKE, we DONATE to breast cancer research and in the process, you could win an iPAD.
There's nothing sweeter than baking for a good cause.  Check out the details here:  http://www.bakeithappen.net!
Thanks for all of the support.