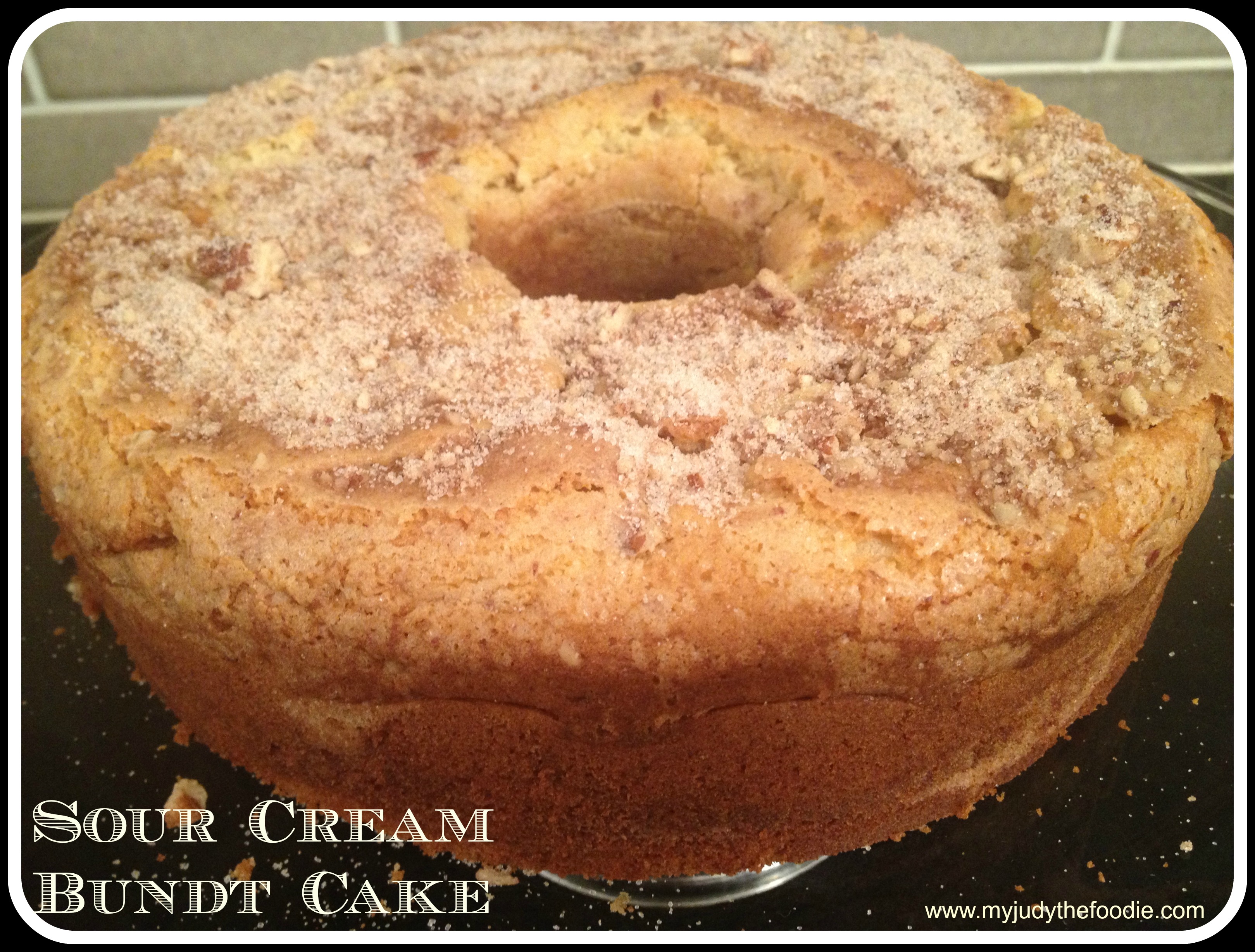 The other day I had a hankering for Mom's Sour Cream Bundt Cake.  I'm not exactly sure why; I haven't tasted it in over probably over 20 years.  Maybe it's because I am cooking dinner tonight for my dad who's in town visiting and I always like to impress him by cooking from Mom's culinary archives.  It's both cathartic and sentimental for us.
What I loved about Mom's cake were those first bites of supreme moistness followed by the sugary center layer of nuts and cinnamon.  We'd not only eat this cake after dinner but also alongside our traditional Sunday brunches. What's better than baked goods that can be eaten all day long?
While perusing the recipe, I noticed that Mom used caked flour.  While that ingredient required a trip to the local market, another important baking learning curve ensued.
I had never even heard of cake flour.  Currently, my pantry is stocked with: All Purpose Flour, Whole Wheat Flour, and, Tapioca Flour (thanks to the special holiday baking event with Momofuku head Pastry Chef Christina Tossi).  But admittedly, the only flour ever used is the tried and true All Purpose Flour; it's standard flour for home baking.
My innocent trip to the Whole Foods baking aisle proved there are many other types of flour available for baking. Apparently, if you like to bake, Cake Flour should become a staple in your kitchen.
Why?
Well, as the name even indicates, cake flour is great for making cakes and baked goods because it produces a cake with a fine, soft, even crumb. This is result of its very low protein content (8%) compared to other flours (all purpose is usually around 10%) and less gluten forms when you mix it into a batter.  It's also usually bleached which lends the light color and fine texture.
Having just baked my first cake with Cake Flour there is a very noticeable difference in the texture versus cakes baked with All Purpose.  While cake flour can be used in any kind of cake it's most commonly used in white cakes and in angel food cakes—both are known to have a light texture.
But, don't fret.  If you don't have cake flour, you can easily substitute it for your All Purpose Flour.  Just use 1 cup of All Purpose minus 2 tablespoons for each cup of cake flour called for in the recipe.  Alternately, you can add 1 cup of cake flour plus 2 tablespoons as your sub for All Purpose.
Again, you're the baker, it's ultimately your call.
Any cake baked in a Bundt pan looks gorgeous to me. And, while many Sour Cream Cakes have a beautiful cascading glaze over top, Mom's recipe topping simply reinforces the cinnamon sugar nut mixture that's used in the center; it's light and simple with a little touch of sweetness and crunch.
Put this cake on your to bake list.  It's quick, easy, tasty and an ideal treat for all four seasons!
Sour Cream Bundt Cake
yields: 8-10 pieces
Ingredients:
1 stick unsalted butter
1 cup sugar
2 eggs
1 teaspoon vanilla
1/4 teaspoon salt
2 cups cake flour
1  1/2 teaspoon baking soda
1 cup sour cream
Top:
1/2 cup sugar
12 walnuts, chopped
1 teaspoon cinnamon
Instructions:
Preheat oven to 350 degrees.
Cream butter and sugar until smooth.
Add eggs and vanilla and beat until smooth.
In a separate bowl, combine salt, flour and baking soda.  Sift thoroughly.
Add dry ingredients to batter and mix until smooth.
Fold in sour cream.
Pour half of the batter into greased Bundt pan.
In small bowl, mix together ingredients for topping.
Sprinkle 1/2 of topping mixture over top batter.
Add remaining batter to pan.
Sprinkle remaining topping mixture.
Bake in oven for 45 minutes or until center is cooked through.
Let cake cool 10-15 minutes before removing from Bundt pan.
Enjoy!