I was at a loss at dinnertime.
I had nothing planned.
It was 6:15pm and were all walking in the door after a long day.
Sound familiar?
This was our family scenario the other night.
Oh, and I should add that we had little to no food in the fridge because I had been away.
So, what to do when you're in a pinch and you don't feel like rushing to the market or ordering in?
Make a quiche- a custard containing milk and eggs that's poured into an open pie crust
Chances are you have eggs, milk and cheese in your fridge.
Lucky for me, I also had two frozen pie crusts in the freezer.  While Mom used to hand make her own crusts, I'm not at all ashamed to admit I used the premade frozen crusts. Plus, no thawing required. You can keep your crust frozen until you pop it in the oven!
I decided I'd make a "Compost" Quiche. I scavenged through the fridge and used whatever vegetables I had laying around in the crisper: half of a Vidalia onion, one head of broccoli, and zucchini.
I quickly sautéed the veggies in a skillet for about five minutes, layered them on the bottom of the pie crust, layered it with shredded cheese and then poured the egg and milk mixture on top.
Thirty-five minutes later we were enjoying our tasty quiche with a side of homemade kale chips.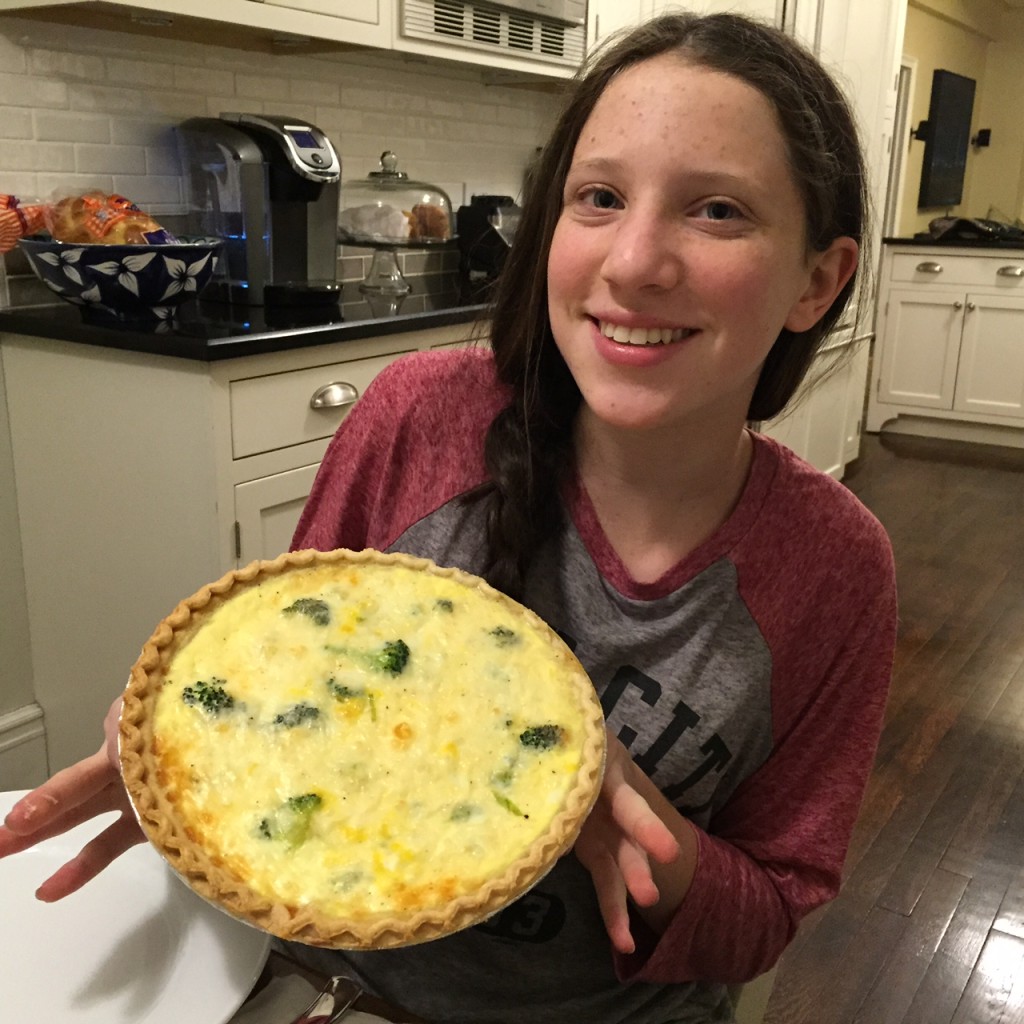 The best part about the quiche is that it's just as good served cold as it is hot. Therefor, we enjoyed leftovers the next morning for breakfast!
Remember, with "compost" quiche, you have free reign to add as many vegetables and measts you want!
Have fun.
Compost Quiche
serves 6
Ingredients:
4 eggs
1 cup milk
2 tablespoons butter
1 head broccoli, chopped
1 clove garlic minced
1/2 onion, diced
1 zucchini, sliced in round
1 9″ pie crust
1 1/2 cups shredded Mozzarella cheese
salt and pepper to taste
Instructions:
Preheat oven to 350 degrees.
In small bowl, beat eggs and milk.
In skillet over medium high heat, melt butter, add garlic and sauté chopped vegetables until soft, approximately 5 minutes.
Add vegetables to bottom of pie crust and sprinkle cheese over top.
Pour in egg mixture and bake in oven for 30-35 minutes until completely cooked in center.
Enjoy.