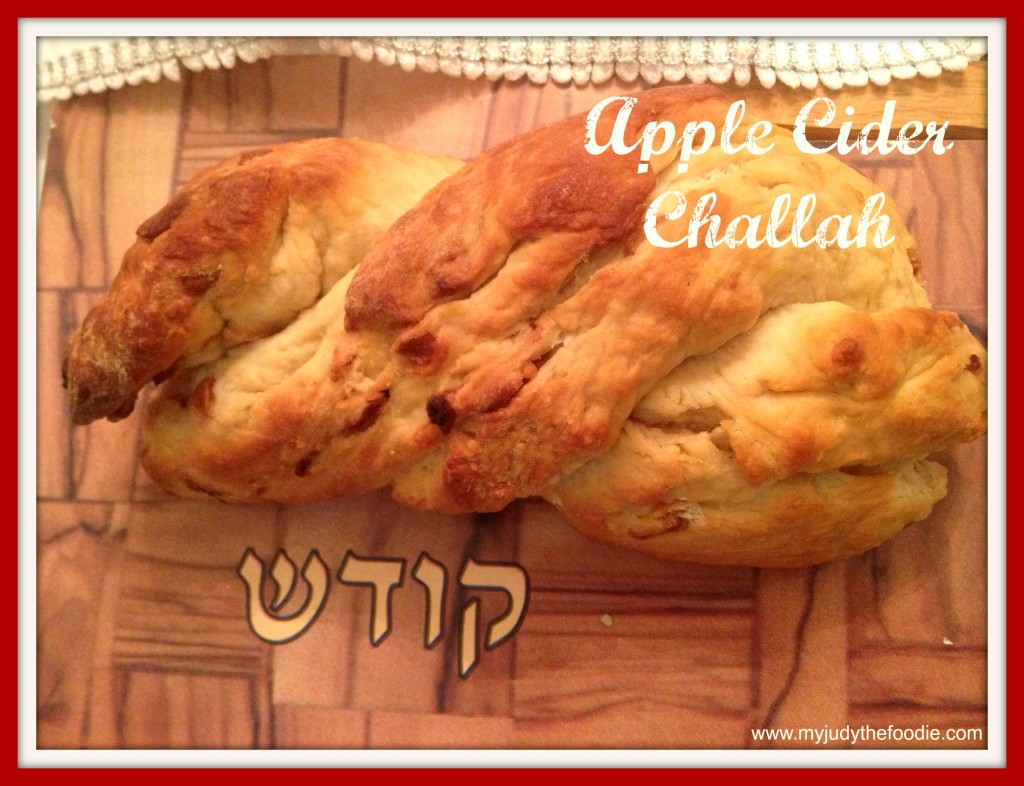 It's the Jewish New Year.  A time of the year when Mom could be found cooking up some of her favorite holiday delicacies: from brisket to tzimmes to noodle kugels.  I miss watching  her in the kitchen, keeping it bustling with activity and full of sweet comforting smells.
Now her kitchen is sterile and cold, devoid of use and love.
This year I committed myself to bake my first-ever challah with my daughter.  I have so many fond memories of Mom making unusual breads; watching her carefully place the dough in our dark, hot, creepy furnace room- waiting for it to rise.  We loved checking to see whether the dough had doubled in size.
However, that was the extent of my involvement.  Mom effortlessly executed all the rest.
Bread making, like most activities in the kitchen, completely intimidated me.  Working with yeast was out of the realm of my thinking.  But, being able to create a Challah with my daughter, a Challah containing apples and honey  (to help signify the Jewish New Year) seemed like the perfect remedy to help channel my inner Jewish Judy!
What a complete adventure.  Now that I have this process in my rear view mirror, there are definitely some pointers I can provide to help smooth over the experience.
First, make sure you have the better part of the afternoon for this baking expedition.  Most importantly, because your bread dough has to rise TWICE. Plan accordingly.
When you're combining the yeast with warm water, make sure it's not too hot, otherwise you'll kill the yeast (like I did, TWICE).
I know I'm not the neatest cook, but, while making bread, I was a slob.  Make sure you have a big work space in which you have ample room to knead your dough on a heavily-floured surface.
Use a wooden spoon to mix your dough. Many believe a metal spoon reacts with the natural yeasts and kills it.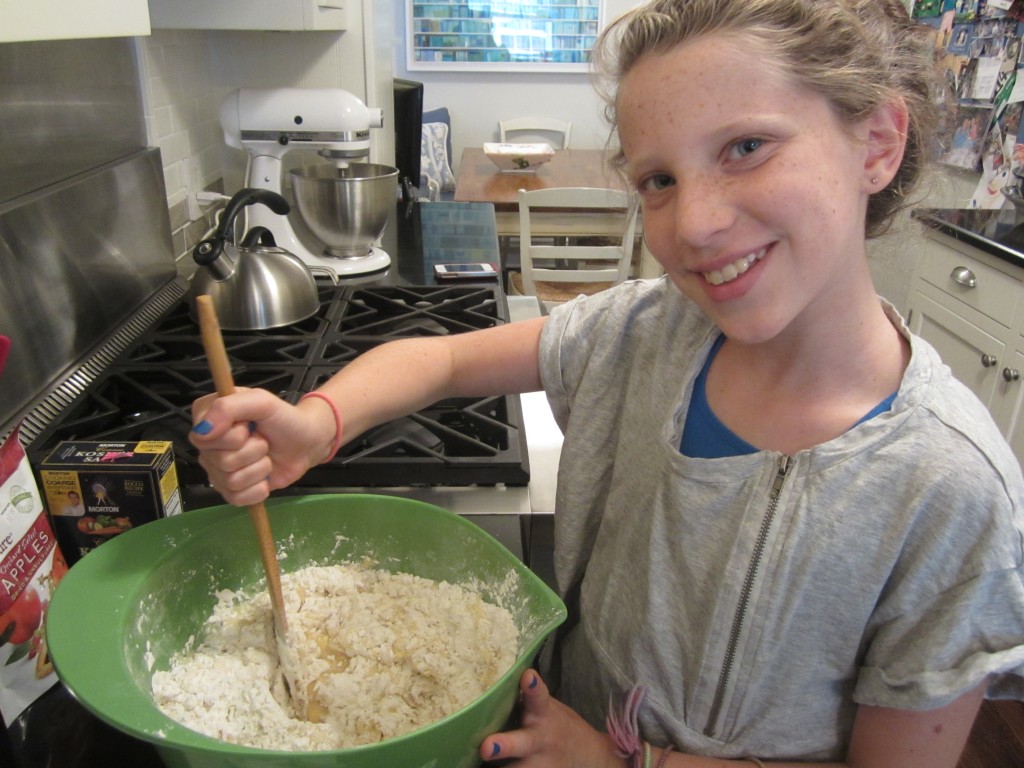 Make sure that you precisely follow the instructions.  It's so important to use exact amounts.  Use individual measuring cups to top off your flour pefectly.  Apparently we used too much flour in the recipe and our dough was in sad shape when we were trying to knead it together.  Too much flour and your dough is so dry and flaky, it won't bind together.  We had to add at least a cup of tap water to get the dough to the desired consistency.
My daughter struggling to knead our dough. 
My biggest joy was watching my daughter peek into the bowl containing our dough ball, hearing her scream, "it grew, it grew."  That was me, 30 years earlier in my furnace room shouting to my mother.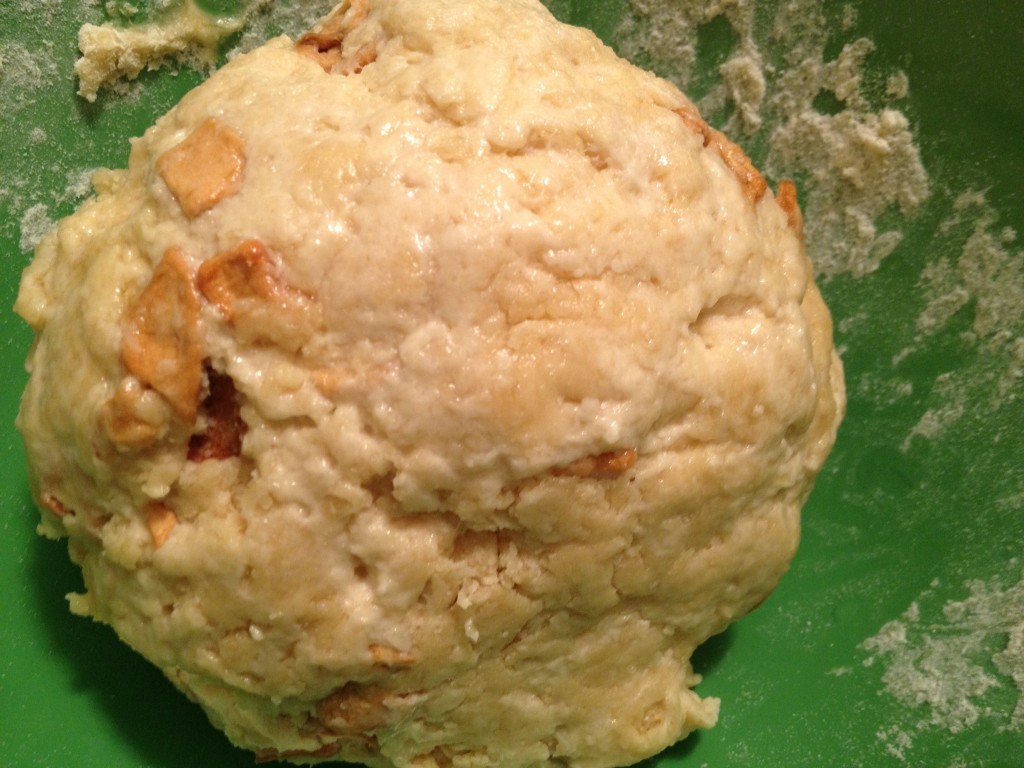 Our dough has risen, our dough has risen!
After it had successfully risen twice, she carefully braided the dough, coated the outside with honey and oil, and popped it in the oven for the final baking process.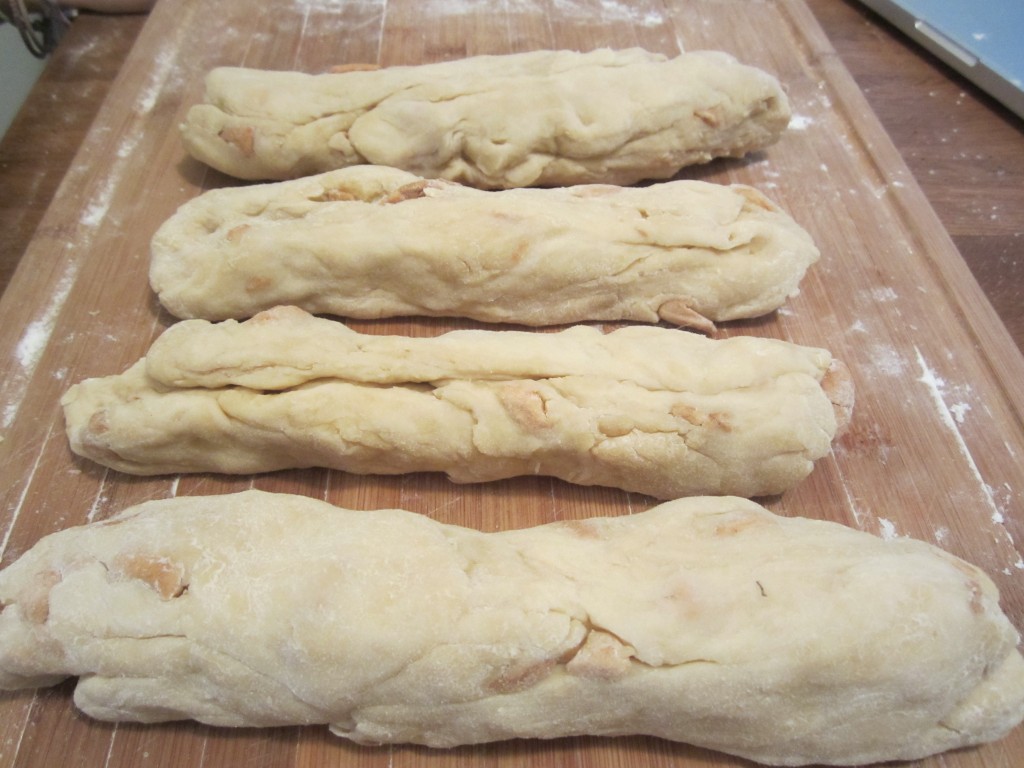 Dough cylinders awaiting the final braid
When complete, our loaves didn't look picture perfect but that did not matter.  We were both equally proud of our accomplishment and immediately sampled a piece from the smaller, less attractive loaf.  We drizzled it with honey and took our first bites at the same time.
Like two kids in a candy shop, our eyes widened as we both enjoyed what will probably be the best piece of Challah we will ever taste for the rest of our lives – not for taste alone but, for the journey that came along with it!
Enjoy.
Apple Cider Challah
Mom's partial recipe, then adapted from beliefnet.com
Ingredients:
1 package dry yeast (check the date, make sure it hasn't expired)
1 cup warm apple cider or juice
5 cups flour
1/3 cup sugar
2 teaspoons kosher salt
1 cup diced dry apples
1/4 cup canola oil
2 large eggs plus 1 yolk
honey + 1 teaspoon canola oil for wash
Instructions:
Preheat oven to 375 degrees.
Mix together yeast and warm cider in a small mixing bowl. Set aside.
Measure dry ingredients (flour, sugar, salt, apples) into a larger mixing bowl. Stir with wooden spoon to combine, and make a well in the middle.
Whisk oil, eggs and yolk into the yeast/cider mixture.
Pour wet ingredients into dry (into the well in the center), and stir with wooden spoon. Dough should be soft and sticky. Turn onto a floured surface and knead briefly with a little extra flour to prevent dough from sticking to your hands.
Put the ball of dough back into the large mixing bowl and coat with a little oil to prevent sticking. Cover with plastic wrap and let rise in a warm place for about an hour (or until about doubled in size)
Uncover and punch down dough. Turn it onto a floured surface and knead until smooth (about one minute). Divide dough in half with a sharp knife, then divide each half into two sections. Roll each of the four lumps into cylinders, 10-12 inches long.
Place each cylinder on a baking sheet covered with parchment paper. Twist two strands together and curl into a circle (like a cinnamon bun) to achieve the traditional round challah shape. Repeat with remaining two strands.
Cover both loaves with oiled saran wrap (re-use from previous covering). Let rise for at least one hour until doubled in size.
Mix together honey and oil until smooth. Brush loaves with honey wash, using a pastry brush.
Bake in the oven for about 20 minutes, or until deep golden brown.
Enjoy!