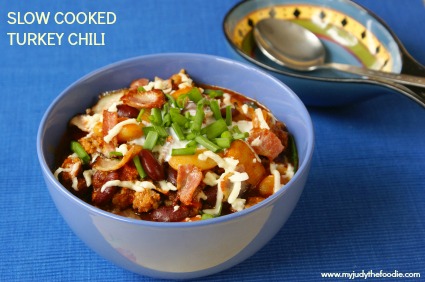 We are on a slow cooker roll, and a chili bender too.  If you've got a good thing going in the kitchen, why stop?
I know it sounds obvious but making simple tweaks to a "kid-approved" recipe will probably create another new dish that will pass the test with your most discerning underage critics.
Last week I made our favorite Slow Cooker Chicken Chili.  It was a hit with everyone, as always.  There was not a drop left in the slow cooker.  This week, I made a Slow Cooker Turkey Chili that's a riff off the other recipe.  Guess what?  Another HIT.
I love sharing these slow cooker recipes because I know how often many of us struggle to make dinnertime with the kids just a little more exciting.  And, with slow cookers, there's an entire layer of stress and mess that's removed from the dinner prep equation.
There's no enjoyment having cranky, hungry kids especially when arguments ensue over eating the meal that's being served.  I'm not a short order cook.  There aren't options at my dinner table so there's a lot invested in the main dish.
For this chili, I love the flavor of the cream of tomato soup base.  Many turkey chili recipes use regular tomato soup but the little touch in cream adds a subtle sweetness.  I was definitely hesitant using kidney beans as neither kid has ever tried them but I figured there are enough flavors to offset the beans.  Of course, I added in Rotel for some kick- my favorite discovery last year.  Don't fret; you can improvise with diced tomatoes and diced green chilies if your local market doesn't carry the can.
Like most slow cooker recipes, just dump your ingredients into the cooker and let it slowly work its magic over the next 7-8 hours.  There's something to be said for leaving early am and not having to think about dinner when you're rushing around up until dinner's witching hour.  I was even lazier and used my slow cooker like a serving piece right on the kitchen table.  I merely ladled the chili into bowls and added a side of some fresh pretzel bread (another favorite with the kids).
This dish is super hearty and tasty with a spicy KICK to every spoonful.  It's best when eaten in a bowl with a spoon.
We had a bunch of leftovers that I split into two containers: one to freeze for later use and one to eat the next day for lunch (and dinner).
Slow Cooker Turkey Chili
serves 6
Ingredients:
1 1/2 tablespoons vegetable oil
1 1/2 pounds ground lean turkey
2 cans Cream of Tomato Soup
1 (15 ounce) can kidney beans, drained
1 (15 ounce) can black beans, drained
1 can Rotel
1 teaspoon garlic powder
salt to taste
Instructions:
Heat oil in skillet.  Add ground turkey and cook until brown; drain.
Mix turkey, tomato soup, kidney beans, black beans, Rotel and garlic powder in slow cooker.
Cover slow cooker and cook on Low for approximately 7 hours or for approximately 4 hours on High.
Sprinkle shredded Mozzarella or Cheddar Cheese on top.
Add dollop of sour cream (optional)
ENJOY!