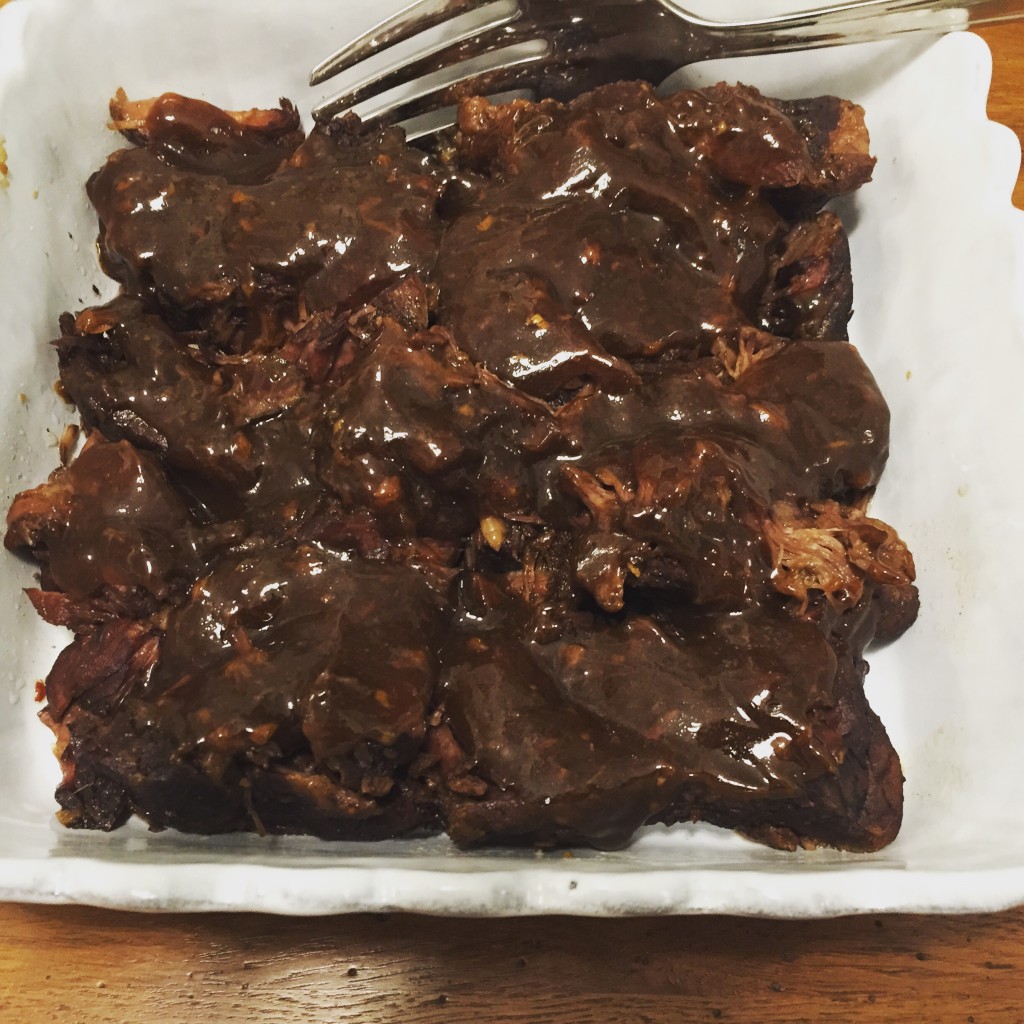 My slow cooker has been on over-drive the past two weeks and I'm not ashamed.  I'm actually impressed that each night (and sometimes in the mornings) I've managed to churn out a meals that still pique my kids' interest while hearty and flavorful to boot!
It's hard to imagine that three years ago I was intimidated by slow cooking and now, I can't stop.  Slow cooking is like the most wonderful science experiment that's so easy. How often can you dump ingredients into an appliance, leave that appliance, and then come back hours later only to have a cooked meal waiting to be served?
Last night's meal was a HOME RUN, and possibly one of the BEST dishes I've made in the slow cooker since the Chicken Chili and Beef Chili which we eat at least twice a month.
If you adore sweet meats, like brisket, then this dish will literally make you weep over your plate.
The Korean-Style Short Ribs recipe is sweet and succulent.  After only a few hours of slow cooking, the meat is so tender, it shreds at the mere touch of a fork.  And, the sauce, OH MY!  The powerful combination of soy, and brown sugar, and vinegar transports you to the best restaurants in Korea-town.
I was lucky to have found and bought boneless short ribs (although they are a lot more expensive).
wholly meat…..
But, don't fret.  If you have bone-in ribs, you'll get the same results and your tender meat will fall off the bone after hours of slow cooking. Or, if you're looking for the most inexpensive option, you can also use stew meat.  Once the meat has been cooking for a few hours, you'll be greeted by this when you open your slow cooker:
I served this dish with roasted red potatoes and they were dwarfed by the meat's intensity. This dish is best-served with a heaping side of rice to help absorb the rich flavors.  However, one friend raves about enjoying the meat in soft corn tacos.  One thing's for sure, any way you decide to prepare this meat, you won't be disappointed.
Enjoy!
Korean-Style Short Ribs
adapted from Heather's Bytes
serves 5-6
Ingredients:
1/2 c soy sauce
1/2 c packed light brown sugar
2 tablespoons sesame oil
2 tablespoons rice vinegar
2 tablespoons minced fresh ginger
4 cloves of crushed garlic
1/2 tsp red pepper flakes
5 lbs beef short ribs (if using boneless you only need 2.5 lbs)
3 tablespoons cornstarch
3 tablespoons cold water
Instructions:
Mix soy sauce, sugar, oil, vinegar, ginger, garlic and red pepper in a small bowl. (If you're using boneless ribs, you can cut the marinade recipe in half).  Place ribs in a 5-quarter slow cooker and pour sauce over. Cover and cook on high for 5-6 hours or on low for 9 hours. (I prefer high).
Transfer ribs to a platter, and skim and discard excess fat from liquid.
Place liquid in a saucepan, combine cornstarch and water and add to liquid. Bring to a boil and cook for two minutes, stirring constantly, until thickened.
Pour sauce generously over platter of meat.  If using boned short ribs, remove meat from bone prior to applying sauce.
Enjoy!