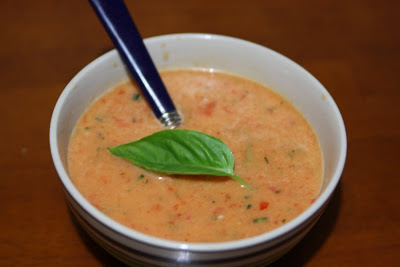 Gazpacho has become my go-to summer soup.
I love picking the vegetables from my garden and then mixing them up in a blender and serving the soup cold.  It's truly hassle-free.  I've experimented with many different flavorful varieties over the years:  Mango Gazpacho (our family fave), Almond and White Grape Gazpacho, Cucumber Avocado Gazpacho, Spicy Gazpacho, and Watermelon Gazpacho.  However, I now realize that I've never posted a simple recipe for Classic Gazpacho.
I asked out resident soup expert, Seriously Soupy, to share her celebrated Classic Gazpacho.  Serena, aka Seriously Soupy, started making soups as a creative outlet for herself after her first daughter was born.  Since she started, she has given soup tours and taught soup classes and has a catalog of over 100 soups on the site!  You can join Serena on her Soupy journey at SeriouslySoupy.com and twice a month you can find her here, at My Judy the Foodie, sharing her wisdom and helping demystify the world of soup.
Here's what Serena has to say:
This tomato-based soup is a great compliment to any meal or it can be the perfect light snack. Again (as with most chilled soups), this one requires no cooking and is really easy to make. The majority of the work involves chopping of the cherry tomatoes, red peppers and cucumbers, but once that step is over the soup is practically done. Enjoy!
Gazpacho Soup Recipe
Ingredients:
1 container of cherry tomatoes (or any type of tomatoes you prefer)
2 cups of water
1 red pepper, chopped up
1 cucumber, chopped up
1/2 of a red onion, chopped up
1 red pepper, chopped up
1 tablespoon of chopped garlic
1 tablespoon of olive oil
2-3 tablespoons of lemon juice
2-3 bunches of fresh basil
pinch of salt
pinch of pepper
Instructions:
Chop up the tomatoes, cucumber, onion and pepper into small squares.
Place in a bowl with olive oil and lemon and let marinate for 15 minutes.
Add the vegetables to a blender with one cup of water and grind the ingredients together. Pour in a bowl and taste with salt and pepper.
Add more water and let chill for 2-3 hours. Serve cold.
How do you make your gazpacho soup?