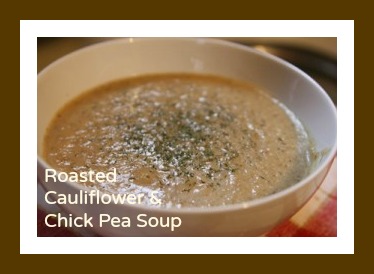 With whipping winds and cold temperatures here in the northeast, I've set my thoughts to warm, hearty soups.  As we approach the #Thanksgiving holiday,  you know that you'll be inundated with stuffing and meats and vegetables and pies so, soup could be a welcomed diversion.
As I've been making soups over the past few years, I've found that often the simplest ingredients make the best tasting soups.
This recipe for Cauliflower Chick Pea Soup (from my favorite soup expert Seriously Soupy) offers wonderfully nutty fall-like flavors from the combination of the chickpeas and celery.  And, when blended together, they give the soup a hint of cream, even though there's no dairy, it only contains vegetables and some dill.
The bonus to the soup? If you're hosting a wide age-range of people at your Thanksgiving day table, this soup serves dual purposes: to soothe hungry adults as well as a nice healthy puree for babies.
Cauliflower Chick Pea Soup
Prep time:
Cook time:
Total time:
A hearty, fall-inspired soup featuring chickpeas and cauliflower.
Ingredients
3 cups of water
1 head of cauliflower, cut up
1 can of chickpeas
3 stalks of celery, cut up
4 cloves of garlic, minced
sprinkle of dill (or fresh dill, cut up)
pinch of salt
pinch of pepper
drizzle of olive oil
Instructions
Cut up a head of cauliflower and place it on a sheet of aluminum foil.
Drizzle some olive oil on top and cover. Let cook for 10 minutes.
As the cauliflower is cooking, boil a pot of water and cut up the garlic and add it to the pot.
Add in the chickpeas and celery, along with the salt and pepper.
Turn off the oven and place it in the pot.
Let cook for about 20 minutes.
Drain some of the water and blend.
Save