When I told my kids we were having sweet potato fries at dinner, I got two polar opposite responses.
My son was ecstatic at the prospect of eating sweet potatoes again since he always devours the sweet potato and marshmallow casserole I cook for Thanksgiving.  My daughter wasn't at all interested.  Although she sampled the same beloved casserole, its consistency reminded her too much of "baby food."
Because of these differing opinions (and the fact that I refuse to be a short order cook) I have to calculate my approaches. My daughter always needs a positive spin like, "you'll LOVE these fries…they're similar to the fries from McDonald's just healthier and a bit sweeter."  For my son, I would need to manage his expectations a bit.  Unfortunately, these fries don't ooze with melted marshmallows. They would, however, have their own buttery brown sugar sweetness.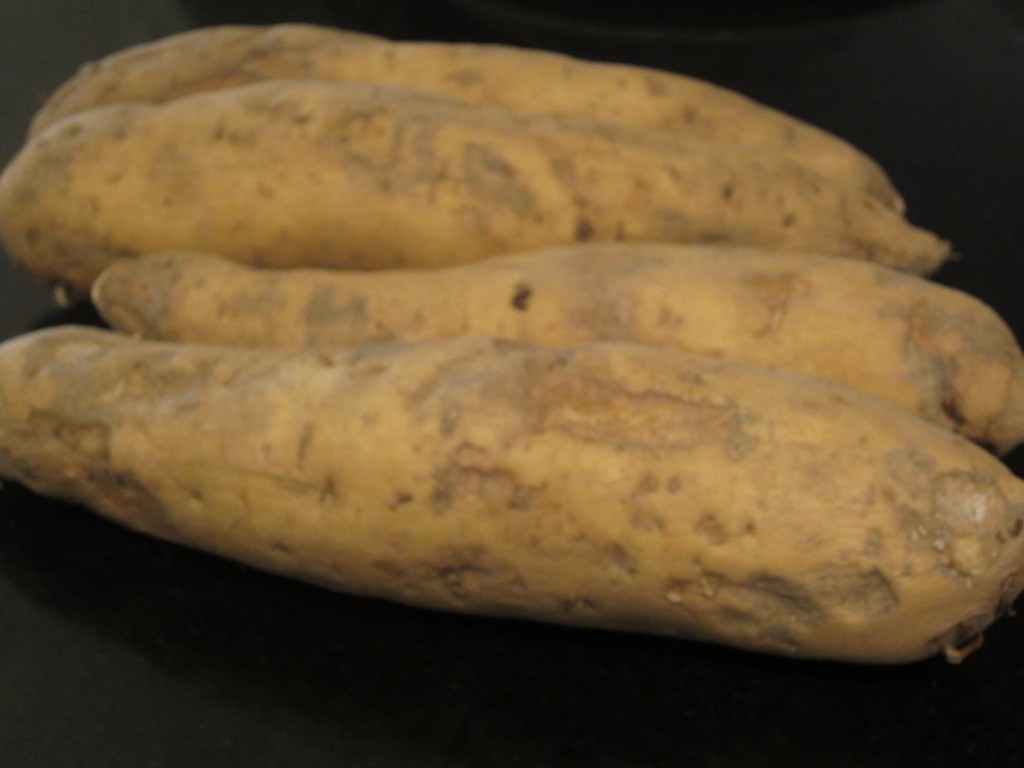 Sweet Potatoes ready to be "fried"
Growing up Mom served sweet potatoes but they were always whole-baked in the oven, with butter spread down the center. For some reason, I remember liking the starchy/salty combo of a regular baked potato more.
But, it then it dawned on me. What my kids are willing to actually try in the kitchen is directly correlated to their visual stimuli.  For example, they never would've tried the Pomegranate Smoothie if they had known it contained two heaping cups of spinach.  However, they were certainly amazed at the flourescent green hue to the drink so they just HAD to try it.  Same goes for the Sour Cream Bavarian.  They poked it with their fingers before they tried it.  When it bounced back like jello, they were intrigued.
I'm convinced the kids finally gave in and tried because anything that can be eaten with fingers at the dinner table is an added bonus.
And, the best part?  They're sweet!
The combination of cinnamon mixed with heaping amounts of butter and sprinkled brown sugar turn this side dish into a potential dessert option too.
p
This recipe is way too easy to pass up, requiring no culinary talents except for trying to cut same-sized rectangular pieces from the sweet potatoes without cutting finger in the process (This almost happened to me.  I wish I remember all of the skills I learned in the Knife Skills class!)
I was very generous with the butter and sugar but I know that's kind of self-defeating if you're trying to err on the healthier side of potato prep.  You can sample along the way to get the right proportion of sweetness versus potato.  If you use too much butter (like I did on some of the slices), when the potato cools, it'll become very limp and soggy and won't retain any crispness. Plus, it's important to try to get the outsides of the slices a bit browned and too much butter won't help.  These fries they won't get crispy like the classic french fry, they'll harden up a bit but, that's it.
Sweet Potato fries doused with butter, sugar and cinnamon
Also, remember not to buy too many potatoes.  You'd be surprised how many slices one lone potato produces.  I purchased 5 potatoes and was left with three extra. Now they're growing sprouts…
Enjoy…

Sweet Potato Fries
Prep time:
Cook time:
Total time:
A tasty alternative to the generic baked-potato based fries!
Ingredients
1 stick of butter ( ½ cup)
1½ teaspoons ground cinnamon
3 Sweet potatoes, cleaned and cut length wise into wedges
2 Teaspoons salt
2 Teaspoons freshly ground black pepper
Brown sugar to taste
Instructions
Preheat oven to 400 degrees.
Cut sweet potatoes into wedges length wise.
In a large pan, over medium heat, melt the butter.
Remove pan from heat and stir in the cinnamon, then add in the potato wedges and toss to combine.
Season the potatoes with salt and pepper.
Place wedges in a single layer on a baking sheet.
Make sure that they are spread out to insure proper baking.
Stir potatoes occasionally, until tender, about 20-25 minutes.
Remove from oven, sprinkle brown sugar and serve warm.