Even though I've been living in Manhattan for twenty years, there are still many aspects of city living to which I haven't grown accustom.  Most importantly, Halloween, served up city style.
My kids have no idea what they're missing as they've only lived in our concrete jungle.  So, when they pass this trick-or-treat sign up in our building foyer every year, they get so excited and revved up for the big day.  I, however, look the other way and cringe.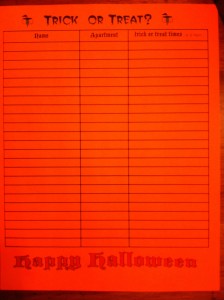 I'm the one who longs for a suburban Halloween.  My kids are just fine.
The spread sheet sign up captures the essence of our Halloween in the city –it's very standardized.  It's missing so much of the fun and nighttime excitement that accompanies the long spooky walks down the zig-zagged streets in the dark of night.  Instead, I will be monitoring my kids winding their way through fluorescent lit fire escape stairwells, trying to assess from their "spreadsheet" which apartments are accepting trick or treaters during which hours.
Occasionally we'll get to a floor with the grumpy old couple who peek out their keyhole just as the kids are proudly mouthing, "TRICK OR TREAT" to their neighbors. Then, it's their moment to creek open the door and say "SHUSH, keep it down" as loud as they can to our unsuspecting kids. What a buzz kill.
Halloween in the 'burbs was all about walking around on the leafy streets with your neighbors and school friends in the crisp black of night, feeling carefree in costume.  I remember which houses had the good candy, which ones gave out the boring apples, which houses left bowls of candy out front, and which house gave out the toothbrushes every year.  I loved oogling over the jack-o-lanterns on the stoops and walking past the house everyone thought was haunted all-year-long.  Since city life is much more transient. It's not unusual to have a revolving door of neighbors.  We can't bee line for the apartment with the best candy or the one that lets you bob for apples because sometimes we just don't know who's who anymore.  Manhattanites seem to pride themselves on anonymity while suburban neighborhood living immediately fosters a sense unity and community.  We've lived in the same apartment building for 6 years and in total, we've probably said 20 words to our neighbors.
Our tiny elevator has gotten stuck for 45 minutes packed full of kids dressed in their wool costumes.   A couple of years ago, one of my kids slipped going down the steep fire escape stairs (luckily, the costume was well-padded).   In the 'burbs it was understood that on Halloween night, you should generally have someone in your house from 6:30p-9:00p to greet the trick or treaters.  In our building, I feel like Halloween is more about the parents' convenience. People sign up for a 1-1/2 hour block of time where the kids are allowed to come by but, it's not a coordinated effort.  Therefore, one neighbor might be free from 6:7:30p and the person right next door might not want anyone to come by until 7:30-9p.  Now, factor that in with three different elevator banks,  elevators that can only hold 8 people and stop at every floor and you've got a real mess.
Again, I admit, I'm the only one having a hard time with this alternative version of Halloween.
My kids?
They have no clue.
In fact, in their minds, it's genius that they can ride the elevators to get their loot and they can complete their trick or treat mission in under two hours.
They love that they don't need to wear coats over their costumes (about which my mom and I always argued).
They think it's genius that they can cover triple the amount apartments in the same amount of time it took me to cover 1/3 of my neighborhood.
And, what could be better than a bathroom stop in their own apartment?
What do I do to try to make Halloween more fun (for me)?
I always dress up with my kids….
This year, we even made our own treats together….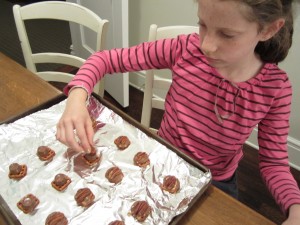 We decorate the apartment and carve pumpkins (even though no one will see our decorations AND our pumpkins will rot if they stay out in the heated hallway too long).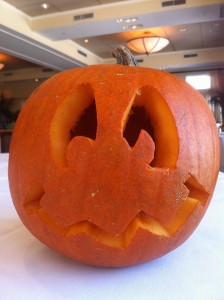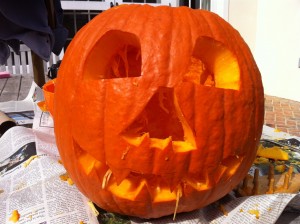 And, I stock pile the handfuls of collected candy in one bag so I can control all future distributions.
And of course I create a secret stash with my personal favorites.
So, I guess Halloween isn't that bad (for me) after all…
What were your favorite Halloween memories when you were a kid?