Who doesn't love going pumpkin picking in the fall?  While my kids adore apple picking and walking through all of the orchard rows to pluck their personal favorites, our pumpkin festivities last well beyond the pumpkin patch.   Although this year we were again saddened to learn that much of the pumpkin crop in Long Island was ruined in August by the high winds and heavy rains of Hurricane Irene, that didn't stop us from trudging out in the fields with our wheelbarrows to accomplish our mission: to find enough pumpkins so the kids could…
paint them: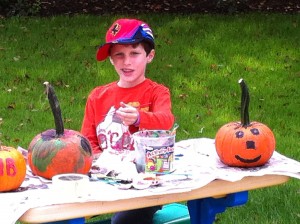 carve them: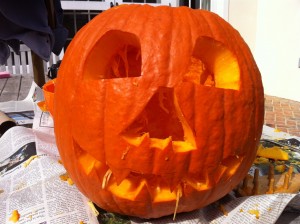 and scoop out their goey innards for seeds (and pumpkin custard):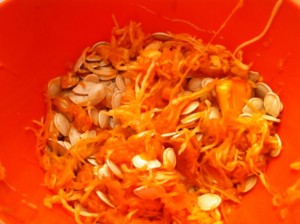 Growing up, my parents always showcased two carved pumpkins that book-ended our front door.  We lived in the woods, at the top of a long windy driveway at the end of a cul-de-sac.  The jack-o-lanterns and a nice handful of candy were our offerings to the brave trick-or-treaters who made it to the top of our driveway in full costume.  Unfortunately, since I am now raising my family in an apartment building, we have to play by the rules and play nice with our neighbors (who aren't at the end of a long driveway but merely an arm's length away from our front door). Therefore, our carved "scary" pumpkin is forced to live on our counter, cutting its shelf life from weeks to a mere couple of days.  Unfortunately, we've experienced no ooh's and ah's from admiring neighbors, only a swarm of fruit flies in our kitchen.
Ok, so we learned our lesson.  We probably should have gone pumpkin picking just a few days prior to Halloween so our carved pumpkins would last but, we still had a blast together.  And, whose kids ever tire from pumpkin carving?  We'll just have to get a batch another weekend and start all over again.  In the meantime, we scooped out a ton of pumpkin seeds and, with just the right amount of sea salt and Old Bay seasoning, they're the perfect tv-watching snack.  For our pumpkin picking trip next weekend, we're going to attempt Mom's Pumpkin Custard!
Judy's Pumpkin Custard
 Ingredients:
1 large egg
1 cup cooked pumpkin
½ cup light brown sugar
½ tsp salt
½ tsp cinnamon
¼ tsp nutmeg
¼ tsp ginger
½ cup undiluted evaporated milk
½ cup heavy cream
Instructions:
Preheat oven to 325 degrees.
Mix beaten egg enough to blend yolk and white.
Stir in pumpkin, brown sugar, salt, cinnamon, nutmeg, ginger, milk and cream.
Turn into 4-6 oz custard cups –set in pan of hot water.
Bake 40-50 minutes at 325 degrees or until knife inserted in center comes out clean.
Remove from water.
Cool, cover & chill top with whipped cream.
Enjoy!
Roasted Sea Salt and Old Bay Pumpkin Seeds:
Rinse pumpkin seeds under cold water and pick out the pulp and strings. (This is easiest just after you've removed the seeds from the pumpkin, before the pulp has dried.)
Place the pumpkin seeds in a single layer on an oiled baking sheet, stirring to coat.
 Sprinkle with sea salt and Old Bay seasoning and bake at 325 degrees until toasted, about 25 minutes, checking and stirring after 10 minutes.
Let cool and store in an air-tight container.
Do you like to bake any pumpkin-based treats during the pumpkin harvest? Share them with us.