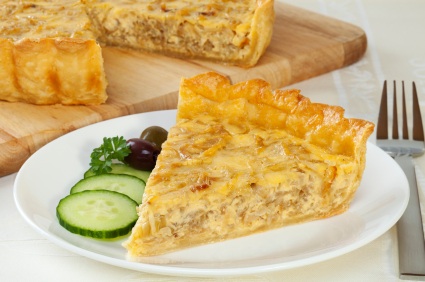 I'm thrilled to have been selected as part of the OXO Blogger Outreach Program to help spread the word about OXO Healthy Eating Tools.
Over the past year, as I've slowly been upgrading my kitchen and organizing my chaotic pantry, OXO has been my go-to brand!  I love all of my recent OXO purchases: angled measuring cups, locking tongs, measuring cups, and most importantly, their pop storage containers! But, I had NO IDEA how much I desperately needed the OXO Hand-Held Mandolin Slicer.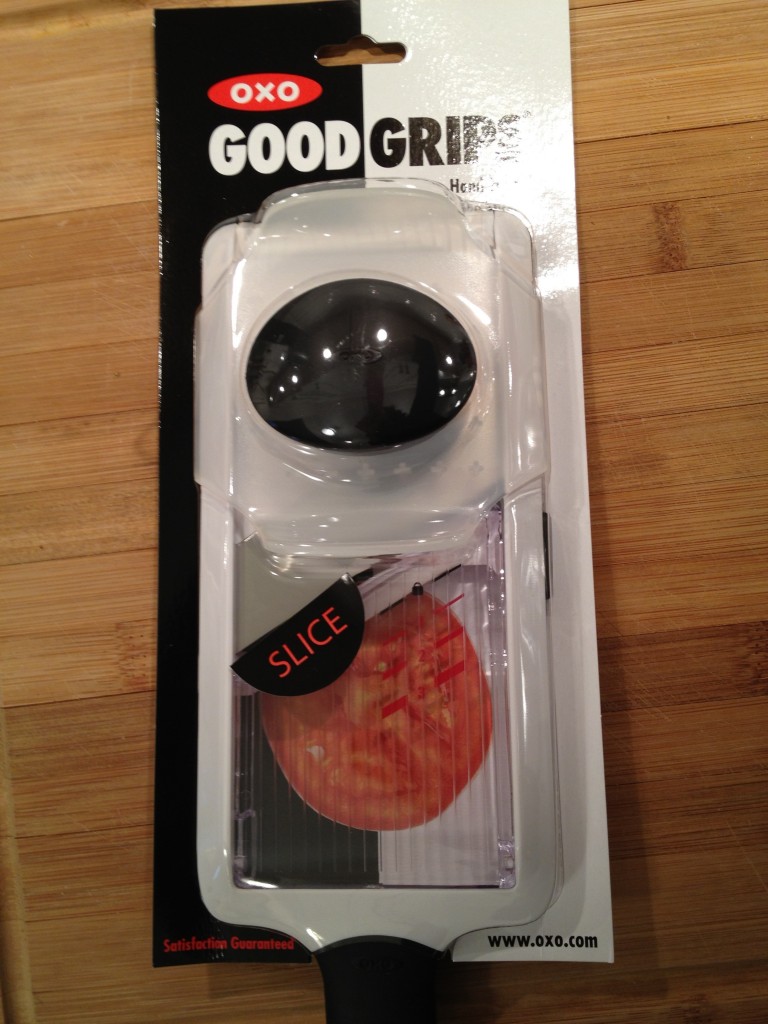 Wahoo!  My very first OXO Hand-Held Mandolin Slicer
Up until now, slicing for me has always been somewhat of a finger gamble, even after passing the Knife Skills class at the Institute for Culinary Education.  I decided to try out my new slicing gadget making one of Mom's tasty quiches.
Growing up, Sunday brunches were just as important for family bonding as our weekday dinners.  And, Mom didn't relax on the meal selection either.  Forget simple generic a la carte options like toasted bagels with cream cheese or cereal or oatmeal.  Nope, Mom always served something homemade and fresh from the stove top or oven: blintzes or casseroles or quiches.
Because my kids LOVE eggs and cheese, and they would never shy away from a pie crust, I decided it was time to bake my first quiche for the family for our Wednesday night theme night: Breakfast-for-Dinner Night!  The caramelized onion quiche is so simple to make, it's reminiscent of Mom's Cheeseburger Pie and Breakfast Egg Casserole.  All three dishes only require some sort of simple crust, egg-based "batter," and bake time in the oven.
Yep – a simple ready-made refrigerated pie crust will due
Since I wasn't required to make a crust from scratch but rather, use a "refrigerated pie crust," the only remaining challenge to the directions: "thinly sliced onions."  No matter how many knife classes I take, I still can't cut an onion without: crying, creating slices of varying thickness, having the onion roll off the counter top, risking cutting off all of my fingers!  I couldn't wait to try my new OXO Hand-Held Mandolin Slicer because it's so intuitive and beyond easy to use:
You can easily adjust to 3 different thicknesses to make uniform food slices.
The slicer comes with a food holder that allows you to grip the food without risk of cutting yourself.
You can easily slice on a cutting board or plate or even hook it over a bowl (like I did) with its non-slip foot and cut directly into a bowl.
Knowing my kids don't like onions, I wanted its flavor to be in the background, not foreground of the quiche. I reduced the onion amount from 5 to 3 and  strategically placed the slicer's setting on "thin" and effortlessly sliced away.  Within seconds, I had perfectly symmetrical onion slices ready to get caramelized on the stove top.  The sweet onion smells seemed to hypnotize my kids, forcing each out of their room to inquire about the mysterious breakfast-for-dinner dish.
Onions crudely cut from a knife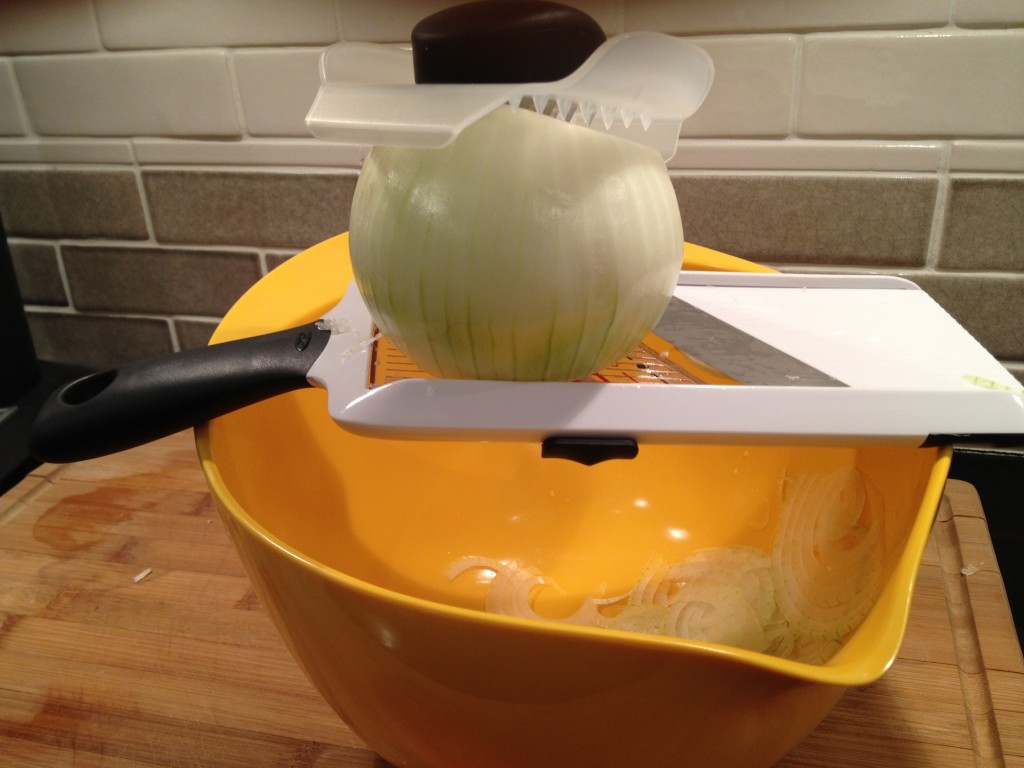 OXO Hand-Held Mandolin Slicer set up and ready to go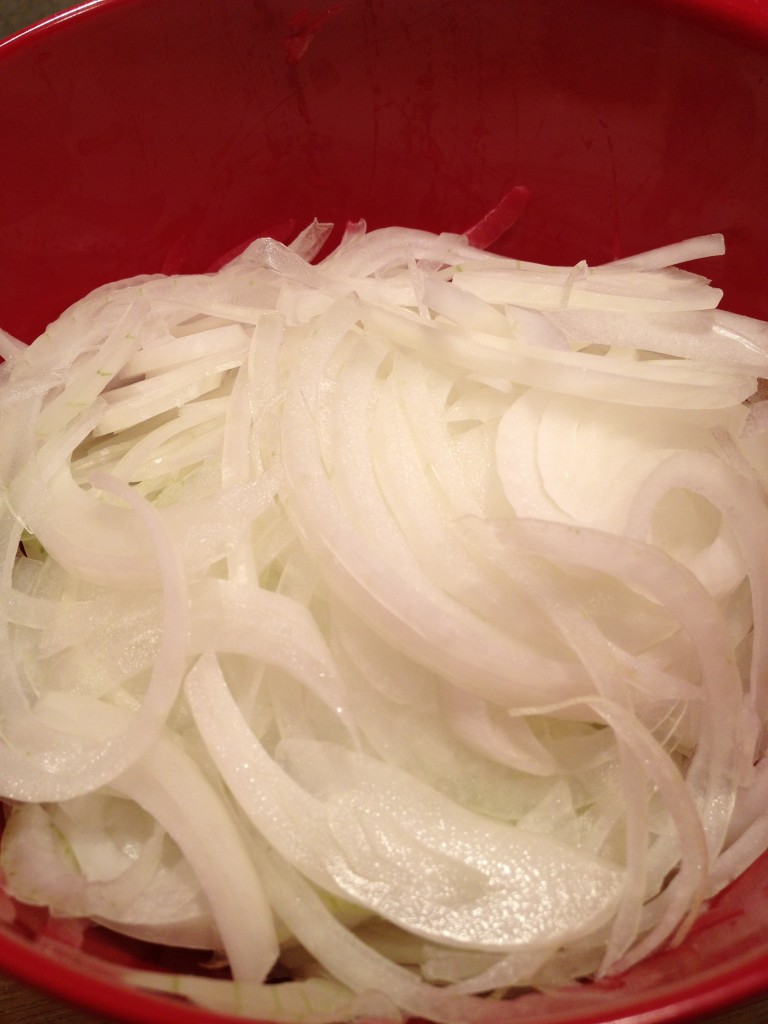 Perfectly-sliced onions from OXO Mandolin Slicer
Only 40 minutes later, I  served a gorgeous  quiche, decorated with swirls of onions beautifully baked in a sea of eggs.  Even though I tried to upsell the eggs and CHEESE and pie crust, my kids still glommed onto the fact that they don't like onions. I promised this dish would only expose them to the onions, not overwhelm them.  And, that's exactly what they experienced.
I'm convinced my OXO Hand-Held Mandolin Slicer helped me achieve these results- without it, the onions would've been cut irregularly (some fat, some thin) and therefore, would've completely dominated each individual slice.
Instead, the quiche was a raging success—two servings for each kid.  And, not one onion complaint!  In fact, my kids were so impressed with their new gadget, they starting slicing everything they could find in the fridge, from apples to zucchini.
Now, it's your chance to WIN your very own Hand-Held OXO Mandolin Slicer!  
To Enter: Leave a comment on this post telling me what you'd make with your new OXO Han-Held Mandolin Slicer.
Earn More Chances to WIN (leave a comment for each entry letting me know you did it, even if you already follow)
Official Rules: Open to US residents only. Must be over 18. Giveaway will end on April 24, 2012 at 8:00 pm (Eastern Time). One winner, with a valid entry, will be selected using random.org. Winner will be notified by email and will have 48 hours to claim their prize or another winner will be selected.
Disclaimer:  I was not compensated for writing this post. I did receive a free OXO Hand-Held Mandolin Slicer to use and enjoy!  As always, all opinions expressed in this post are my own.
Caramelized Onion Quiche (adapted in part from familycircle.com)
Makes 6 servings
Ingredients:
1 refrigerated pie crust
1/4 cup extra virgin olive oil
3 cups thinly-sliced onions
5 eggs
1 cup 2% milk
1 tablespoon Dijon mustard
1/2 teaspoon salt
1/4 teaspoon nutmeg
4 ounces shredded Mozarella cheese*
Instructions:
Preheat Oven to 375 degrees.
Place crust into a 9-inch pie plate, cover with plastic wrap and refrigerate.
Heat oil in a large pan over medium heat.  Add onions and cook until browned and soft– stirring occasionally
In a bowl, whisk together eggs, milk, mustard, salt and nutmeg.  remove pie plate from refrigerator.
Sprinkle cheese evenly on bottom of crust.  Scatter onions on top. Pour egg mixture over cheese and onions.
Bake quiche at 375 degrees for approximately 45 minutes, until eggs are set and crust is browned.
Cool on wire rack before serving.
Enjoy.
Notes:  Other recipes use either swiss or gruyere cheese in place of mozarella cheese.  I reduced the number of onions from 5-3.  You can use dry mustard in place of the dijon mustard.