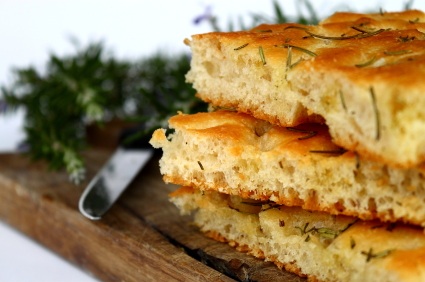 "Good bread is the most fundamentally satisfying of all foods; and good bread with fresh butter, the greatest of feasts."
James Beard (1903-1985)
Mom used to bake bread quite often when we were growing up.  As a young kid, this activity seemed marathon-like.  We had to wait forever for the yeast to rise, sometimes twice. I'd watch Mom combine the yeast with water and flour, stir it rapidly and then cover the bowl with a raggedy old orange dish towel.   Like a cub following its mother, I'd wander behind her into our secret "furnace room".    The furnace room was off the laundry room and it was always dark and tropically warm.  Mom would place the bowl down on the dusty floor, explaining that the yeast needed to rise and in order to rise, it needed to be left in a warm area.  To me, the art of baking bread would forever seem magical and mysterious.  It also intimidated me enough to prevent me from every trying it.
Until last week.
In the Basically Baking class at the Institute for Culinary Education, Rosemary Focaccia topped our long list of baked goods we'd be creating in under 4 hours.  It was overwhelming.  I schemed to bake the cookies and cakes and scones before the bread as a way to slowly muster up my confidence.  But, the chef immediately shot down my plan.  I was told the bread needed to be started first since it rises twice before baking in the oven.  And, even though the chef then proclaimed the Italian flatbread is "among the easiest of all breads to prepare", it still didn't calm my nerves.  I had never worked with yeast, and, consequently, never dealt with dough that needed to rise.  At that moment, I yearned for Mom, her raggedy orange dish towel (my security blanket), and our hot furnace room— to hide and watch the bread rise.
Thank god we were paired with partners. Before we began, the chef warned us to never ever let the water get too hot, or it will kill the yeast. I then turned to my partner and revealed my life-long fear of yeast.  Luckily she was sympathetic and willing to work in tandem.  We decided to whisk and beat the yeast vigorously (together). Like a child trying to please a parent, I made darn certain our water was the perfect tepid bathwater temperature.  I didn't want to screw up the first baked good of the day.
Kneading my first bread dough!
An hour later, our first rise was a success.  Our bread looked puffy, shiny and extra doughy.  After the second hour and another successful rise, we got the green light from the chef to spread the dough into a jelly roll pan and poke holes all over.  And, we happily poked away, knowing how close we were to having some fresh tasty bread.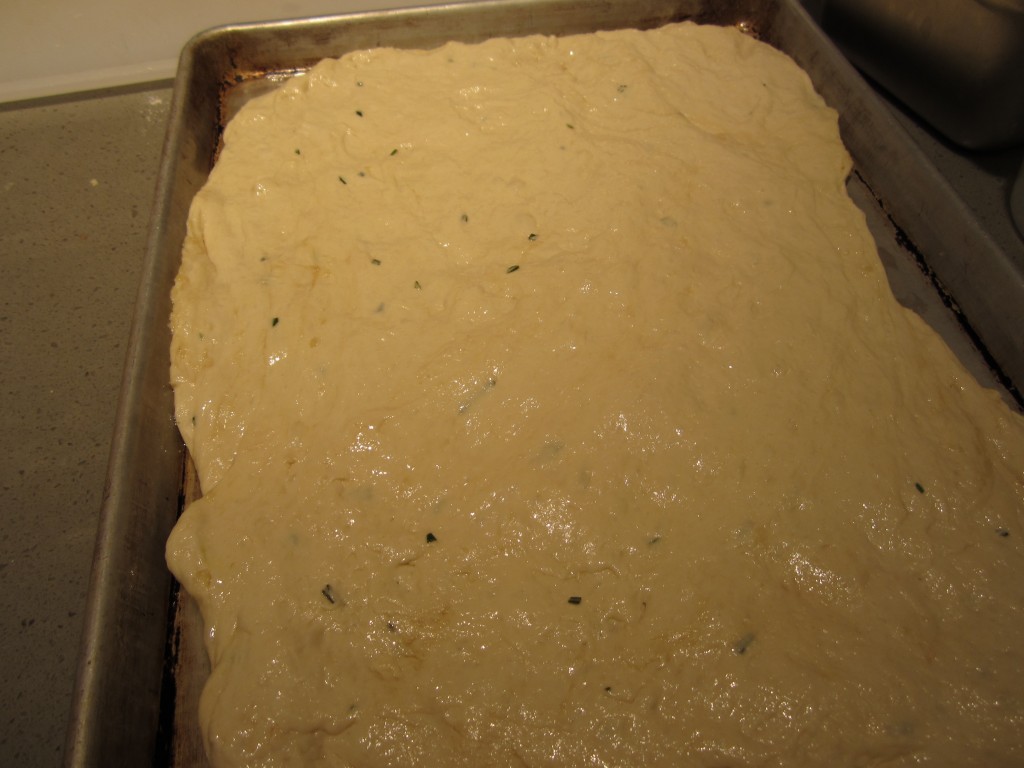 Bread spread in pan awaiting holes and final baking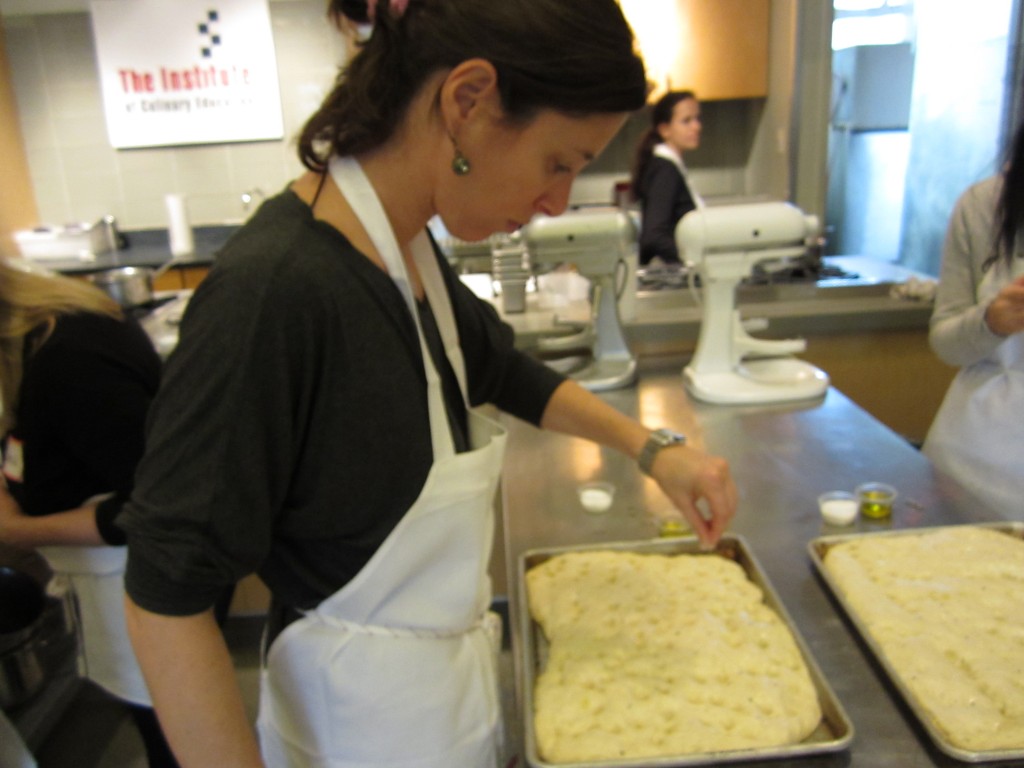 Sprinkling on final sea salt touches
As I pulled out that long slab of focaccia from the oven, I felt a huge sense of accomplishment rush over me.  I'm certainly not an artisan baker but, before my eyes was my perfectly-baked Rosemary focaccia bread.  It was truly magical.
This feeling seemed mutual throughout the class; everyone took so much pride cutting their bread into even narrow slices, holding them up for proper inspection, relishing in the fresh smell of olive, rosemary, sea salt.
I couldn't wait to see how psyched and surprised my kids would be to have a loaf of their favorite bread— baked be me!  Mom would've been so proud too.
Now, do I've have the guts to bake a braided Challah bread?
Rosemary Focaccia (from Nick Malgieri's baking class)

Ingredients:
5 cups unbleached, all-purpose flour)
2 teaspoons salt
2 tablespoons chopped fresh rosemary
2 cups warm tap water (no more than 110 degrees)
2 1/2 teaspoons (1 envelope) active dry yeast
6 tablespoons olive oil
1 teaspoon Kosher or other coarse salt
Instructions:
Measure flour, salt, and rosemary into a mixing bowl and stir well to combine.
Measure water into a bowl and whisk in yeast, then 3 tablespoons of the oil.  With a rubber spatula or wooden spoon, stir the yeast mixture into the flour mixture until all the flour is evenly moistened, then beat vigorously for a minute.  Cover bowl with plastic wrap (loosely) and allow to ferment until double in bulk, about 1 hour.
Spread half the remaining oil on an 11×17-inch jelly roll pan.  Scrape the dough out of the bowl onto the pan and pat and press the dough into the pan to fill it completely.  If the dough resists, wait a few minutes and continue. Poke holes in the dough at 2-inch intervals with a fingertip and drizzle with the remaining oil.  Sprinkle with the salt.
Allow the dough to ferment again until double in bulk.  Meanwhile, preheat oven to 45o degrees and set a rack in the lower third.  Bake the focaccia about 25 minutes, until deep golden.  Check the bottom about halfway through the baking time by lifting the side of the focaccia with a spatula or pancake turner.  If it is coloring deeply, slide pan onto another pan to insulate bottom.
Slide the focaccia off the pan or a rack to cool.  Serve narrow slices, or cut into squares and split horizontally for sandwiches.
Have you baked bread at home?  If so, what's your favorite recipe?  If not, why not?