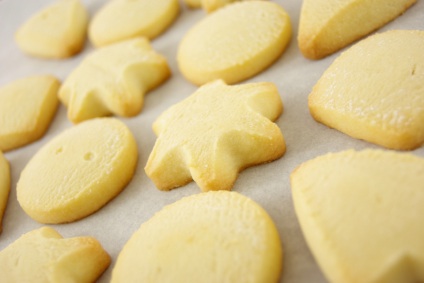 I adore the delicate, buttery taste of shortbread cookies. My favorites are the Royal Shortbread cookies which are handsomely dipped in milk chocolate on one end.  Up until a few years ago, I had never bothered to bake any version.  Sadly, I had only purchased them in stores around holiday time. For me, it had always been easier to pick up a beautifully-wrapped tin full of these treats, only to hand them over as a holiday gift for my kids' teachers.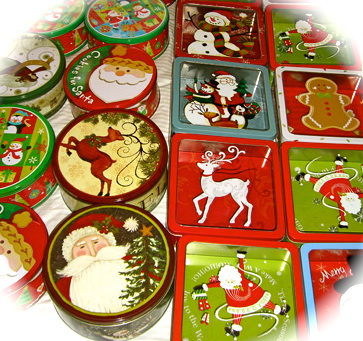 Cornucopia of holiday cookie tins
So, what got me out of my 30 year baking hibernation this holiday season?  I took an intro Baking Class at the Culinary Institute!
Compared to the chocolate chunk scones and the rosemary focaccia bread, both of which were fairly easy to bake, the shortbread cookies were almost too simple.  I'm actually embarrassed I never thought to try to bake these at home.  There's absolutely nothing difficult about the recipe. It only contains three ingredients- all of which are staples in everyone's pantry: butter, sugar, flour.
In fact, you don't even need to worry about how far apart the cookies need to be placed on the sheet because this particular dough doesn't even change shape! It doesn't spread much at all.  Sheesh, I've made drip castles at the beach that seem harder than this.
shortbread dough, waiting to be cut
Similar to sugar cookies, shortbread cookies create the most ideal non-sticky dough base with which you can use all different shaped cutters. My baking class was restricted to adults so we were obviously only offered simple round cookie cutters.  However, create a family shortbread baking activity at home and you can have a ton of fun with the cutters.
finished cookies – perfectly delicate, crisp and buttery
Let's face it, wouldn't you feel that much better arriving anywhere with a homemade gift rather than something that looks like it was just effortlessly picked up from the store on the way to the party?  90% of the time, I had been that guest. I would arrive with the random generic bottle of wine or the nondescript serving dish.
Over the years I've now learned the real advantage to giving homemade or home-baked goods: the intangible, thoughtful "personal touch" that simply can't be replicated.
Try these as holiday gifts for friends and family.  They're delish!
Enjoy!

Scottish Shortbread Cookies
Author:
adapted from the Parisian Pantry
Prep time:
Cook time:
Total time:
Tasty holiday cookies tat only require 3 ingredients.
Ingredients
½ pound best unsalted butter (grade AA or better)
½ cup sugar
2½ cups all-purpose flour
Instructions
Place butter in mixer and beat with paddle until soft and light. Beat in sugar in a stream and continue beating 5-10 minutes until the mixture is very light and whitened.
Reduce machine to low speed and add in flour until absorbed. Don't beat too long or the dough will toughen.15
Scrape the dough onto a floured surface and flour the dough with pinches of flour. Press the dough out with the hands, then roll over once or twice very gently with a rolling pin until the dough is approximately ½ inch thick.
Cut the dough with cutters (fun ones) and carefully transfer the cut ones to a paper-lined jelly roll pan.
Bake the shortbread at 325 degrees about 15 minutes until it is VERY lightly colored. Cool on a rack.
Save
Save
Save