For the long holiday weekend, my family went skiing. I couldn't help but notice there was always some sort of hot fruit dessert available to the weary, cold skiers. It made me realize that comfort food doesn't always have to be served in the form of a binding casserole dish or a hot chilli soup. It can be a dessert too.  As I searched Mom's repertoire, I found plenty of desserts that could be classified underneath the "ooh, this is warm and flavorful and so very filling" umbrella.  Growing up, Mom's Hot Fruit Compote was one of my favorites.
As my guinea pigs, my kids have the all important responsibility of sampling everything of Mom's I attempt to cook.  And, there are definitely positives and negatives.  On the plus side, they've been exposed to and sampled more variations of food than they could've ever imagined.  On the down side, I imagine sometimes they feel like laboratory animals.  I mean, for the comfort food theme weeks, I subjected my kids to eat four different types of casseroles.  I certainly didn't take it personally when my 6 year old said he just "couldn't eat anymore rice from the rectangular dish."  I was beyond thrilled to shake things up at the table and attempt to make Mom's Hot Fruit Compote.
Fruit Compote is essentially cooked or stewed fruit, usually served with a syrup.  I remember Mom's version so vividly. It was synonymous with cold, dark wintry nights. I couldn't resist the warm, cozy smells emanating from the fruits stewing in the oven. When complete, she'd scoop out individual servings into separate bowls– the consistency resembling a cross between a baked cobbler and a bread pudding.  On these nights, the dessert always hit the spot.  Because they're baked for a while, the fruits weren't refreshing at all but rather, completely nourishing.  And the addition of the cake-like macaroons to the base and middle layers creates the perfect marriage to the soft soup-like fruit.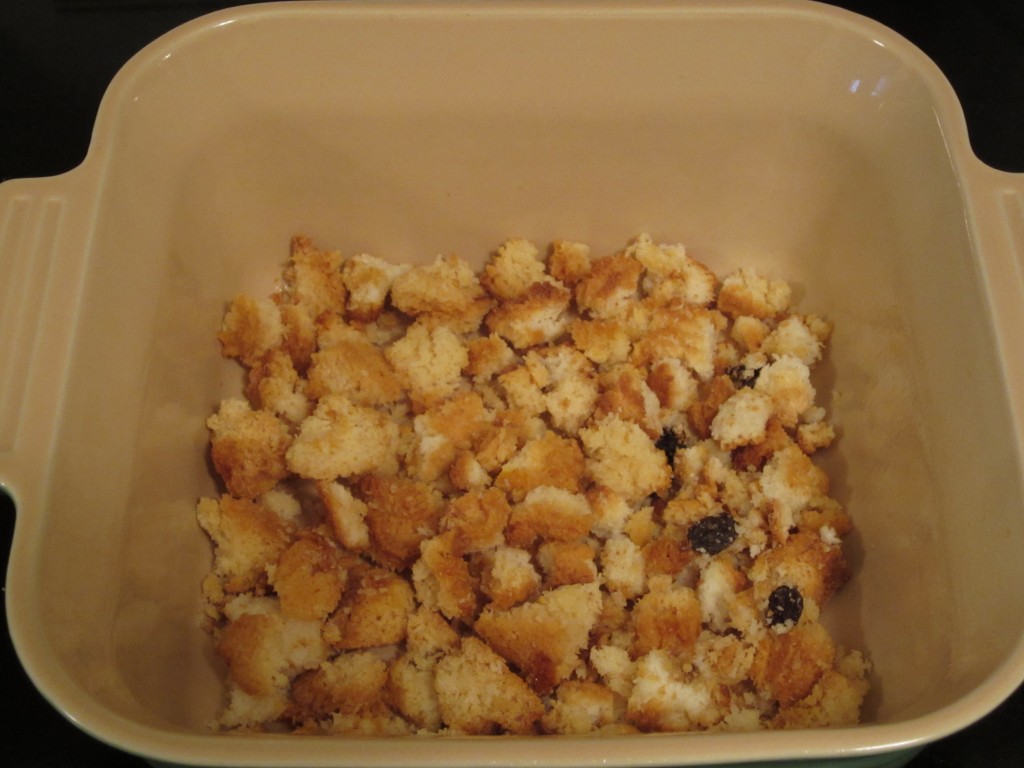 Compote Layer #1 – crushed up macaroons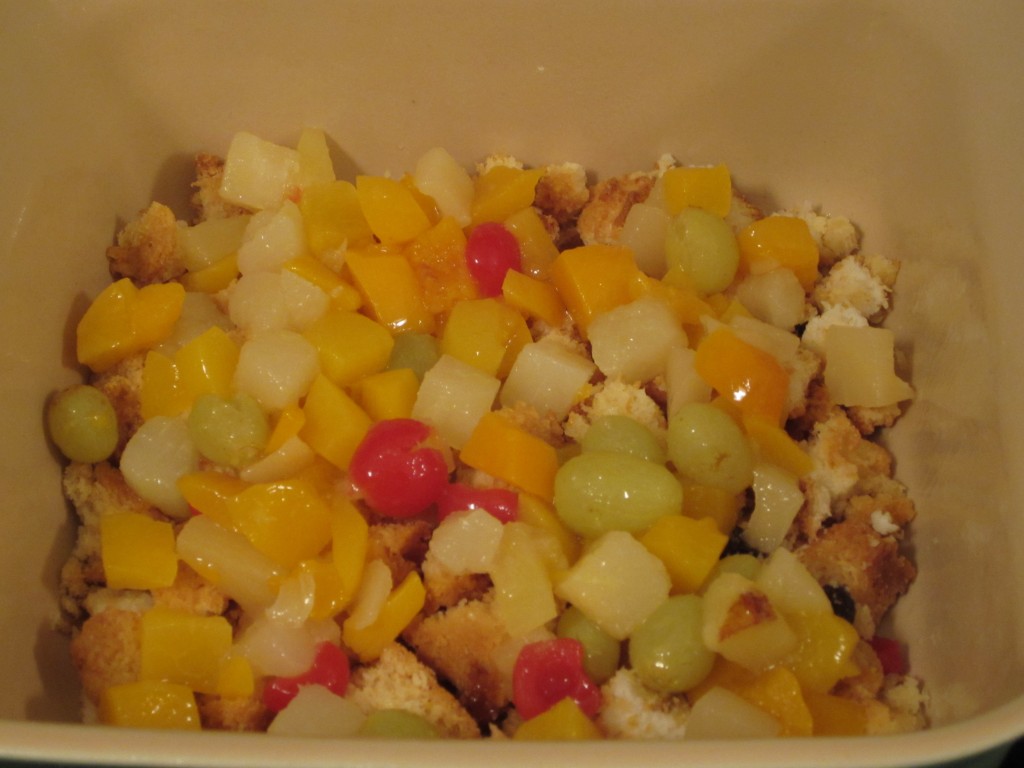 Compote Layer #2 – fruit medley!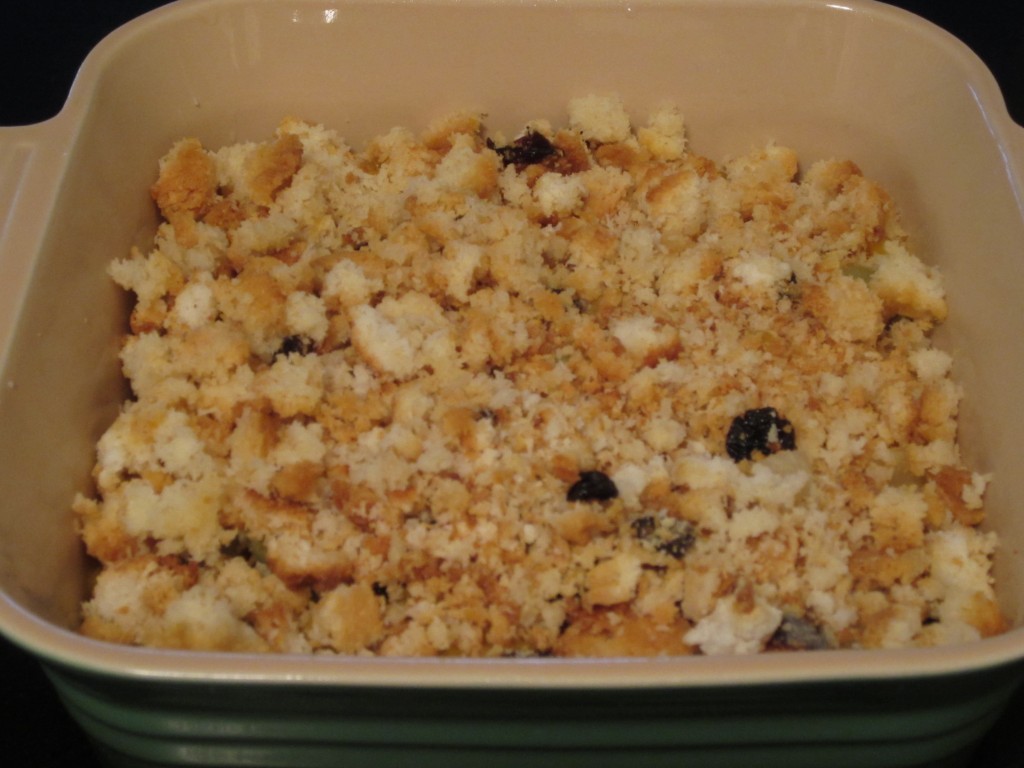 Compote Layer #4 – more macaroons!
Final Compote Layer – slivered almonds and brown sugar
Final Hot Fruit Compote – baked to perfection!
If there's one ingredient you don't want to leave out from Mom's recipe, it's the Sherry cooking wine.  It adds just a hint of alcohol to the dish, lending almost a smoky, woody flavor.  And, when the macaroons get sopped up,  heaven!  The addition of the brown sugar and butter might seem like a sinful (and fattening) overkill but, it's totally worth it.  Well, maybe you could cut down the melted butter just a tad, maybe?  And, don't forget, all macaroons contain a hint of coconut which adds an extra dosage of sweetness.
This dish only took me 10 minutes of prep time and 30 minutes of baking time.  It can be thrown together at the very last minute. In fact, I put it in the oven when my kids were starting dinner.  I used unsweetened canned fruit, because I had it in the pantry, and the syrup adds an additional sweet kick.  You can certainly use fresh cut up fruits too.
The best part about this dish?  It's beyond easy to prepare – it's almost fool proof. And you can improvise along the way.  I used macaroons with raisins and chose a medley of canned fruits.  Also, adding a dollop of vanilla ice cream a top the compote never hurts.
While the completed dish looks  more like a mangled mess than a dessert, the taste is unforgettable.
Enjoy!
Hot Fruit Compote
serves 6-8
Ingredients:
12 macaroons crumbled to pieces
2 14.5 oz. cans dried fruit (or fresh fruit cubes)
1/2 cup almonds, slivered and toasted
1/4 cup brown sugar
1/2 cup Sherry
1/4 cup melted butter
Instructions:
Preheat oven to 350 degrees.
Grease a 3 quart casserole dish.
Cover the bottom of the dish with macaroon crumbs.
Alternate fruit and macaroons in layers making sure the macaroons are the top layer.
Sprinkle almonds, sugar and wine over top the compote.
Bake at 350 degrees for 30 minutes.
When completed, pout melted butter over top compote.
Serve hot!