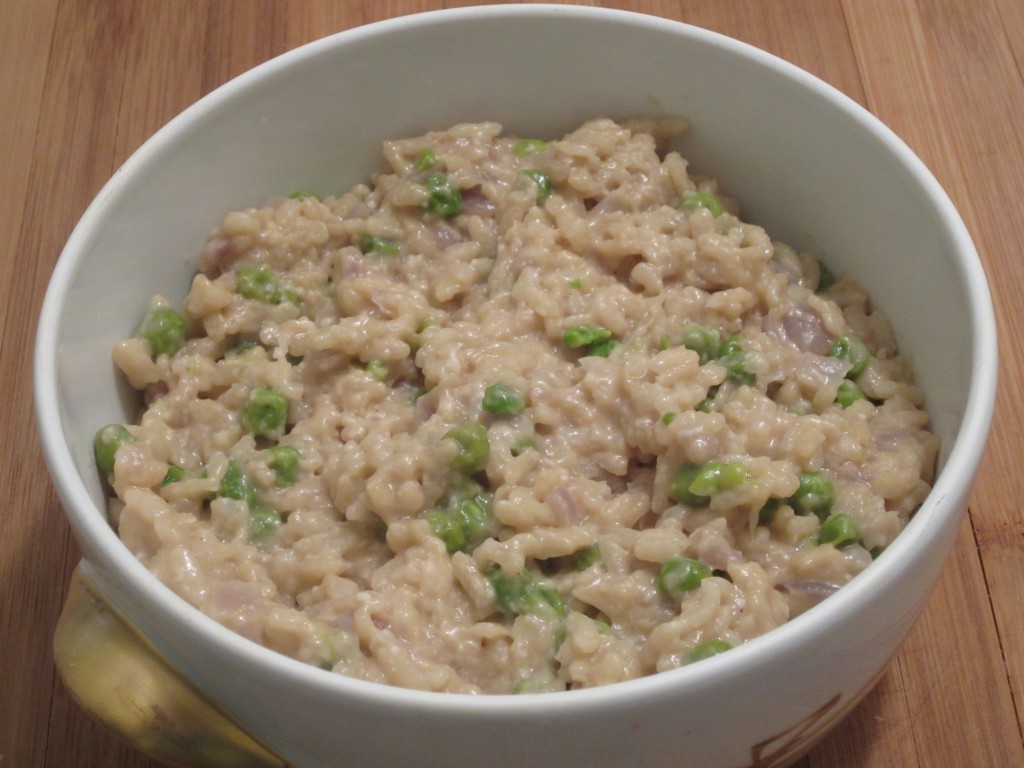 Before today, I had never made risotto from scratch.  In fact, the only time I've ever eaten risotto is when it's freshly-made in Italian restaurants.  I guess I just didn't trust myself to be able to make a good batch.  And, I usually try to steer away from the ultra creamy consistency characteristic of this popular rice dish.  But, when I was perusing the recipes from the Secret Recipe Club submissions, I knew I had to try the Green Tea Risotto.  How unusual, a risotto dish not made with chicken broth or cream but rather green tea?  I've made many of Mom's recipes contain interesting ingredient twists (Baked Brie with Ginger Snaps, Kahlua Brownies, Coffee and Noodle Casserole) and they've all tasted uniquely wonderful.  I was so curious to recreate this dish with green tea that I lost all my original risotto-making inhibitions.
When I try any new dish, there's always a huge learning curve.  This time around it was with RICE.  I must have 10 different bags of rice in my pantry: brown rice, white rice, mixed grain rice, Rice-a-Roni!  But, apparently cooking risotto wouldn't allow me to pull just any rice off the shelf.  It requires a different short-grain variety called Arborio rice.
Arborio rice used to make risotto
Apparently short grain rice need to be used for this dish because it absorbs liquid without overcooking, creating the very creamy signature texture.  If you try to use any long-grain, your risotto dish will be way too mushy and almost gummy in consistency.  Lucky for me, I found the rice (organic too) at my local market right around the corner.
Now that I've been trained to read through all of the instructions prior to cooking a dish, I quickly learned the hidden secret of successful risotto making:  PATIENCE.  You need patience because you must literally stand over the stove slowly stirring the broth/tea/cream into the rice for at least 25 minutes for it to successfully absorb the liquid without burning.  THERE ARE NO SHORTCUTS!  If you don't have this amount of time, save this dish for another day.  You can't just throw risotto together quickly.  It requires a slow, methodic stirring– a perfect outlet anyone who loves to meditate.
After you've steeped your green tea (and I picked caffeine-free for my kids this time around. Remember, I paid the price the hard way and had a late night with the kiddies after they ate the Coffee-Noodle casserole using caffeinated coffee), it's key to have it continue to simmer on the stove while you're stirring the rice with the oil and onions.  Then, when it's time to mix the two together, I used a ladle to slowly add in a little bit of tea to the rice mixture at a time.  It's helpful to use a wooden spoon to slowly stir the tea into the rice until it's completely absorbed.  Repeat this step until all of your tea has been added to the rice.  This process took me between 25 and 3o minutes.
Green Tea used in place of cream or broth= no calories and low sodium alternative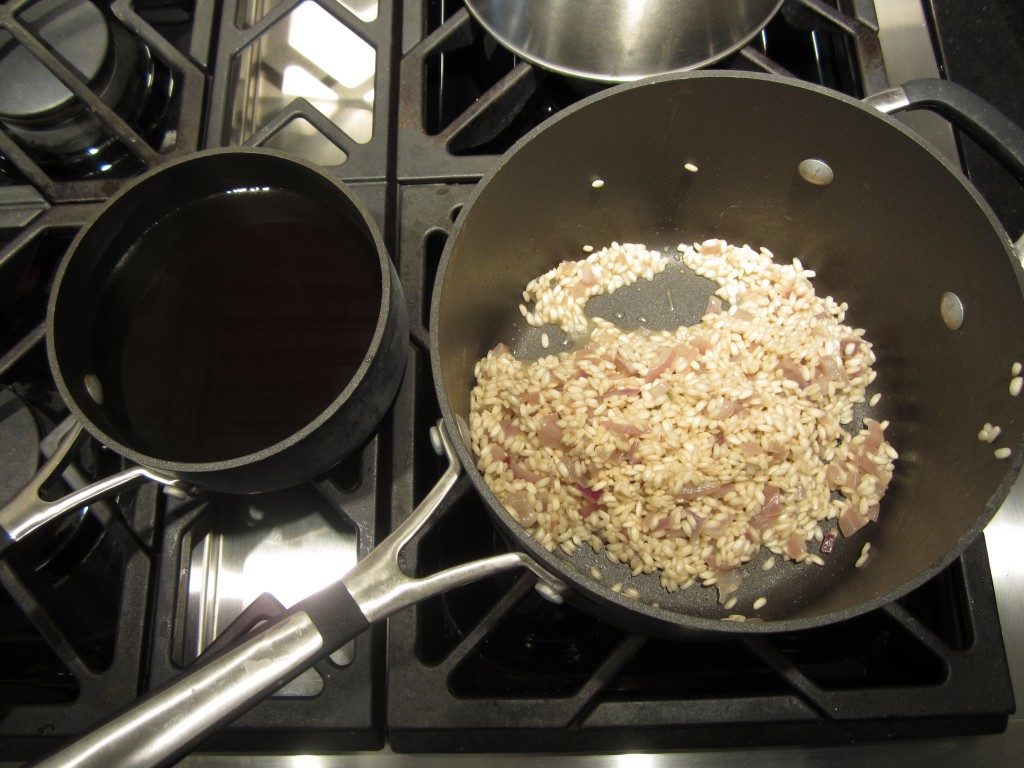 Green tea adjacent to rice and onions – prior to 25 minute mixing process
Once all the tea is soaked up and the rice has become bloated, then you get to dump in your frozen defrosted peas, a nice heaping cup of your freshly grated Parmigino Reggiano cheese, and the juice of a lemon to complete the dish.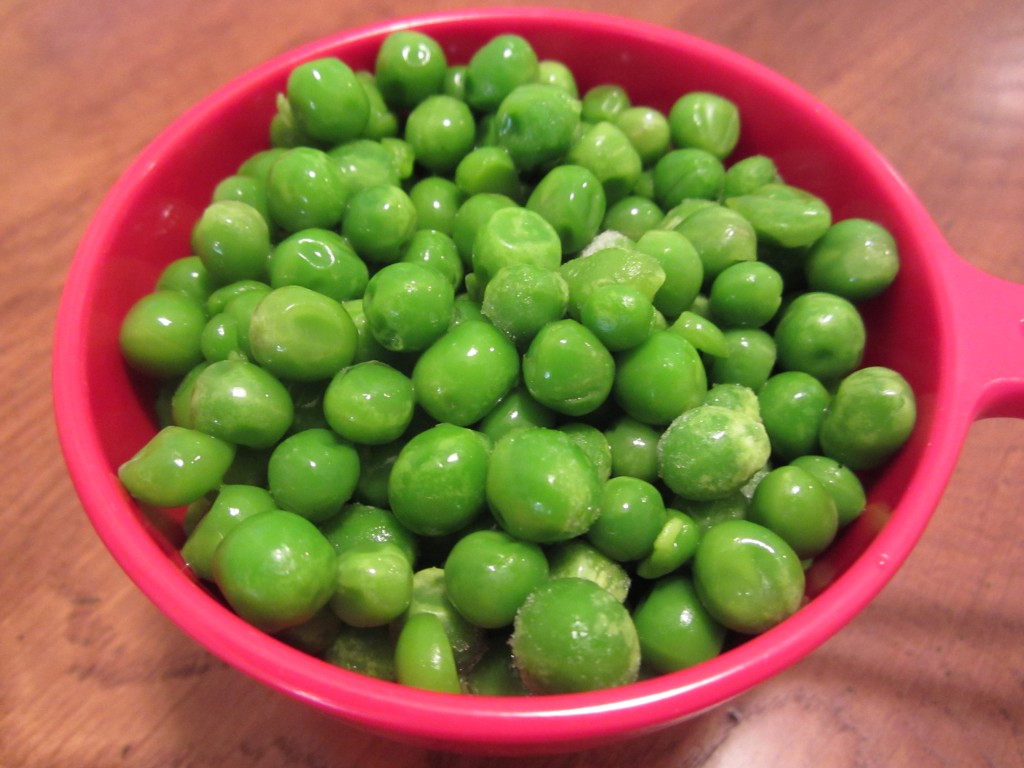 Frozen peas as an add on to the risotto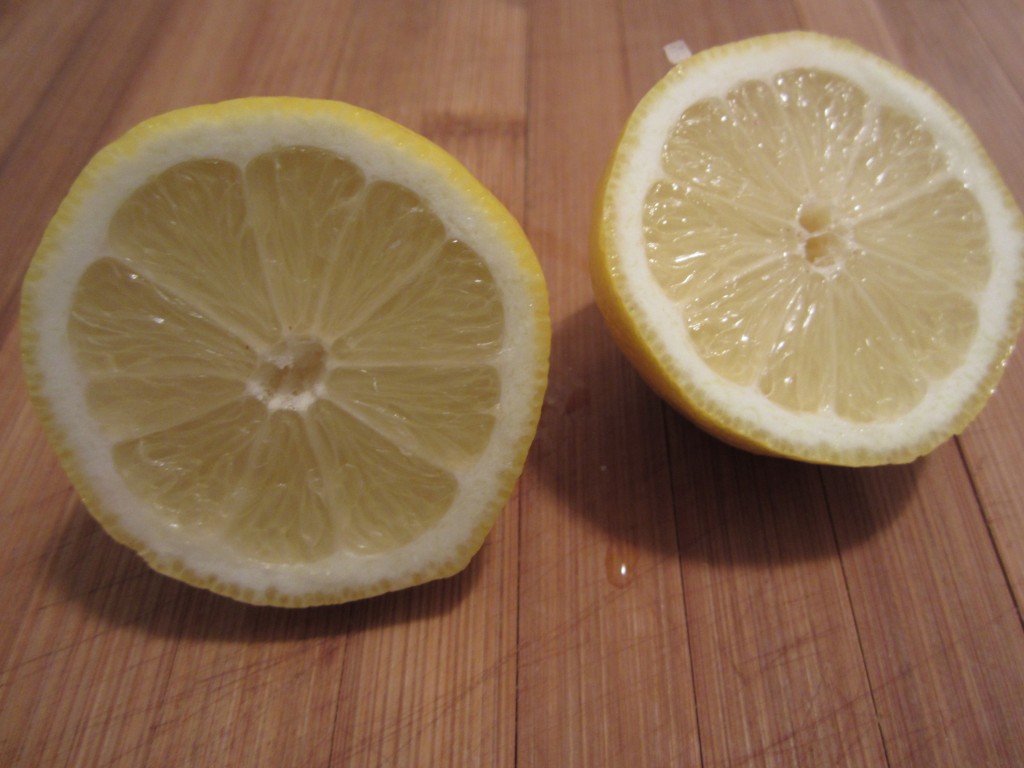 Fresh lemon juice – finishing touch to the risotto
I added in way too much lemon juice so the strong citrus/acidic flavor overwhelmed the entire dish.  So I would cut down the juice by half and make sure to taste test as you're adding it in or else it might taste too tart. I also increased the amount of Parmigino cheese because, in my opinion, risotto never be too cheesy, especially if you're not using a cream base.
I have to say, I couldn't wait for my kids to try the new dish.  Actually, I didn't care whether or not they liked it.  I was damn proud of myself for making something that had, at one time, intimidated me.  As with any new item on the table, they were very suspicious of the peas.  I happily proclaimed," it's a rice-based with lots of Parmigino," thinking that would win them over.
"Ugh, we had rice at school today Mom," complained my picky 9-year old in a very irritated manner.
"Yeah, but the rice at school is cold and stuck together and this looks like warm porridge," said my 6-year old reassuringly.
And so the dish was eaten by both.
And, I received 1 1/2 thumbs up from my skeptic critics…
Green Tea Risotto (Adapted from Bewitching Kitchen – fellow Secret Recipe Club Member)
Ingredients:
4 cups water
4 bags green tea
1 cup frozen peas, thawed
1 tbsp olive oil
1/2 medium red onion, diced
1 cup Arborio rice
1/2 cup Parmesan cheese
Juice of 1/2 lemon
salt and pepper to taste
Instructions:
Bring the 4 cups of water to a near boil, then add the 4 bags of green tea to the pot and allow it to steep for 2 minutes. Remove the bags and place the pot over low heat to keep it warm.
Cook the peas in the microwave according to package directions.
Heat the olive oil in a large pot over medium heat and saute the onions until they are soft. Add the rice and cook, stirring constantly for 4-5 minutes.
Add the warm tea to the rice, one soup ladle at a time. Stir constantly until all of the tea has been absorbed by the rice and add another ladle. Continue this process until all of the tea has been absorbed by the rice. Be patient! — this will take about 25-30 minutes.
Stir in the grated cheese and peas until the cheese is melted. Remove the risotto from the heat and add the lemon juice. Then stir in the parsley and season with salt and pepper to taste.