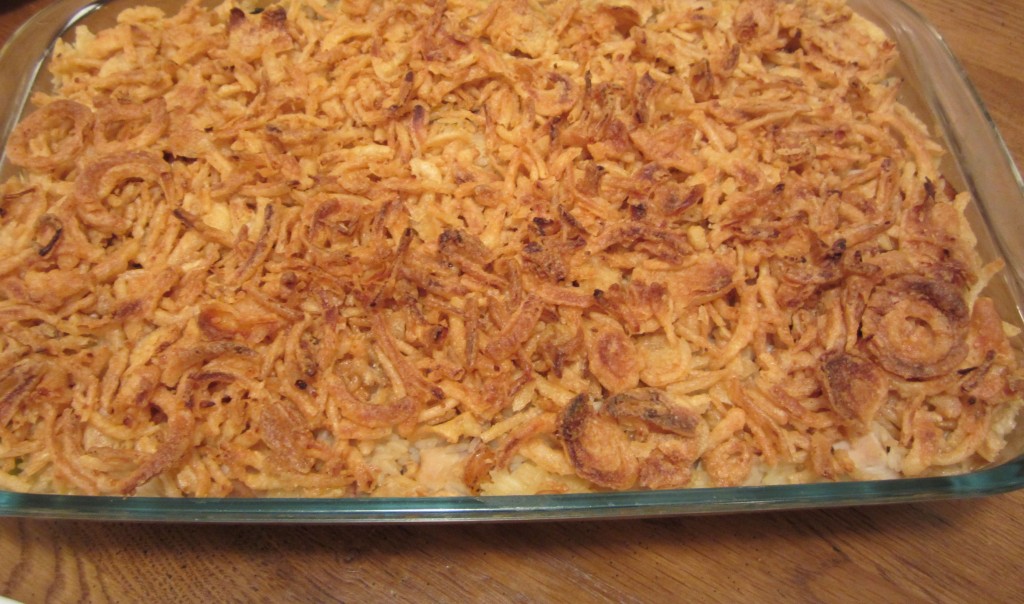 It's cold outside.  There's nothing better than making homemade soup or baking a hearty, flavorful casserole.  When the savory smells engulf your kitchen and the heat emanates from your stove top, you'll want to get cozy and celebrate the comforts of home (and home cooking).  I searched Mom's collection and found her Turkey Casserole knowing that next to any hot soup, it's the ideal dish to serve for dinner when the temperature is dropping and the kids are starving.
Casseroles are eponymous with the cookware used to bake the dish. I learned that by definition, casseroles contain pieces of meat (such as chicken) or fish (such as tuna), various chopped vegetables, a condensed soup, a starchy binder such as flour, potato or pasta, rice, and, often, some sort of crunchy topping (usually french fried onions or cheese). They're usually cooked slowly in the oven, often uncovered. And wow, so many casserole varieties: ragout, hotpot, cassoulet, tajine, moussaka, lasagna, shepherd's pie, gratin, and carbonnade. I was also happy to finally understand the distinction between casseroles and stews.  Apparently stewing is a cooking process where heat is applied to the bottom of the cooking vessel (typically on a stove). Casserole cooking is generally done in an oven to bake where heat circulates all around the cooking vessel.
I now know why my Mom and many other working mothers celebrated the casserole in the 1980's.  The ingredients are extremely cheap.  I mean, I certainly felt like every ingredient came out of a can. And the vegetables used are stapes found in any crisper.
Can of chicken soup – a comfort food staple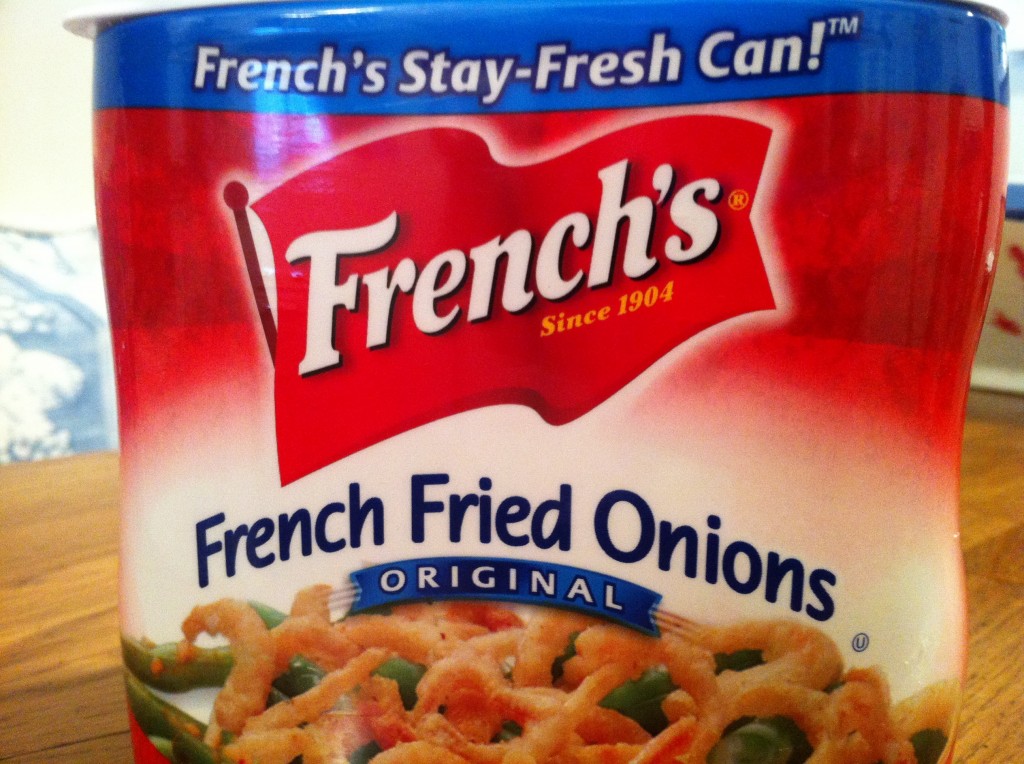 What's a casserole without French Fried Onions on top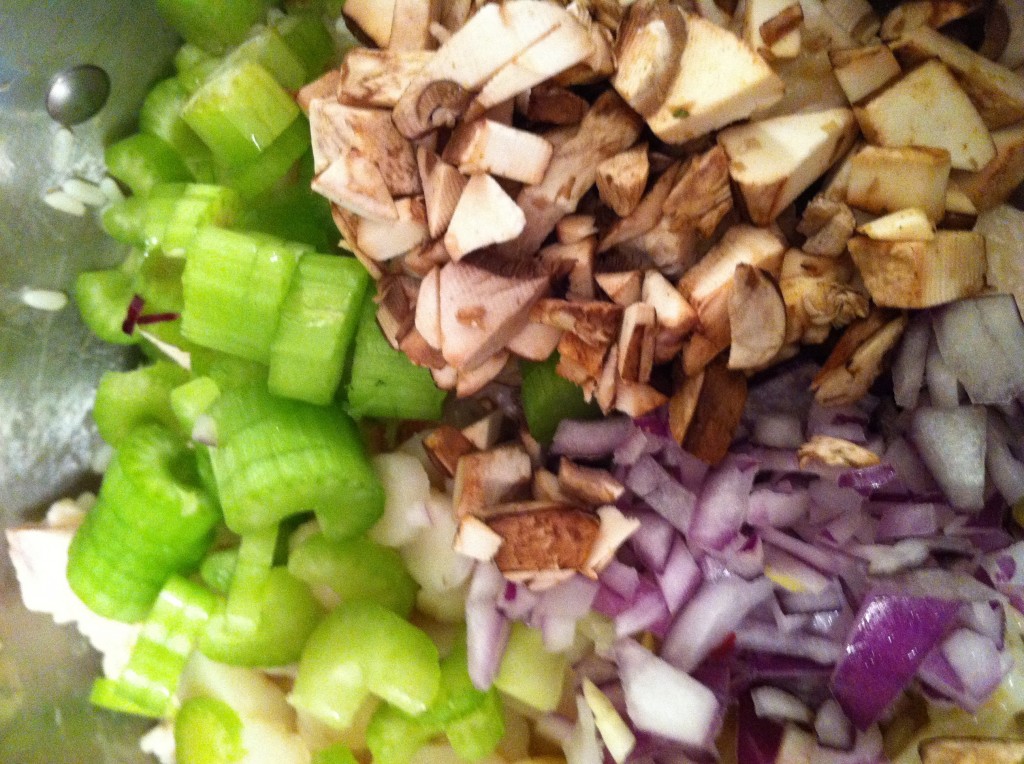 Veggie medley – celery, onions, mushrooms
And, best part, the recipe is straightforward with no twists and turns and it takes under an hour to make.  So, even after a long day at work, Mom could whip this up on a whim and serve it fresh from the oven in time for dinner.
While I'm sure many of us have a knee-jerk aversion to anything these days termed "casserole" (due childhoods riddled with pot lucks featuring casserole baking disasters containing that cream-of-whatever soup) I promise, Mom's Turkey Casserole will ignite your comfort food love.
As I read over Mom's tattered stained recipe, the healthy lifestyle mom in me was not psyched at the prospect of buying French Fried Onions for the top crust (heck, I didn't even know what they were or where to find them). But, I vowed I'd remain authentic to the original recipe and taste, save the can of mushrooms.  I can't stomach canned mushrooms so I opted for fresh mushrooms instead.  But honestly, the very minute that familiar crispy fried onion smell wafted from my oven, I smiled.  I was brought back to all the times we came barreling into the kitchen on those cold dark winter evenings, ready to sit sat down and devour the very same casserole dish.
My kids definitely didn't devour the casserole.  In fact, they were very skeptical.  They had never eaten onion rings, nor had the seen them used as a garnish.
French fried onion application
Ready to bake, full of french fried onions
When I reinforced the fact that the actual dish was rice-based (something they could eat day in and day out) they softened up and reluctantly took their first forkfuls.  Both kids seemed pleasantly surprised and even more impressed that they ate mushrooms without even realizing.  But, as expected, the french fried onions were the biggest hit of all.
The dish was a surprising hit, and I even had a heaping portion too.
Next time, we're mixing it up with chicken.
Enjoy!
Turkey Casserole
serves 10-12
Ingredients:
1 package Uncle Ben's Long Grain Rice (or any rice of choice)
1  10 1/2 ounce can condensed cream of chicken soup
4 cups cubed turkey
1 cup chopped celery
1/4 cup chopped onion
5 ounce can water chestnuts, sliced
2-4 ounce chopped mushrooms
3 tablespoons soy sauce
1  1/2 cans French Fried onion rings
Instructions:
Cook rice according to directions.
Blend soup into rice when complete.
Add in next 6 ingredients and soy sauce and mix well.  Spread evenly into a 9×13″ casserole dish.
Bake at 350 degrees for approximately 1 hour.
Generously sprinkle onion rings on top about 10 minutes prior to baking completion.
Enjoy!