Growing up near the Eastern Shore of Maryland, I was always exposed to seafood, most importantly crabs.  Steamed Maryland crabs were my favorite variety and Mom hosted scores of crab feasts in our back yard in the heat of summer.   I can still remember Mom saying she wouldn't actually eat the crabs because it was "too much work for too little reward."  She was referring to the fact that sometimes it took us a good five minutes of prying and cracking and de-clawing the crab before we could even celebrate a morsel of its luscious meat.  On the off season, she'd buy lump crab meat — a crab lover's dream come true.  Imagine the freshest, meatiest meat, hand pecked, de-shelled and neatly packaged in a container for you.  We'd revel in her broiled crab cakes and hot crab dip in the wintertime.  To continue my week of comfort food,  I was thrilled to find in her archives a Seafood Casserole complete with crab and shrimp.  That was all the endorsement needed to get me to attempt to recreate the dish.
I should have carefully reviewed the recipe to make sure it was written clearly and concisely before I bought the pound of lump crab meat for $17.98 and the pricey jumbo shrimp.  Mom's recipe was a complete sh$%t show.  While trying to create this dish, I felt more like a recipe developer than a burgeoning cook.  Her recipe was written in shorthand, only comprehensible to expert cooks, not the novice-need-a-lot-of-hand-holding person like myself.  There were missing quantities, ingredients were listed but then not actually mentioned in the instructions, there was no pan specificity, no baking instructions, no baking duration.  My sinking disappointment was likened to the feeling of finding a favorite lost music mix, only to realize it's scratched and inaudible.
The only positive outcome to this experience was the realization that, in these past 6 months, I had gained cooking confidence!  I was able to carefully fill in the missing pieces: improvise the quantities, purchase the essential ingredients, and string them together to create a completed casserole.  But, the best part? I actually had the guts to serve the darn dish without 100% confidence that it would taste good!
Layer 2!  I had to switch to a smaller pan.  It would have been helpful to have know the correct size.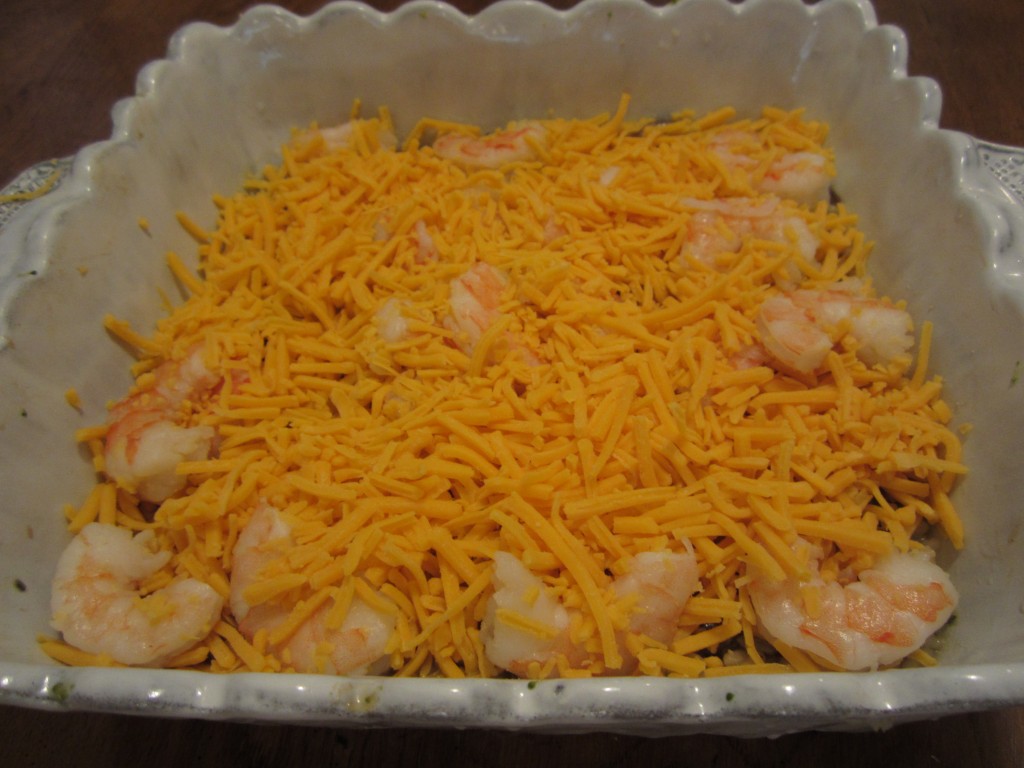 Layer 3!  Here comes the shrimp and cheese.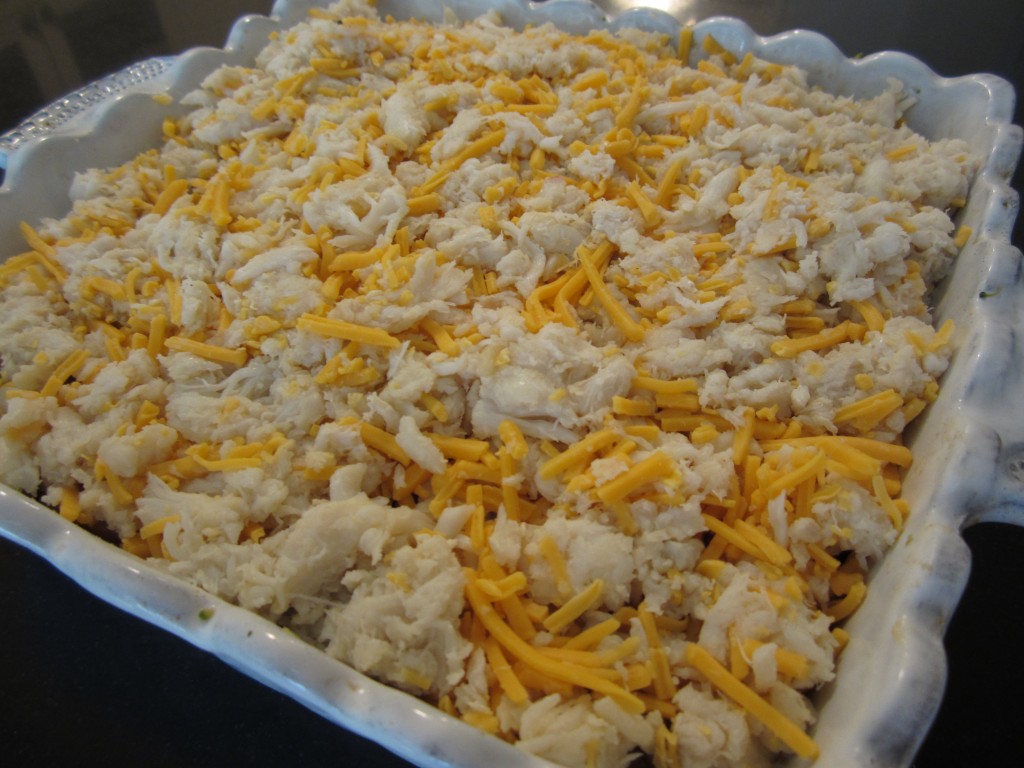 Final layer!  Crab meat and cheese
Final Crab and Shrimp Casserole!
Ok, I did rattle off a litany of caveats just in case the dish was a disaster.
And, I did get sweaty pits when everyone took their first bites.
And, my stomach did start to ache when no one had commented after they took their first bites.
But, my husband did mumble (through a mouthful of casserole), "it's good."
I was so relieved.  But, then he cautiously added, "it's definitely rich but, it's good."
I'll take that criticism.
I was already fantasizing my tweaks for the next go round:  I'd decrease the amount of cheddar cheese, I'd use condensed mushroom soup instead of the mushroom broth (and who knows, maybe that's what Mom meant), and I'd use the back fin crab meat instead of the lump crab.  Mom's recipe called for back fin but, I made the decision to use  jumbo lump, assuming better quality was important.  I've now learned that jumbo lump should never be broken up for a recipe; they are best used in upscale cocktail presentations or in sautés, where the size of the lumps can really shine. Oops, I broke up all the lump pieces before I layered them in the casserole. Back Fin crab meat is less rich, containing broken pieces of jumbo lump and special grade crab meat.  It's apparently ideal for use in crab cakes, dips, salads, and casseroles.
So, there were many lessons learned today in my kitchen.  Many frustrating moments.  Many "I wish Mom were here to help me" sighs.  But, in the end, my family enjoyed another homemade meal together around the diner table and that's what counts.
And, I did receive another 1 and a half thumbs up from my tough 6-year old critic.
Can't beat that.
Seafood Casserole
Ingredients:
serves 6-7
1 pkg. Uncle Ben's Long Grain and Wild Rice (divided)
10 oz mushroom broth (divided)(use condensed soup if you don't want rich flavor)
1 lb steamed shrimp
1 lb back fin crab meat (don't use lump)
1 lb mushrooms (divided)
1 1/2 packages of shredded cheddar cheese (divided)
Instructions:
Preheat oven to 350 degrees.
Cook package of rice according to directions on back.
Layer half of the rice on the bottom a 9×9 casserole dish.
Pour half of soup over top rice.
Saute mushrooms in a skillet and then add half to casserole dish.
Combine shrimp with half the amount of shredded cheese and layer on top mixture in casserole dish.
Layer in the remaining rice.
Pour in the remaining soup.
Layer on top the remaining mushrooms.
Combine crab meat with the other half amount of cheddar cheese and carefully layer in dish, blanketing the top.
Place in over for 30 minutes.
Enjoy!
linking here: cajunsugarpie