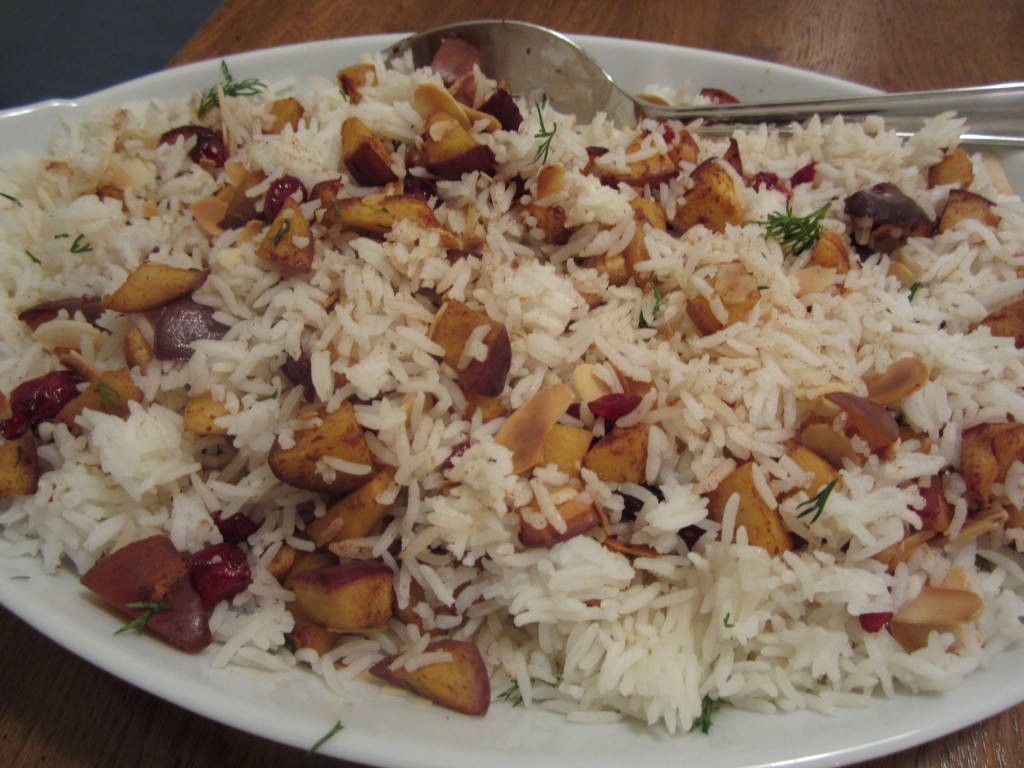 Did you know that rice has fed more people over a longer period of time than any other crop?  Maybe that's why a rice dish doesn't sound so interesting when you're  trying to create your dinner menu.
Apparently, as far back as 2500 B.C., rice has been documented in the history books as a dietary backbone for over half the world's population.  Rice has been heralded as a staple food to so many various cultures because it's able to be grown in such a wide spectrum of climates from the desert conditions of Saudi Arabia to the wetland deltas of Southeast Asia in the flooded rice plains.  In fact, in Asian countries, each person consumes, on average, 200 to 400 pounds a year!  Americans eat about 21 pounds per year.
So, why am I spewing all of this information?  Because I think it's really easy to just get bored with the prospect of serving and eating rice (again).  In fact, unless I'm eating at an Asian-influence restaurant, I very rarely make rice at home for dinner. It just sounds boring and bland.
I do own a  rice cooker that has been unused, collecting dust in my cabinet (it might even be a relic from college, I'm not sure).  I have three or four different bags of rice in my pantry, ranging from long grain to short grain to jasmine to wild rice to brown rice.  It seems that with each shopping trip, I'd grab a new bag off the shelf and transport it to my pantry shelf where it would then sit, sometimes for months at a time, without being touched.
Mom often cooked rice at home but she'd dress it up with raisins and some sugar.  For her portion she'd use the hot pink Sweet & Low packets making her portion taste so artificially sweetened I couldn't even manage to eat one spoonful.
In the past, I have made the desperate attempt to add some pizazz to my rice by purchasing the Rice-a-Roni boxed rice mixes that already contain the unusual flavorings like broccoli and cheddar rice or chicken and garlic rice.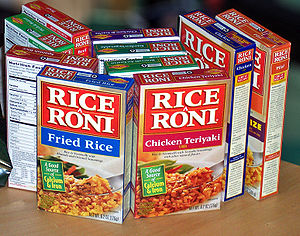 Rice a Roni's and their fancy flavorings
But, I always got mildly disgusted when I'd take the rice out of the box and the broccoli and cheese seasoning was merely a small packet of obscure powder that required butter to help augment the faux flavor.  Something didn't seem right.  I needed to find a way to spice up the rice in my life, with less butter and more natural flavors.
Randomly I stumbled across an amazing recipe in July/August Issue of The Food Network Magazine.  A healthy rice dish with interesting spices and nectarines?  How unique and flavorful.  I decided to tweak it and try it on my panel of 6 and 9 year old judges.  Again, I knew this dish would be a hard sell as plain rice is the staple side to their school lunch at least 4 out of the 5 days.
This rice dish is so easy to make.  I'm now a huge fan of my rice cooker because it cooks the grain evenly and keeps it warm until serving.  Whenever I cooked rice on the stove top I either didn't put enough water in the pot and all the rice would stick to the bottom or, it didn't cook evenly and some areas seem clumpy.  Much like my crock pot, the rice cooker does all the work for you.
The addition of the nectarine wedges adds a nice fresh fruity punch to the grain which is then almost instantaneously juxtaposed against the medley of intense spices: cayenne, cumin and cinnamon.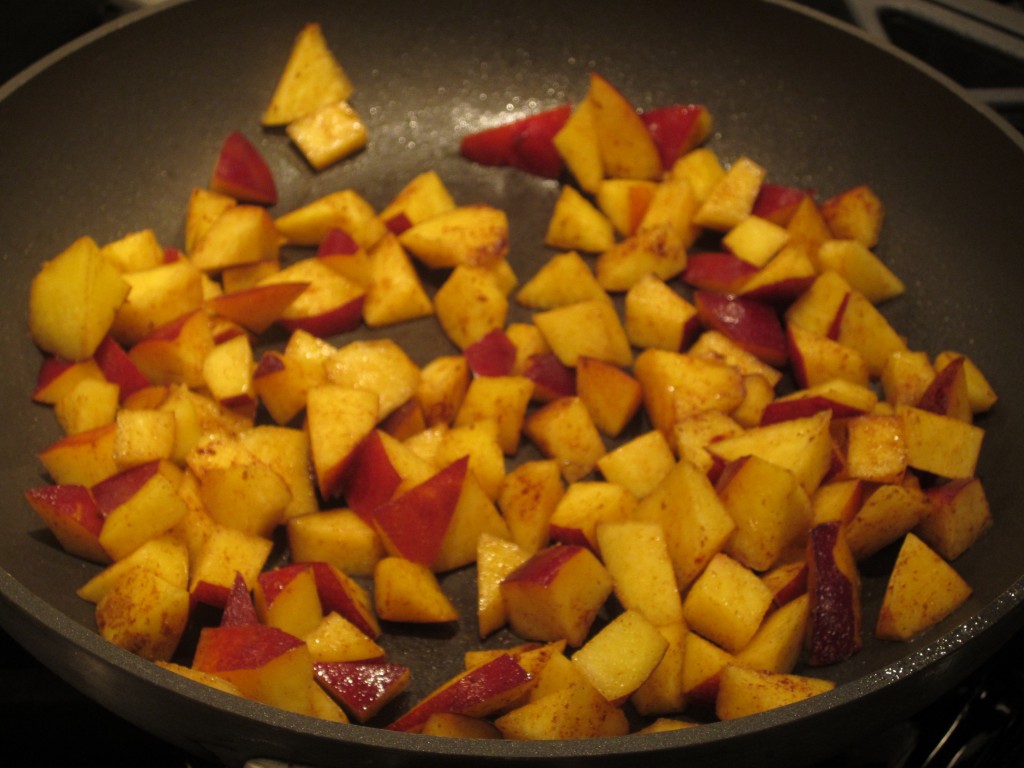 Nectarines on the stove top. Grill them in the summer.

My kids were skeptical when they saw their rice "littered" with "all that other stuff."  But, I must say, they were pleasantly surprised.  The dish is very light and airy with a nice fresh spicy fruity taste.  I altered the recipe and added in dried cranberries as well as a teaspoonful of sugar and omitted the dill.  I also toasted the almonds to get an additional smoky flavor added to the mix.
Dressing up the plain white rice
Even wise old Pop Pop, who was the celebrated out-of-town guest to our Friday evening dinner, gave the rice two thumbs up stating it was, "most unusual."
Well, what are you waiting for.
Go and get your rice on.
Spicy Rice with Nectarines
serves 6
Ingredients:
2 nectarines
1 teaspoon olive oil
pinch of cumin
pinch of cinnamon
pinch of cayenne
pinch of salt
3 cups cooked rice
juice of 1/2 lemon
1/4 cup sliced almonds
1/4 cup chopped dill
1/4 cup cranberries (dried)
Instructions:
Turn stove top on to medium or preheat grill to medium.
Cut 2 nectarines into wedges and toss wedges with olive oil and cumin, cinnamon and cayenne.
Grill or cook wedges until marked or soft (2-3 minutes).
Toss with 3 cups of cooked rice, the juice of 1/2 lemon and another pich of cinnamon, cumin and cayenne.
Add 1/4 cup of toasted almonds and serve.
Notes:
I cooked the nectarines on the stove top in olive oil.  To cut down on the spiciness, I only used one small pinch of cayenne.  I added in dried cranberries and didn't use chopped dill.  I toasted the almonds and also added 1 teaspoon of sugar to offset the spiciness of the pepper.  If you use a rice cooker, you can cook the rice in chicken broth in lieu of the water.  You can also substitute the white rice for brown rice.