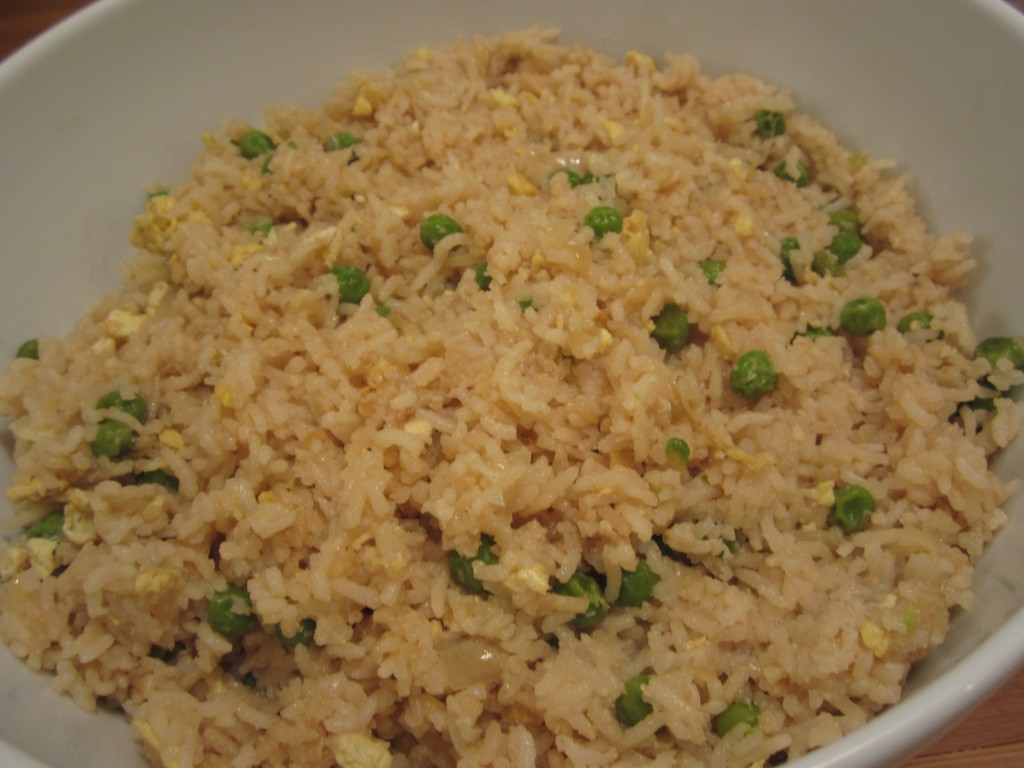 When it comes to my kids and eating, I can guarantee three items they'll NEVER pass up: pizza, pasta and rice.  As I've gotten more confident in my kitchen, I've taken more risks with these go-to meals.  On pizza I've added homemade pesto sauce.  To accompany pasta I've added peas and sautéed shrimp.  And with rice I've added grilled fruits and nuts.  So far, so good.  However, even with this burst of "culinary creativity," I've never once attempted Fried Rice.  For some reason, I always felt like I couldn't measure up–that dish was always reserved for our special nights out to our favorite Japanese steakhouse Benihana (or any other Chinese restaurant).
But, like everything else I've tried in the kitchen, after perusing the recipe, I couldn't believe its simplicity.   Basically, it requires combining cooked rice with sautéed veggies and scrambled eggs (all of which many of us have made individually).   With the rice, I've learned that, outside of a rice cooker, the best results come from doubling the water:rice ratio.  Essentially, there should be two times more water in the pot (similar to the way we cook pasta).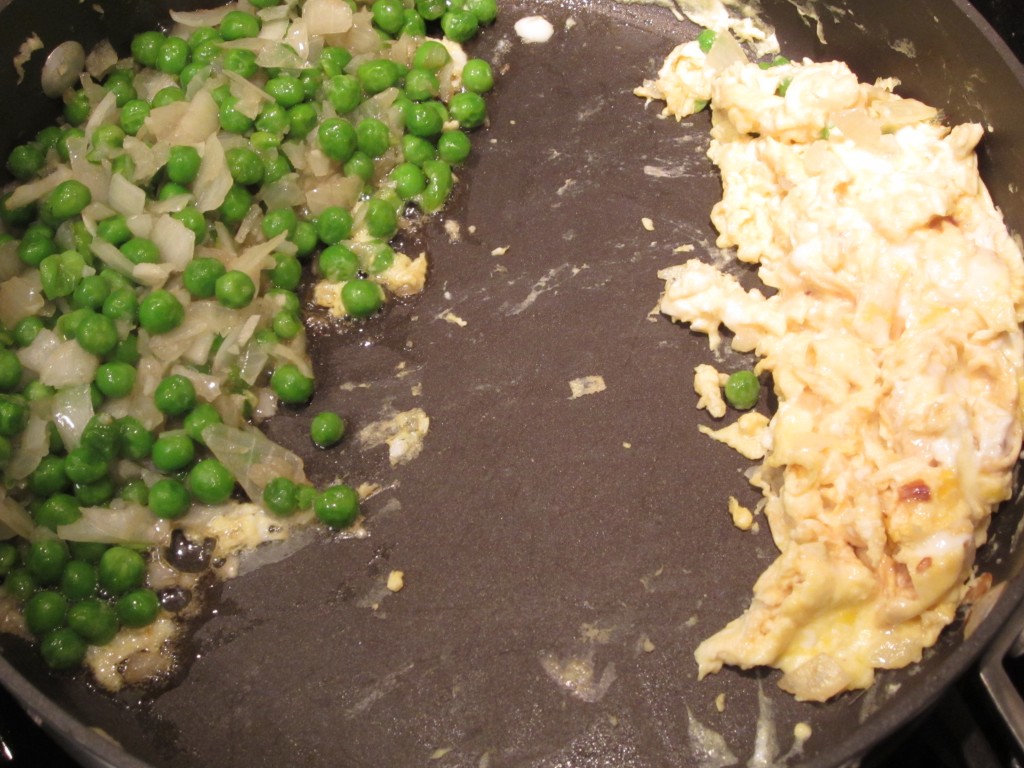 Church and state = sauteed peas and onions on one side, scrambled eggs on the other
It's the first time I've cooked with sesame oil too. Apparently, the seed of the sesame plant provides sesame oil, which has a high antioxidant content. We use unrefined sesame oil is great as a key flavor component in sauces or dressings. We use refined sesame oil for high heat applications like frying and toasted sesame oil for stir fries and Asian sauces and dips.  The minute I poured only three tablespoons  of the oil into the skillet, my kitchen adopted that familiar smell of Benihana (that smell that takes days to get out of your clothes).
And, the minute my kids came barreling through the front door, they screamed, "Benihana" in unison.  What a delight to see them wolf down the generous helping of fried rice with a side of beef terriyaki (also made by me on the stove top).
Of course I needed affirmation and questioned whether my dish was up to par with the restaurant.
"You're almost there Mom," my 7-year old comforted me as he ate two more servings…
Fried Rice (adapted from Mandy's Recipe Box)

Ingredients:
Cooked white rice
3 tablespoon. Sesame Oil
1 cup frozen peas
1 small onion, chopped
2 tsp. minced garlic
2 eggs, slightly beaten
1/4 cup soy sauce
Instructions:
On medium high heat, heat the oil in a large skillet or wok.
Add the peas onion and garlic. Stir fry until tender.
Lower the heat to medium low and push the mixture off to one side, then pour the eggs on the other side of skillet and stir fry until scrambled.
Now add the rice and soy sauce and blend all together well.
Stir fry until thoroughly heated!
Serve alongside meats and vegetables and enjoy!