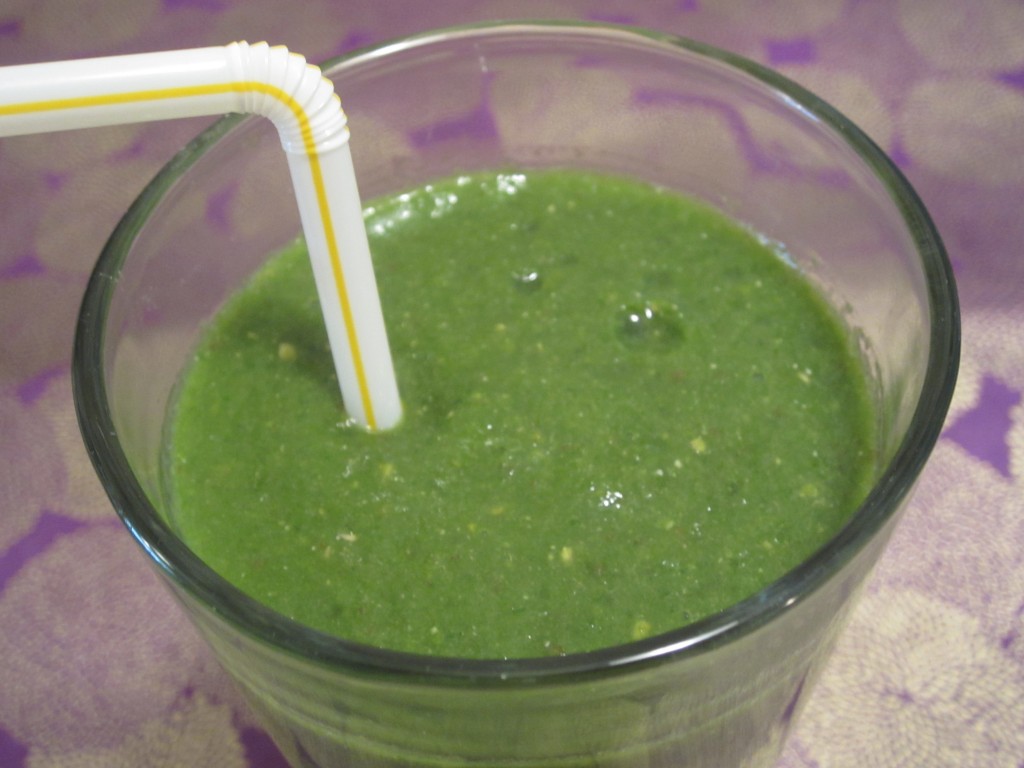 I'm so happy to have finally become a member of The Secret Recipe Club where over 300 selected bloggers are challenged to cook a recipe from an assigned food blog and write about their experiences!  What an amazing opportunity for me to get up close and personal with other respected food bloggers out in the blogosphere.  Today is my group's reveal day and I'm thrilled to showcase a recipe from my first "assignment" over at  The Healthy Jalapeno! Any blog with healthy in its name immediately peeks my interest. Even though I'm on a journey cooking all Mom's recipes (many of which boast 2 sticks of butter), I still try to lead a very healthy lifestyle.  It was beyond refreshing to peruse Laura's wide collection of recipes to determine which one I wanted to try for myself – no pressure.
Ever since last week when I was baking kale chips with the kids, I still have  green on the brain.  Therefore, it's no surprise that Laura's Powerful Green Pomegranate Smoothie aroused my taste buds.  My blog is very food-heavy so I welcomed the idea of making a new healthy drink to add to the repertoire.  When I talk about the benefits of staying hydrated, my kids constantly complain that water is so boring to drink.  I struggle to find other appealing drink options that aren't sodas, that aren't  laden with sugar or juice concentrate.  Also, since my son is the last remaining person in the house who actually drinks a couple glasses of milk daily (we're all self-prescribed lactose intolerants) finding a smoothie that isn't milk or kefir or yogurt based is also challenging.
However, I knew I would probably encounter just as many hurdles getting the kids to agree to drink a drink that's green.  Selfishly, I was excited to find a potential post-workout smoothie with fruits and vegetables that is easy to make with few ingredients!
All I needed to purchase from the store was spinach and pomegranate seeds, everything else I had on hand: bananas, orange juice, a pear.  Much like working with the slow cooker, making a smoothie in a blender is beyond simple.  Once you have all your ingredients, just toss them in the blender and hit liquefy.
When you pick your spinach, I'd opt for organic baby spinach.  I cut the recipe down to one cup of spinach given my young vegetable-averse taste testers.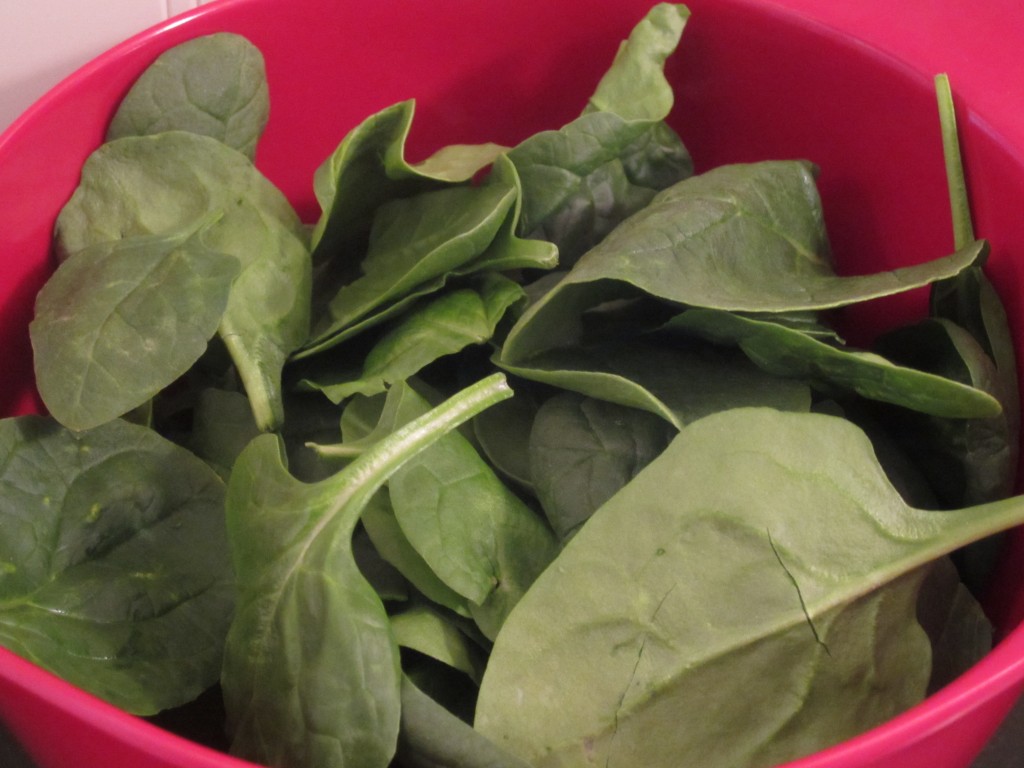 Fresh spinach awaiting the blender
 This recipe calls for a frozen banana.  Make sure you take the skin off the banana before throwing it in the freezer.  I was so eager to make the drink, I threw the banana, skin and all, into the freezer only to find it unworkable when I was ready add it to the drink before blending.  If your banana isn't frozen you're going to want to either add ice cubes before blending or chill it in the refrigerator before consuming if you want the drink chilled.
Also, note that the pomegranate seeds only truly stay fresh and flavorful 2 days in the refrigerator.  So, make sure you make your drink soon after purchase.  Otherwise the seeds will start to turn and taste medicinal.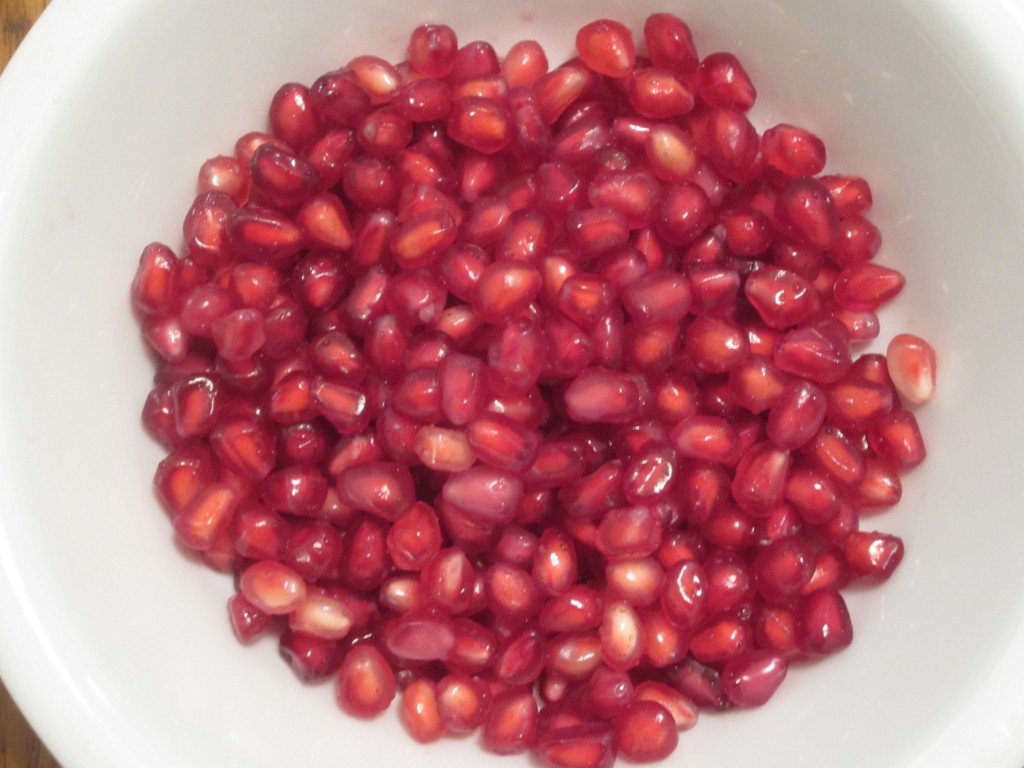 Fresh-picked pomegranate seeds
 For your pear, I chose to use a Bosch pear because I personally love their fruity flavor.  Bartlett's are another personal favorite.
Once you're done, just pour in the orange juice and your ready to blend!
Powerful Green Pomegranate Smoothie ready for blending
Although green in color, the characteristic of this yummy smoothie takes on a pear/orange juice blended flavor.  For those anti-veggie people, rest assured, there is no lingering spinach taste!  The drink is quite fruity and frothy and filling.  If you don't have a good blender (like a Vitamix), the smoothie will be bumpy in texture from the pomegranate seeds but, we liked that.  You can store the drink in the refrigerator for up to two days before it starts to become a little diluted and watered down.
Overall:  a surprising two thumbs up from my panel of kid judges.  And, if I could raise another thumb I would since my kids had absolutely no clue they were "drinking" spinach until after the glass was emptied and they were completely satisfied!
 A Healthy Jalapeno is now a go to destination for recipes!
Powerful Green Pomegranate Smoothie
serves 2 8 oz. glasses
Ingredients:
1/2 cup orange juice
1 pear, stem and seeds removed
1 cup pomegranate seeds
1 frozen banana
2  cups organic baby spinach
Instructions:
Blend all ingredients in a blender until smooth and creamy.
Drink or refrigerate and serve within 2 days.