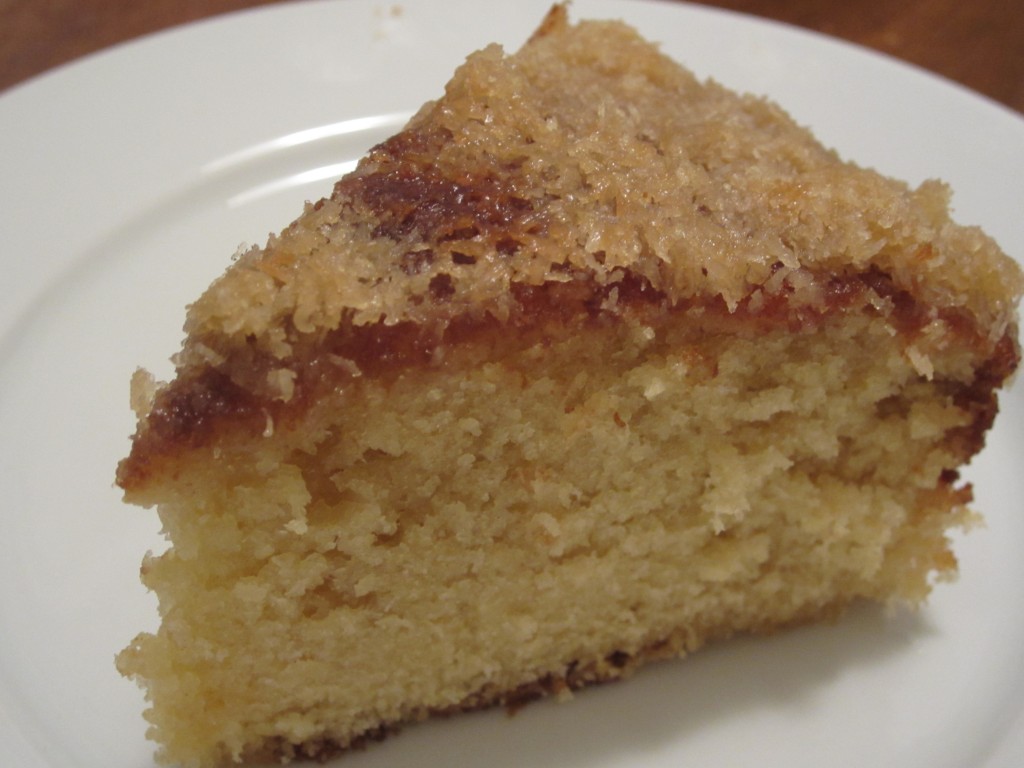 Who doesn't love a good sponge cake?
It's light and bouncy and goes well with any topping – fruits, sauces, sugars.  Before today, I only associated sponge cakes with the holiday of Passover-because yeast is not used as the leavening agent, sponge cakes are one of the only cakes "allowed" to be baked and eaten.
Yesterday morning I literally stumbled upon a sponge cake recipe of Mom's: Hot Milk Sponge Cake (not to be confused with her generational Passover Sponge Cake that requires the addition of matzoh meal and the deletion of milk).  I had never actually made a sponge cake from scratch and the title alone intrigued me. I figured I'd get some practice in and work out the kinks before Passover rolls around in a few weeks.
On first glance,  I discovered the unique characteristics to Mom's Hot-Milk Sponge Cake: the use of hot, boiled milk and the integration of eggs that don't need to be separated and beaten to a frenzy.
If you decide to investigate any other Hot Milk Sponge Cake recipes in the blogosphere (which I did), you'll often see words like "basic" and fool-proof"— always music to my ears!  It's one of the easiest sponge cakes to make because you can't go wrong with the egg beating.  There is NO SKILL required here.  Simply throw all the ingredients together and put your pan in the oven. While Mom's recipe is one of the only ones I found requiring butter, I didn't think for a moment to leave it out. For me, butter is directly correlated with heightened flavor. And, when you're dealing with little kids, the tastier the better.
While the cake baked, I made Mom's unusual topping containing coconut flakes, butter, and brown sugar.
Coconut flakes for the sponge cake topping texture
With 5 minutes left to bake, I evenly spread the coconut delight all over the top layer of the cake and put it back in the oven to BROIL for 5 more minutes.  This is key.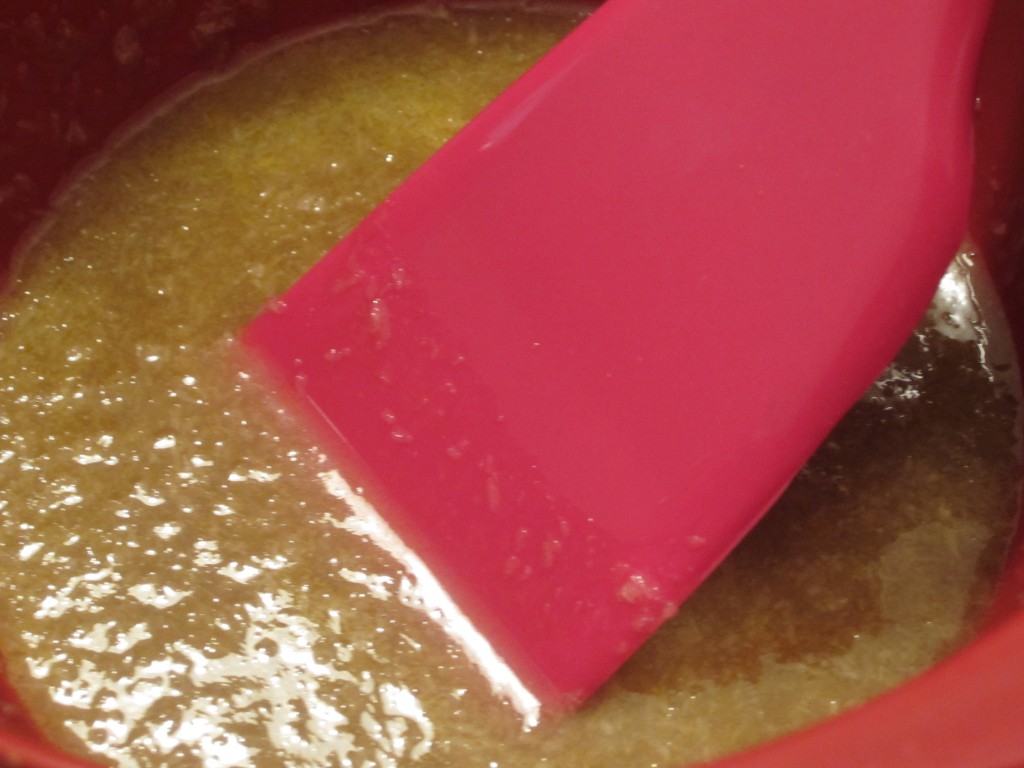 Can't you just taste the goey sweetness
The addition of the topping completely changes the personality of your cake: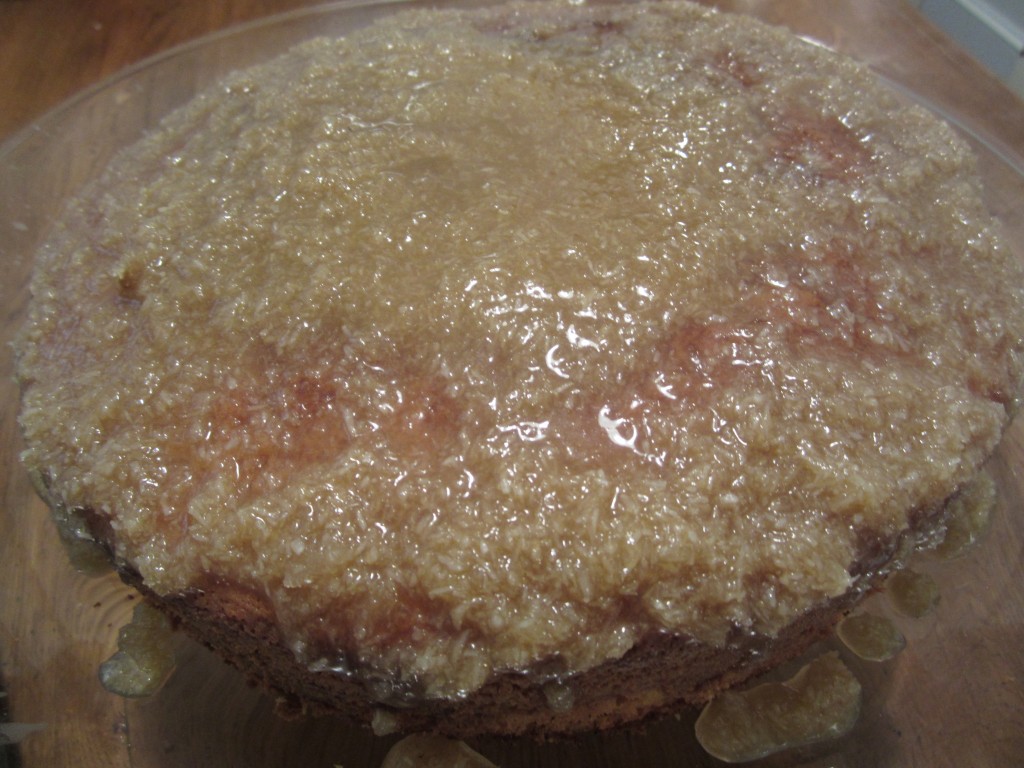 Cake with topping ready to BROIL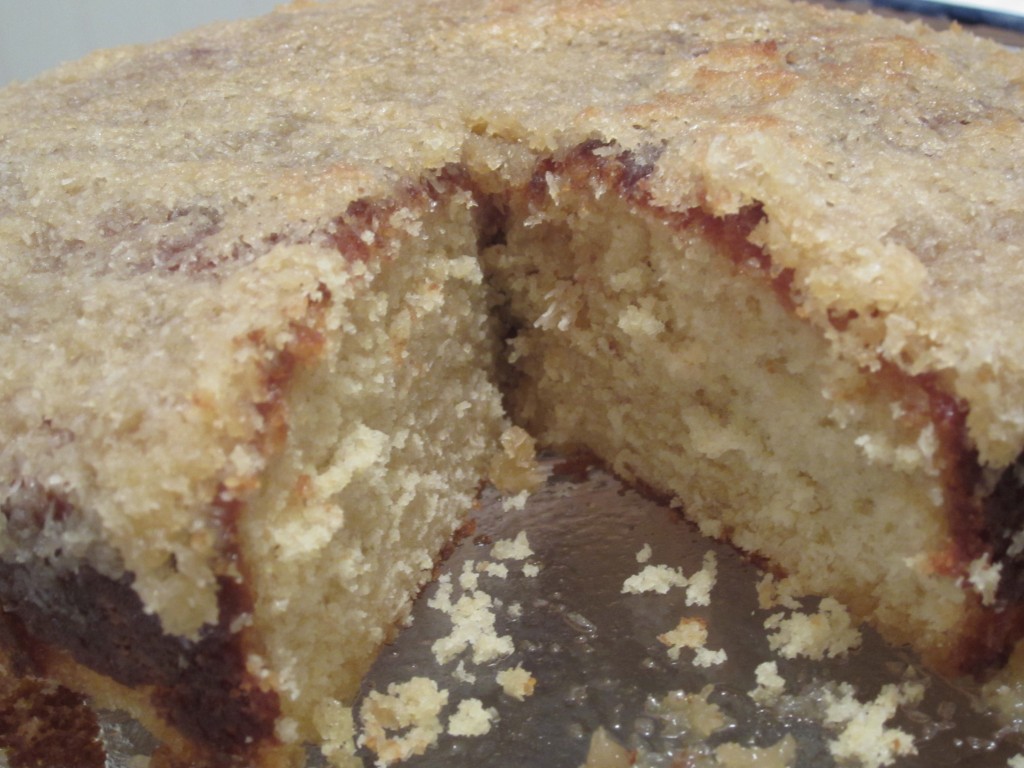 Final Sponge Cake – notice the size of the first piece cut
It's transformed from a simple fluffy sponge cake to a textured, intense, sugary sweet flavored cake!
Eat just one piece and you'll be begging for more. I promise.
Hot Milk Sponge Cake:
Ingredients:
Cake Batter:
4 eggs
2 cups all-purpose flour (sift before measuring)
2 teaspoons baking powder
1/2 teaspoon salt
1/2 cup (1 stick) butter
1 cup milk
2 cups granulated sugar
1 teaspoon pure vanilla extract (or 1/2 teaspoon each vanilla and lemon extracts)
Topping*:
Instructions:
Preheat oven to 375° F.  Spray one (9-inch) round cake pan.
In a bowl, sift together the flour, baking powder, and salt; set aside.
Melt the butter.
In a small saucepan over medium heat, boil the milk. Once milk has boiled, immediately pour in the melted butter until the mixture is steaming. Remove from heat.
Into a large mixing bowl, crack warm whole eggs. Using an electric mixer, whip the eggs until frothy. Gradually add the sugar and whip on high speed until the batter is light and thick. Should take approximately 10 minutes.
Turn the mixer down to low and add the sifted dry ingredients (flour, baking powder, and salt).  Mix just until the dry ingredients are incorporated into the egg batter, stopping once to scrape down the sides and the bottom of the bowl. Add the scalded milk and butter mixture.
Mix on low speed until the batter is smooth, scraping down the sides and bottom of the bowl
Add the vanilla extract and continue mixing on low just until the vanilla is incorporated into the batter..
Pour into cake pan and bake approximately 35 minutes (if cake is done, it should spring back when you press down in center with your finger).
Pour topping on top and spread evenly.
Place back in oven on BROIL for up to 5 minutes or until coconut is bubbling and slightly browned.
Enjoy!
* you can use any toppings desired: powdered sugar, fruits, whipped cream, chocolate sauce.  Best served warm.