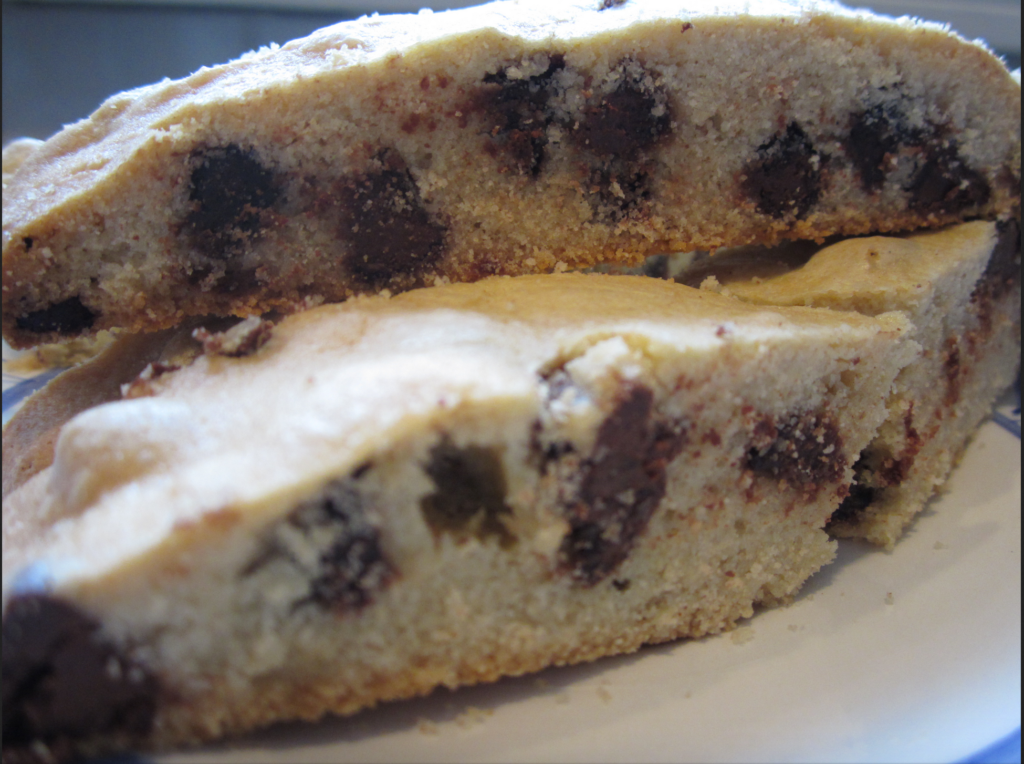 Most desserts that are kosher for Passover don't seem that appealing.  However, this Chocolate Chip Mandel Bread recipe will make you reconsider.
Mandel Bread in Yiddish literally means twice- baked almond bread.  It's made by forming dough into a loaf, baking it, slicing the loaf into oblong cookies and baking again. Apparently these crunchy cookies were popular in Eastern Europe among Jews and merchants as a staple dessert that kept well.
Mom's recipe, as I imagine most, is extremely easy to follow and only allows for 30 minutes baking time.  While many people like to add nuts or raisins to the mix, I played it safe and used chocolate chips.
Just two small teaspoons of orange juice give this crunchy dessert just the right tone of flavor.  In fact, I've noticed this secret weapon, the addition of orange juice and orange extract, in other Passover dessert delicacies, like Mom's Passover Sponge Cake.
Once cooled, you can refrigerate the pieces for up to a week without sacrificing their freshness.
They freeze well too….so you aren't only restricted to eating this dessert during the 8 days of Passover.
In fact, you'll want to eat them year-round!
Enjoy.

Passover: Chocolate Chip Mandel Bread
Prep time:
Cook time:
Total time:
If you like Biscotti you'll love these dessert cookies that are kosher for Passover but wonderful year-round.
Ingredients
3 eggs
1 cup sugar
½ cup oil
2 teaspoons orange juice
1½ cup cake meal
½ cup potato starch
½ package chocolate chips (or raisin, or nuts)
Instructions
Preheat oven to 350 degrees.
Beat the eggs and sugar together in a mixer. Gradually add in oil, orange juice, cake meal, potato starch and chocolate chips.
Let batter stand 15 minutes.
With lots of oil on your hands, divide the batter into 3 rolls and place on a greased cookie sheet.
Bake for 30 minutes.
While still hot, slice bread width wise and place back in oven for another 5-10 minutes.
Let cool on wire rack.
Store in air tight container.