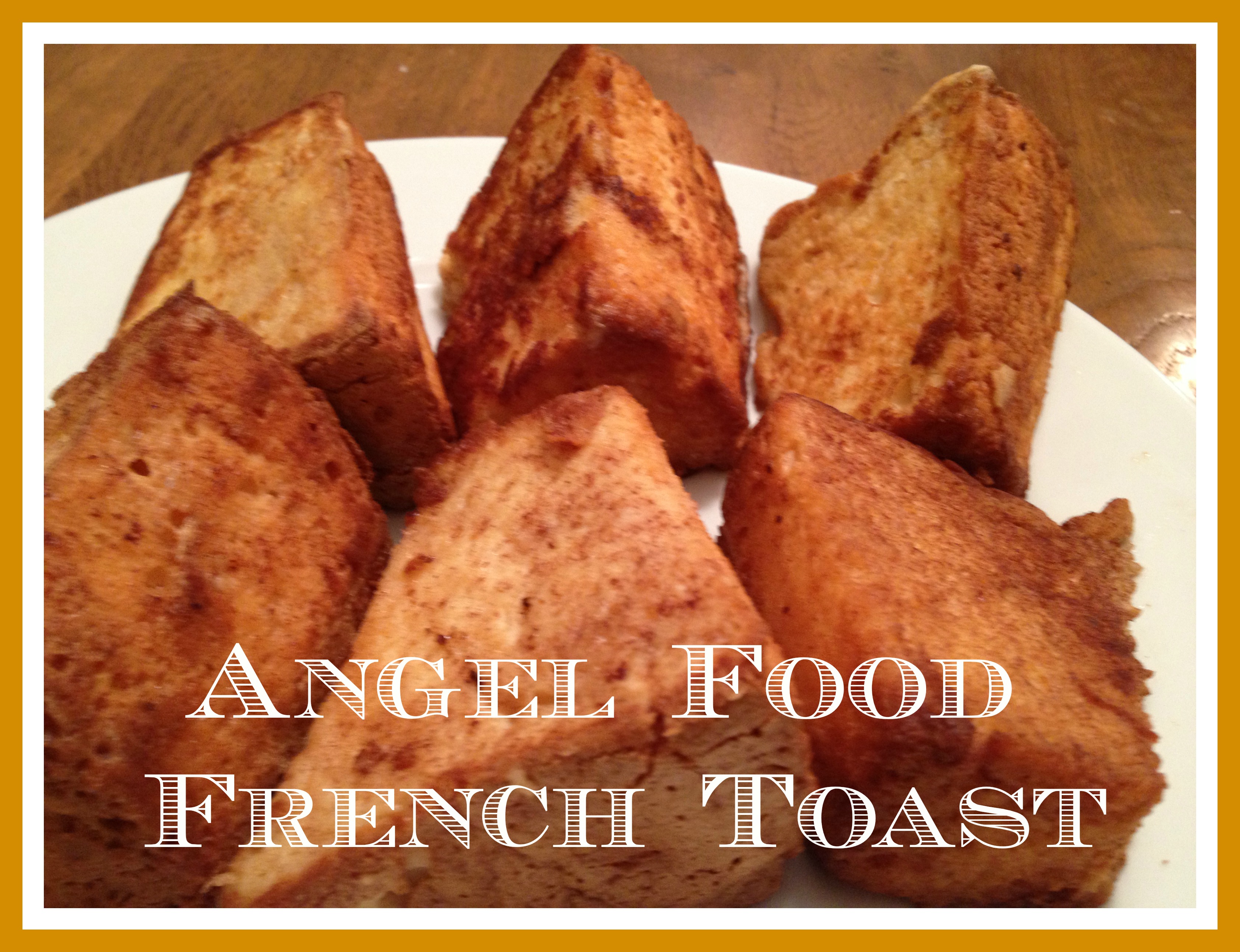 Angel Food cake is one of my favorite sponge cakes.  I adore its light airy texture laced with that hint of sweetness.  In fact, to me, it doesn't taste like cake at all, probably because it's made from very basic ingredients like whipped egg whites, sugar and flour.
Because of it's angelic name, it doesn't evoke any guilt for me when it's eaten.  Now, Devil's Food Cake is a totally different story.
I don't remember Mom ever baking an Angel Food Cake from scratch but, I do have a faint memory helping her make Tiramisu. Instead of using the traditional Lady Fingers to line the outside of the dish, she used Angel Food Cake pieces.
The other day I was thinking that while my kids have tasted their fair share of sponge cakes that I've baked for the blog, they've never actually sampled Angel Food Cake.  And, how serendipitous– yesterday morning as I was planning our Breakfast-for-Dinner entrée, I stumbled upon a very simple recipe for Angel Food French Toast over at How Sweet It Is.
What a genius idea.  I couldn't wait to experiment.
I'm not going to kid you, I wasn't about to make the Angel Food Cake from scratch so I just picked up one from the Whole Foods. down the street.  Don't fret, you can usually find these cakes in mass supermarkets too.
Once your cake cut into slices, you can simply follow your traditional method for making french toast.  You won't have to add any sugar to the egg wash mixture since the cake is sweet enough to stand on its own.  For the egg wash I simply combined eggs and milk and added in a bunch of the celebrated spices for our French Toast:  a dash of All Spice and lots of heaping teaspoons of cinnamon.
Unlike other breads used for French Toast, the slices of Angel's Food cake are thicker and won't totally sop up the egg mixture like a sponge.  They'll still feel very light and sponge-like but will have a nice egg coating.
You'll notice that, once in your generously buttered skillet, the Angel Food slices won't brown quickly and they aren't easy to flip over either.  After about 3 minutes on one side, gently turn your pieces over.  That's all it takes!
I must admit, the Angel Food French toast was a BIG hit.  Because her teeth were so sore, my newly brace faced 11-year old was able to suck on mini pieces like they were cotton candy. My son had 4 pieces, rationalizing that because these pieces were more vertical and not as horizontal as the Challah pieces he usually eats, 4 pieces actually equals 2.  Nevertheless, he enjoyed every last bite.
And, we still had leftovers heated up this morning for breakfast.
Hope you enjoy!
Angel Food French Toast
adapted from How Sweet it Is
serves 8-10
Ingredients:
1 angel food cake, sliced
3 large eggs
3/4 cup milk
2 tablespoons vanilla extract
1/4 teaspoon salt
2 teaspoons cinnamon
1/4 teaspoon All Spice
3 tablespoons of butter for each round of slices on the skillet
Instructions:
Whisk together eggs, milk, vanilla extract, salt and cinnamon in large bowl.
Heat skillet with pats of butter over medium heat.
Carefully dip each slice of angel food cake into the egg wash, making sure it's completely covered. Before placing slices on skillet make sure most of the egg was has dripped off.
Cook slices until golden, about 3-5 minutes per side.
Optional- warm slices in oven at for 5 minutes at 250 degrees before serving.