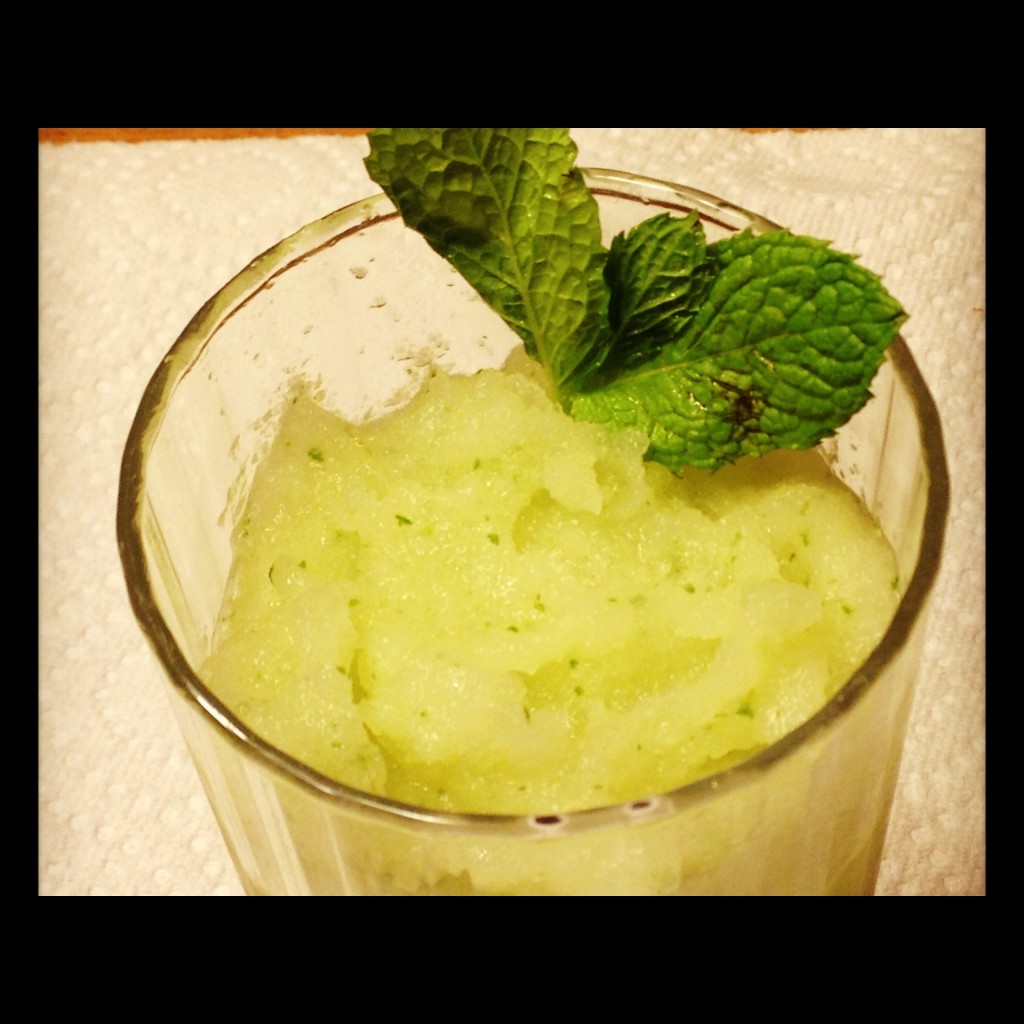 This weekend we traveled to our hometown to celebrate Father's Day with our extended family.  While we no longer have three generations of Dads around the table, we still fervently support every Hallmark occasion that recognizes family (and  food).  And, like all other Father's Days, we indulged in a festive dinner outdoors- enjoying the picture perfect summer evening with the traditional BBQ fare: burgers, hot dogs, grilled chicken and all the sides you can imagine.
Luckily I was off the hook for any of the meal preparation since I'm considered an "out-of-towner" who's "away from my kitchen."  I did agree to bring my homemade wholly guacamole dip but,  I also wanted to try to make a version of an easy, non-alcoholic drink I found in Food Network Magazine– Melon Slushies.
The recipe intrigued me. It sneaks a healthy-dose of antioxidant-rich green tea into the mix (remember the green tea risotto recipe I made a few months earlier)? Since the drink is non yogurt, non milk-based, it's also a welcomed addition as a refreshing summer drink that doesn't necessarily fill you up but, rather, quenches your thirst.
I was so excited to make my first drink batch that I broke my first rule of thumb for cooking — I never read through the entire recipe.  I simply glanced through the ingredients, went to the store and purchased the items, and assumed the prep time included BLENDING in the blender.  I never bothered to read the instructions to learn that the fruit and ginger need to freeze at least 2 to 4 hours prior to blending.  Oops!
Also, when cooking in another kitchen, make sure you've confirmed it is stocked with any appliance and materials needed- don't assume anything.  For the slushies, ice cube trays are recommended for proper freezing.
Not only did Dad not have any trays, he had some items in his freezer that looked like petrified relics from the Stone Ages. And, since he had no ice trays, the prospect of him owning a blender seemed inconceivable.  As I rifled through his kitchen closet, much to my surprise, I discovered an old-school blender, the kind with the raised buttons, that takes twice the amount of time to liquefy all the ingredients. Yes, I'm openly admitting that I'm spoiled with my new 6-blade Ninja Blender.
Regardless of the antiquated machine or the lack of ice trays, in just 10 minutes the honey dew was chopped, the ginger syrup boiled, and the two items placed into the freezer to freeze. Two hours later, I hit "blend" and created an amazing, powerfully refreshing slushie drink.
The combination of the ginger ale, melon and mint laced with a minor hint of green tea creates a very unique flavor.
I'd recommend adding ¼ cup of lime juice to the mix and even an extra tablespoon of sugar to enhance the sweetness.
Get a little sassy and add a ¼ cup sliced water melon or pomegranate seeds.
And of course, get a little tipsy and add some vodka!
Either way, your melon slushie will cool you down to beat the summer heat.
Enjoy.
Melon Slushie
makes 4 drinks
adapted from Food Network Magazine
Ingredients:
2 bags green tea
3 tablespoons sugar
1 1-inch piece of ginger, thinly-sliced
3 cups chopped honeydew melon
1 12-ounce can ginger ale
1/4 cup fresh lemon
1/4 cup fresh mint leaves
Instructions:
Bring 1 1/2 cups water to a simmer in a medium saucepan.  Remove from heat, add tea bags and let steep 5 minutes.  Remove tea bags and let cool to room temperature.
Bring 3 tablespoons water, sugar and ginger to a simmer in a small saucepan over medium heat; cook stirring, until the sugar dissolves about 2 minutes.
Remove from heat, let cool, remove and discard ginger.  Stir the ginger syrup into the tea.  Pour liquid into ice cube trays and freeze until solid, between 2-4 hours.
Freeze chopped melon until solid, at least 2 hours.
Combine the tea ice cubes, frozen melon, ginger ale, lemon juice and mint in a blender and puree until smooth.  Divide between 2 glasses.
Enjoy.