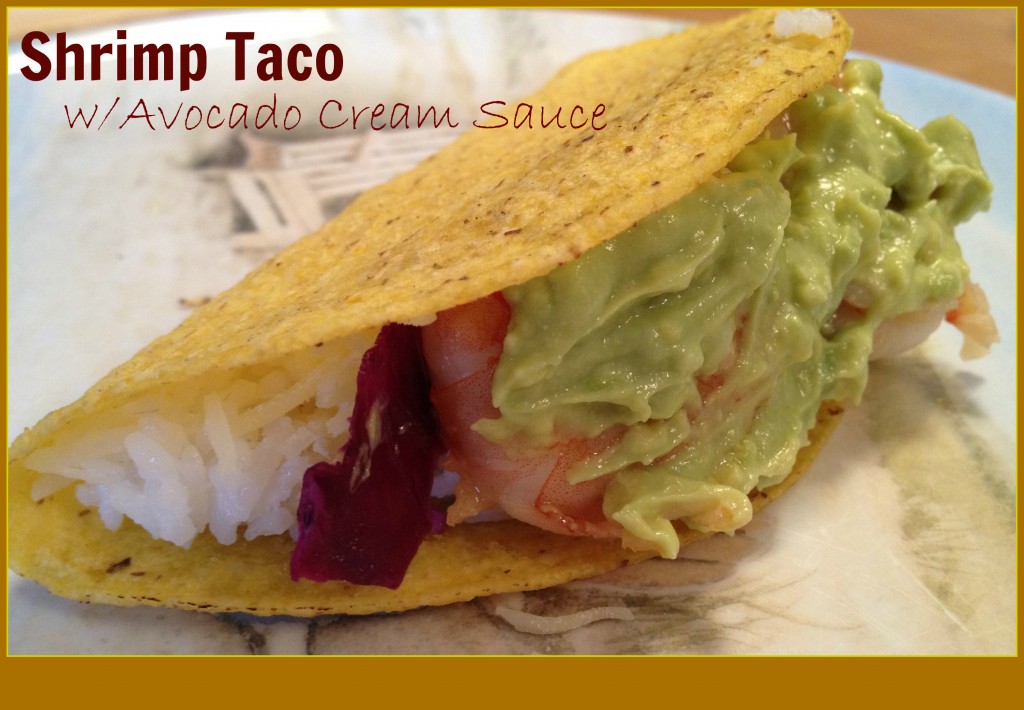 My kids seem to enjoy any meal that contains a fixins bar.  The opportunity to custom create their own dish from scratch is very empowering to them.  In the fall and winter, we've use heavier meat fillers like chilli or beef. For spring and summer, we've been experimenting with fish.  Surprisingly, my fish tacos were a huge hit.  That success gave me just the right amount of confidence to not only try shrimp tacos but, to spice them up with some avocado cream in lieu of tomato salsa.
It's hard to believe only one year ago I had never handled an avocado. Now, they're a staple in our kitchen.  Whether I'm slicing them in salads or mashing them up with a pestle for some homemade guacamole, we always have avocados ripening on our counter top.  So, why not try an avocado-based sauce to enhance our shrimp tacos?
I couldn't find any avocado  recipe in Mom's archives so I improvised a bit.  I remembered part of an avocado cream recipe (I saw online) that contained some sour cream, garlic cloves and lime juice— all of which I had on hand in my fridge!
In two minutes I whipped up a creamy, vibrant green avocado sauce to top off our shrimp tacos.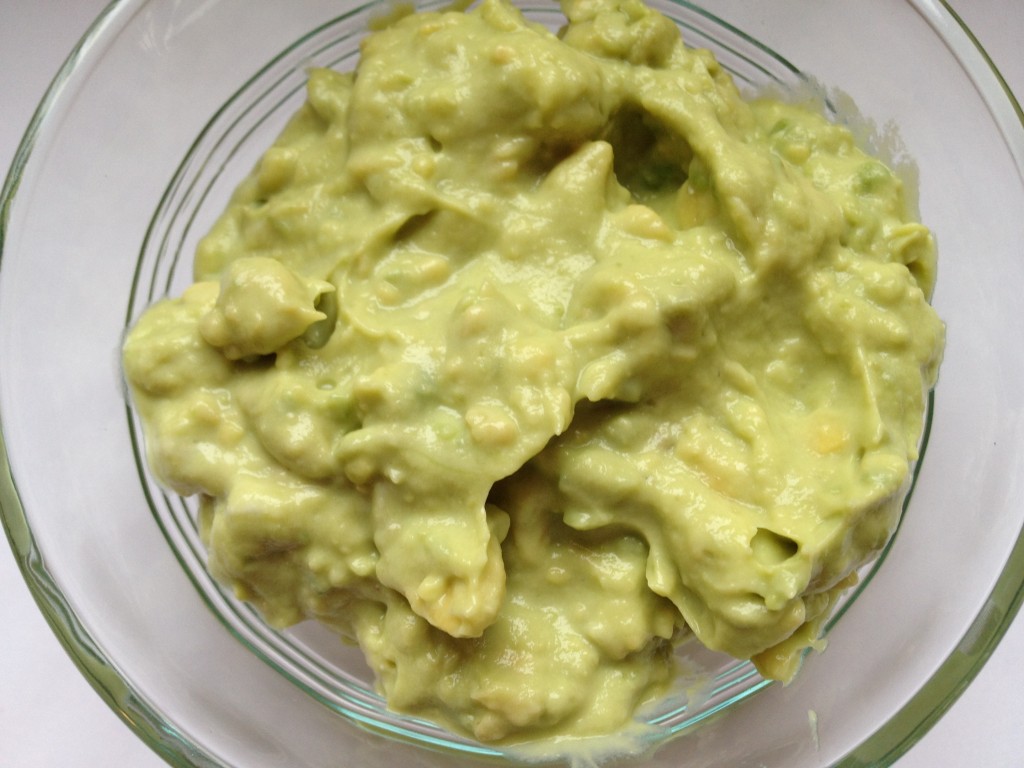 Then we assembled little ramekins full of our "toppings:" cherry tomatoes, shredded cheese and purple cabbage (since our fish tacos, we now use this instead of shredded lettuce).  I also cooked up some rice to add the backdrop to the shrimp (plus, rice is ideal for left overs).
I sautéed some cooked shrimp in a skillet with some butter and shallots to heat them up and add some more flavor.
And then, we were ready for our assembly line.  Part of the fun for my son was stuffing as much as he could into the small taco shell.  He opted out of the cherry tomatoes but, definitely overcompensated with the cheese.  And, he was a little cautious with my homemade avocado sauce—but, he still tried it.  I opted out of the shell and simply went with a salad-based version.
Both of our custom-created versions were quite tasty.  The avocado-cream sauce added an unexpected creamy texture and tangy dimension to the dish.  However, next time around I would reduce the amount of garlic- it's very overpowering.
Even introducing a new sauce, I was pleased to receive a one and a half thumbs up from my 7-year old judge.
Enjoy.
Shrimp Tacos with Avocado Cream Sauce
3-4 servings
Ingredients:
Filling:
1lb cooked, cleaned shrimp
2 cups rice
Avocado Cream Sauce:
2 whole Avocados
2 Tablespoons Sour Cream
4 Tablespoons Lime Juice
4 cloves Minced Garlic
1 teaspoon Sea Salt
Toppings:
Shredded Red Cabbage
Shredded Cheese
Cherry tomatoes, halved
Instructions:
Melt butter in a skillet over medium heat.  Add in shallots.  Add in cooked cleaned shrimp and sautee for approximately 1-2 minutes.
Meanwhile, boil 2 cups of white/brown rice until fully cooked.
To make the avocado cream sauce,  mash 2 avocados, add lime juice, sour cream, garlic and salt.
To serve:
Layer rice and shrimp in shell. Top with a dollop of avocado cream sauce and shredded cabbage, cheese and cherry tomatoes.