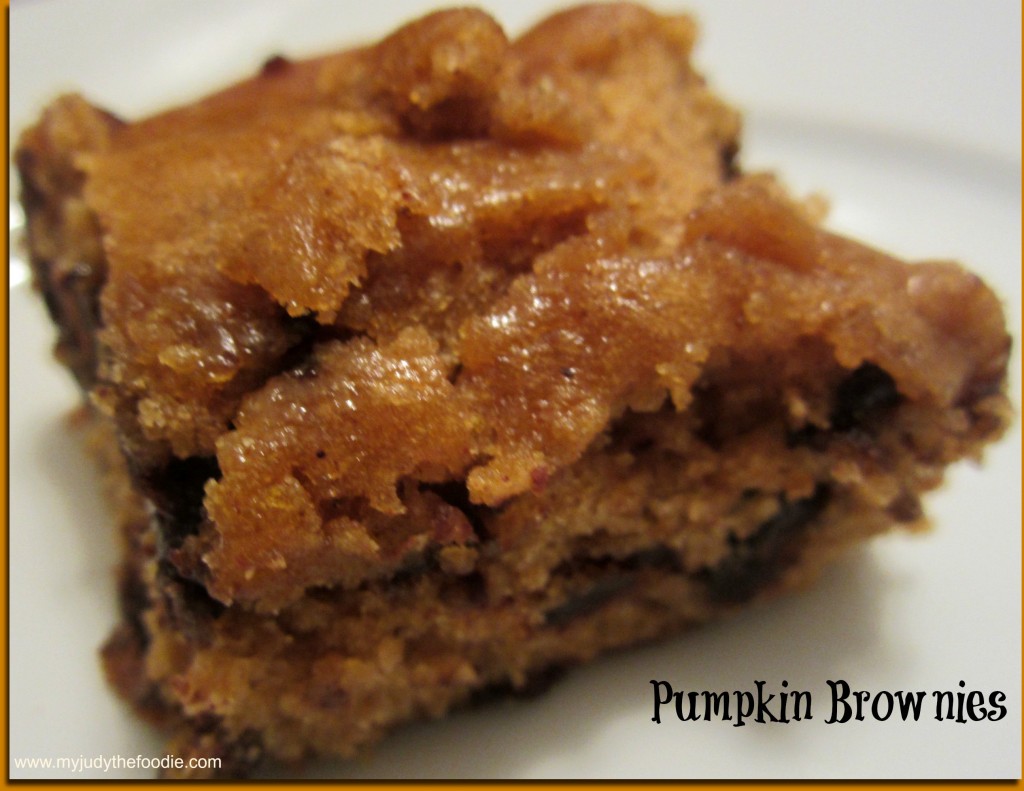 Need an activity for a rainy fall weekend with the kids?
Make Pumpkin Brownies.
It's that simple.
You probably have all of the ingredients in your pantry and fridge, except for some canned pumpkin.
I happened to have an extra can of pumpkin from my Pumpkin Cappuccino Chip Muffin assignment a few weeks ago.
In fact, it's so easy, my kids could've assembled the batter themselves.
Only 35 minutes in the oven and you've got moist, chocolaty Pumpkin Brownies.
The brownies tasted almost identical to my Pumpkin Muffins.  Obviously the pumpkin plays a very passive role in the overall taste of each treat.
In reality, the pumpkin serves to bind the ingredients together to provide a nice moist texture to the finished product.
Contrary to my assumptions, neither the brownies nor the muffins were bright orange (like that of an actual pumpkin).
Be careful, you're going to have a hard time restricting yourself.  These brownies are not too dense or too rich, all the more reason to eat two or three at a time!
Enjoy.
Pumpkin Brownies
Ingredients:
1 1/2 cups sugar
2 eggs
1 15.5 ounce can pumpkin
1/4 teaspoon salt
1 teaspoon nutmeg
1 teaspoon baking soda
2 cups flour
1/2 cup canola oil
1/2 cup water
1 teaspoon cinnamon
12 oz. chocolate chips
Instructions:
Preheat oven to 350 degrees.
Grease 9×13 inch pan.
In medium-size bowl, beat sugar and oil.
Gradually add in eggs, water and pumpkin.
And in the remainder of ingredients until thoroughly blended.  Then mix in chocolate chips.
Bake at 350 degrees for 35 minutes or until toothpick through center of brownies comes out clean.
Enjoy.