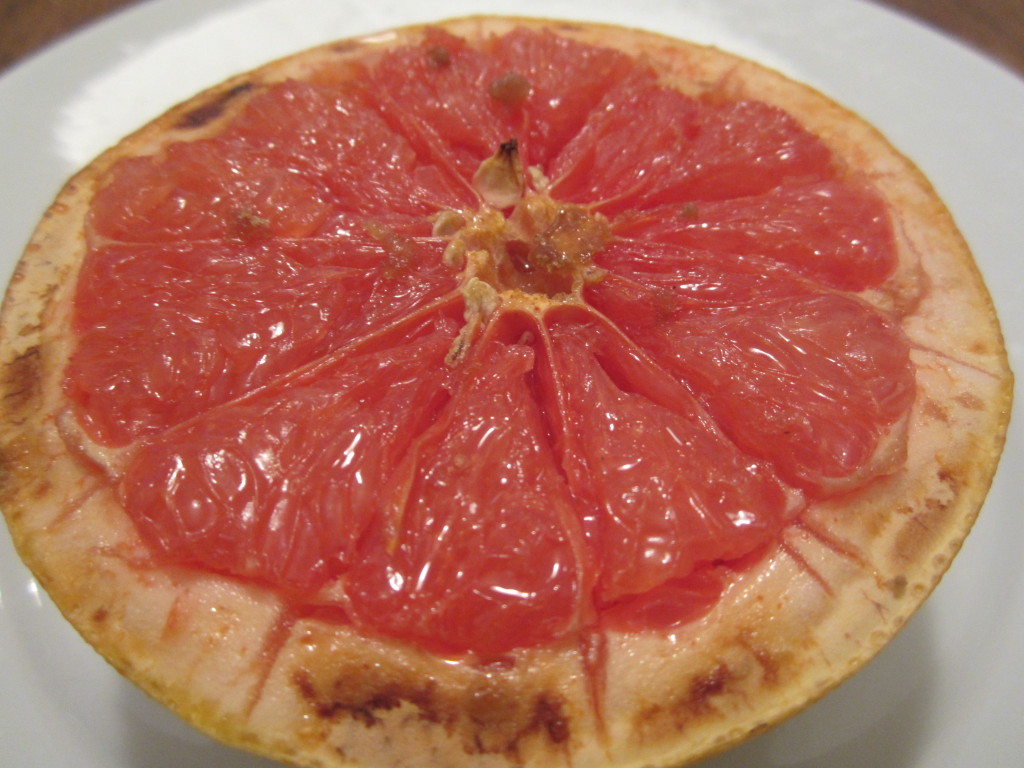 We spent the better part of the weekend packing and organizing many bags of clothing and dry goods to donate to various organizations for distribution to Hurricane Sandy victims. And, we capped off the weekend with a modest bake sale complete with crudely-baked cupcakes, signs and kid art.  In the end, the kids and friends raised over $1000 in under 90 minutes!  It seems as though everyone wants to help out; even the homeless man who came up to the sale and literally offered us the last $1 he had in his hand.
It wasn't until I finally got back to my apartment late in the day that I realized we not only had NO FOOD in the fridge and pantry (we gave all the dry goods away) but, I was not emotionally capable of cooking.  I needed  a good snack, something quick and easy that didn't require a trip to the market.  Besides, most of the markets in my neighborhood were either totally overrun with lines of impatient people or, they were missing much of their inventory due to the Hurricane.
I eyed the two lone grapefruits in the fruit crisper in my fridge and immediately knew I wanted to try replicate the BROILED GRAPEFRUIT I recently ate a restaurant.
Mom always served grapefruit at breakfast with specially-serrated grapefruit spoons for easy handling.  I remember she always sprinkling Sweet & Low atop her fruit.  But, I had never tried Broiled Grapefruit.  I loved its light and refreshing taste mixed just the right amount of tarty ZING, combined with a touch of sweetness from the sugar.  I knew it would be the perfect mid-afternoon pick me up remedy.
Plus, this recipe is just too easy to pass up.  All you need is a grapefruit, a working oven, and some brown sugar.
Simply segment the grapefruit flesh with a knife or special spoon.  Make sure the grapefruit can sit upright on a cookie sheet.  If not, you might need to cut the bottom to level it off.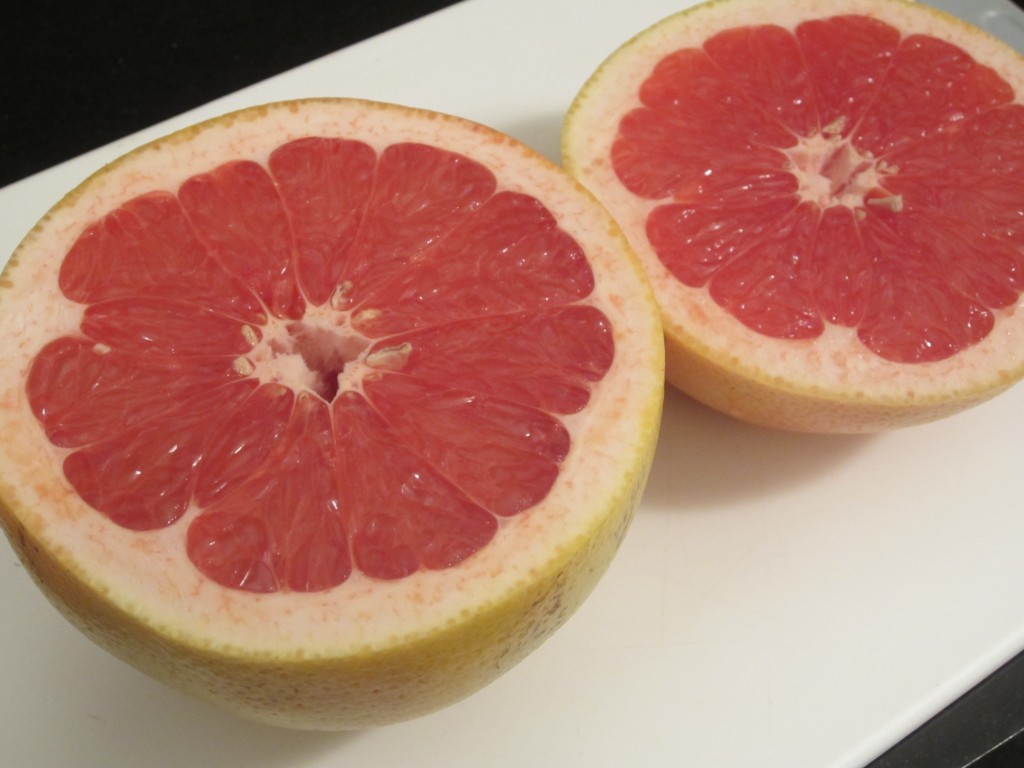 Then, sprinkle approximately two tablespoons of light brown sugar over top the fruit and place directly into the oven just below the broiler (you can also use honey, cinnamon and grated ginger).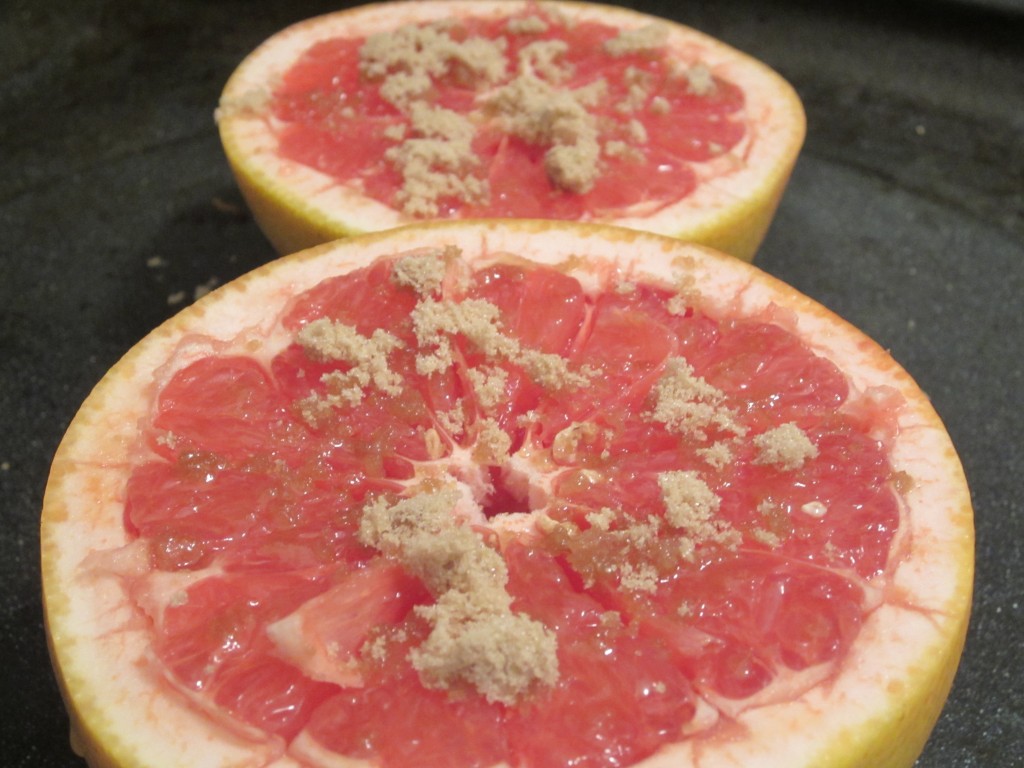 Let broil for up to 7 minutes or until the brown sugar melts perfectly into the flesh of the fruit and the top begins to brown.
You can serve warm or at room temperature – I liked mine warm.
Either way, you'll be pleasantly surprised, and you'll NEVER look at another grapefruit the same way again.
Enjoy.
Broiled Grapefruit
Ingredients:
1 grapefruit halved and segmented
1 -2 tablespoons light brown sugar
Instructions:
Place halved, segmented grapefruit on cookie sheet.  If grapefruit doesn't sit up, level off bottom with a knife.
Sprinkle brown sugar over top each half. You can also add some honey and cinnamon.
Place in oven with broiler set to HIGH.
Broil for approximately 5-7 minutes or until top starts to brown.
Take out and serve warm or room temperature.