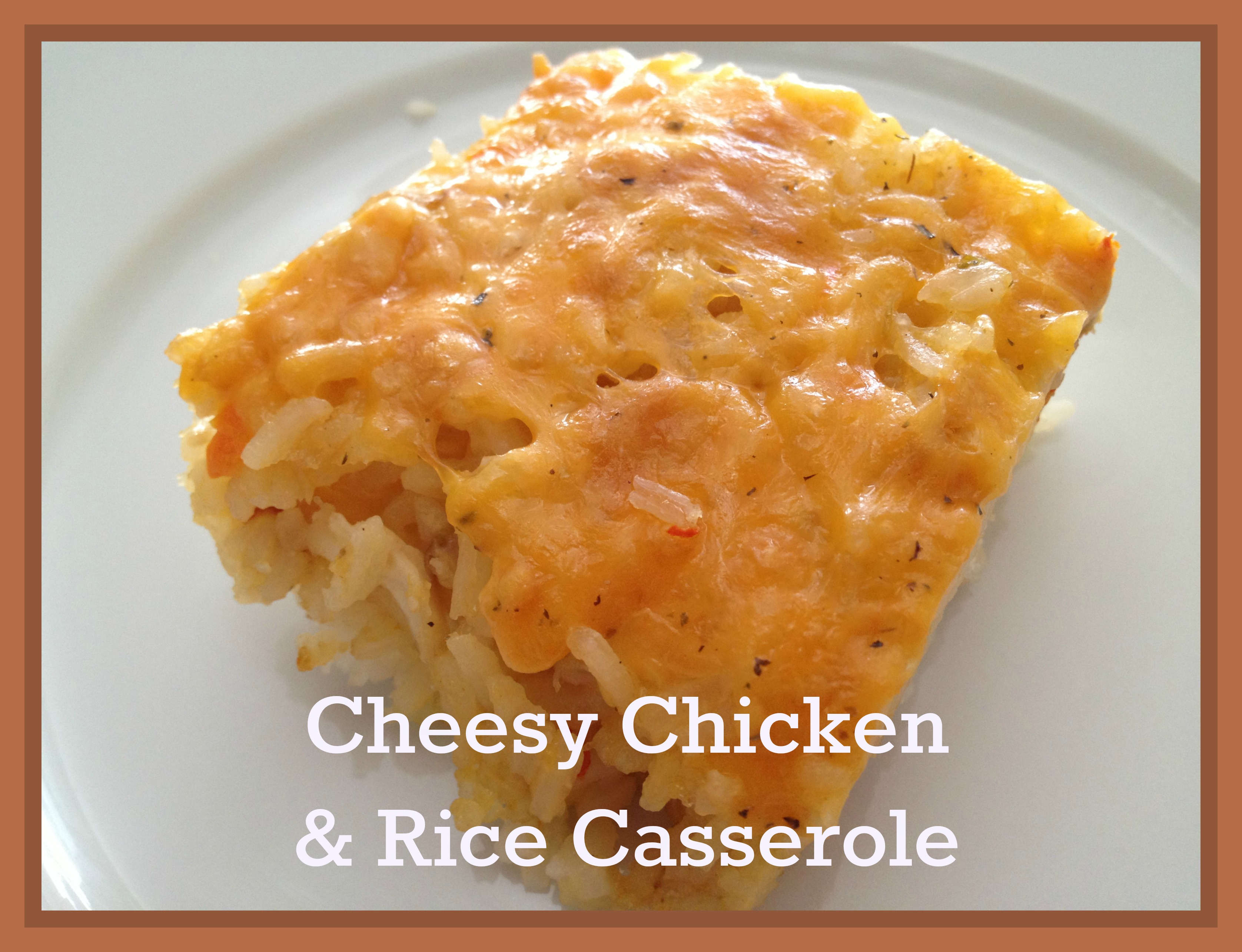 Yay!  It's my favorite day of the month, I get to reveal my Secret Recipe Club assignment for January.
I'm honored to be a part of this diverse international group of food bloggers.  In case you forgot, everyone in the Secret Recipe Club gets "assigned" a blog from which we are supposed to pick a dish to cook.  But, it's all done in secrecy.  It isn't until the ultimate reveal day (today) that everyone showcases their dishes and discovers who's been their secret foodie link.  This club has provided me valuable exposure to blogs I might not otherwise encounter.  And now you get to experience it too!
My assignment this month: FriedIceandDonuteHoles.  Melissa, the author of FriedIceandDonutHoles, started her blog because of her passion for cooking and baking. You can spend hours combing through her vast recipe archives and chances are, you'll earmark a bunch to put on your "to cook" list.  Next on my to cook list is Melissa's Spinach and Artichoke Stuffed Portobello Mushrooms!
For my Secret Recipe Club selection, I gravitated towards the Comfort Food section of Melissa's blog.  In the northeast, temperatures have barely peaked past 20 degrees this entire week.  It's been so cold, venturing outside seems like a punishment.  To keep warm, I've been cooking filling meals that leave my family  satisfied.  Not surprisingly, I had a hankering to try Melissa's Cheesy Chicken and Rice Casserole, knowing it would be hearty and tasty.  And, what kid doesn't love chicken and rice and lots of CHEESE? After perusing the recipe, I was secretly thankful it doesn't contain the traditional can of creamed mushroom soup.  But, dieters beware, this dish isn't the best for your waistline either.
My 7-year old was more than excited to help create the casserole with me.  He stirred the butter and cheese on the stove, transferred the chicken and rice mixture to the pyrex dish, and made sure everything was spread evenly with lots and lots of cheese to top off the dish.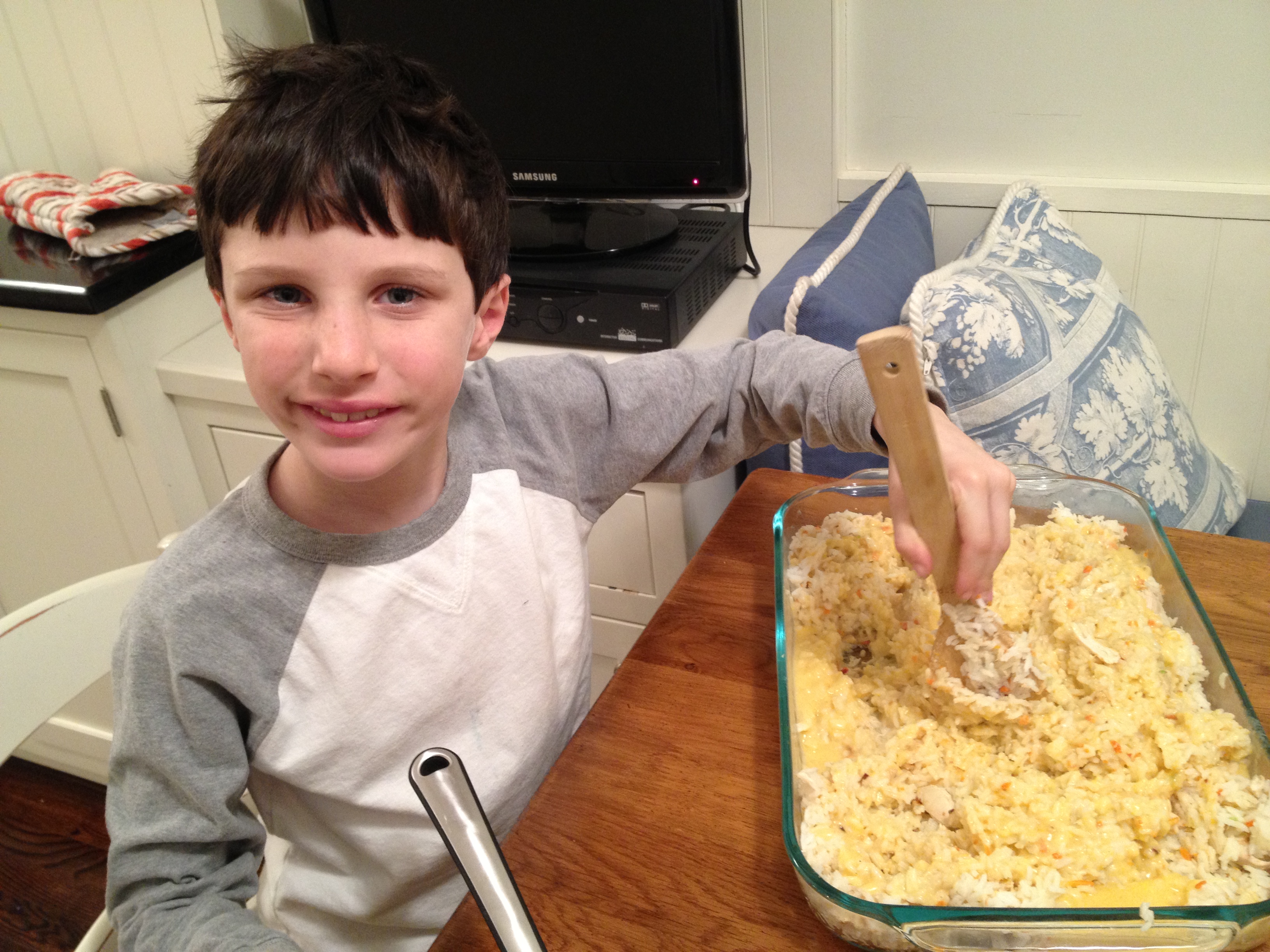 While the casserole baked in our oven, I apartment filled with pungent smells of cheese and garlic. We couldn't wait to dig in.  Note: transferring the dish in and out of the oven was a challenge in itself as the casserole seemed to weigh 1000 pounds!
On a frigid night, only six people practically devoured the Cheesy Chicken and Rice Casserole; one that should easily feed 8-10 people.
I can't wait for take 2 as I'm already concocting ways to tweak the recipe and add in more veggies like broccoli florets and red peppers.
Definitely check out FriedIceandDonutHoles not only for its wide variety of tasty recipes but also, to find out the meaning of its very peculiar name!
Cheesy Chicken and Rice Casserole
adapted from FriedIceandDonutHoles
yields: 8-10 servings
Ingredients:
3 tablespoons Olive Oil
1 Onion, diced
2 Celery Stalks, diced
3 Carrots, diced
2 tablespoons minced garlic
2 cups chicken breast, shredded and cooked (Rotisserie Chicken is good)

3 1/2-4 cups cooked Steamed White Rice (I used Jasmine)
1 teaspoon Kosher Salt
1/2 teaspoon Black Pepper
1/4 teaspoon Garlic Salt
Cheese Sauce:
4 tablespoons Butter
1/4 cup Flour
1/4 teaspoon Kosher Salt
1/4 teaspoon Black Pepper
2 cups Chicken Broth
2 cups Cheddar Cheese, shredded
Top with 1 1/2 cups shredded cheddar cheese
Instructions:
Preheat the oven to 350 degrees.
Heat the oil in a medium saucepan over medium heat.
In saucepan, saute the onion, celery, and carrots until softened, about 10 minutes.  Stir in the garlic and cook for 1 minute.  Add the chicken, cooked rice, salt, pepper, and garlic salt.
Reduce heat to low.  Meanwhile, prepare cheese sauce by melting butter in a medium saucepan over medium heat.  Whisk in the flour, salt, and pepper.  Slowly pour in the broth, whisking continuously.  Whisk until thick and boiling, then stir in the cheese until melted.
Pour the cheese sauce into the rice mixture in the saucepan and then transfer to a 9×13 inch baking dish.
Top generously with additional cheese and bake for 15 minutes, or until the cheese is melted through.  Then place casserole under the broiler until the cheese starts to bubble.

Serve immediately.