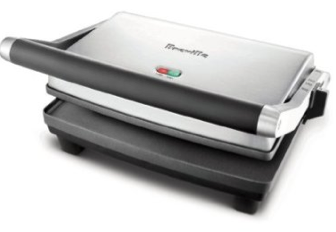 Who doesn't love a nice warm perfectly pressed Panini?
I'm drooling over the thought of a veggie-based Panini filled pesto and warm melted mozzarella cheese.
My daughter would love a turkey and cheese Panini with tomatoes, basil, olive oil and pesto.
My son loves a salami filler.
No matter your preference, hands down, fresh Panini sandwiches are tasty and delicious.
How many times have you ordered a Panini at a restaurant and wished you could replicate all that warm goodness in the comforts of your own kitchen?
Imagine sinking your teeth into that perfectly toasted piece of Foccacia, ciabatta or sourdough bread snuggly packed with meats or veggies or cheese. Oh my!
Well, say goodbye to those soggy pieces of wheat bread messily made with cold slices of American Cheese.
Say HELLO to your new gourmet Panini sandwich!
Yes, that's right.  You have a chance to enter win your very own Breville 1500-watt Duo Panini Press complete with:
nonstick, scratch-resistant Quantanium cooking surface
Flat bottom plate for fast, thorough cooking; ribbed top plate creates grill marks
Floating hinge; 4 height settings; on/ready lights; nonslip feet; locking storage clip
Cord wrap; brushed stainless-steel housing; user manual with recipes included
Measures 13 by 11-3/4 by 5-1/4 inches; 1-year limited warranty
And, afraid you're just not going to know what to do with your new kitchen appliance?
Don't fret.  We've got that covered with your own copy of the book, "200 Best Panini Recipes."  Yep, over 200 different Panini sandwiches recipes at your fingertips.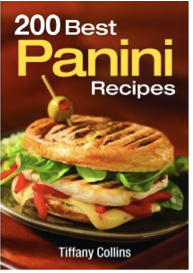 So, what are you waiting for?
Go on, enter to win.  It's too easy:
Giveaway Details:

One (1) lucky winner will receive the Breville 1500-watt Dual Panini Press and the 200 Best Panini Recipes Book!

How to Enter
To enter to win, simply leave a comment at the bottom of this post telling me your favorite Panini .  That's it, you're entered!
Additional (Optional) Entries
To up your chances of winning, you can receive up to FOUR additional entries to win by doing the following (these are optional, not required):
1. Subscribe to My Judy the Foodie by RSS. Come back and let me know you've subscribed in an additional comment.
2. Become a fan of My Judy the Foodie on Facebook. Come back and let me know you became a fan in an additional comment.
3. Follow My Judy the Foodie on Pinterest. Come back and let me know you've followed in an additional comment.
4. Follow @myjudythefoodie on Twitter. Come back and let me know you've followed in an additional comment.
The Fine Print
Deadline: Monday, December 17th 2012 at 11:59pm EST.
One will be chosen at random using Random.org and announced at the top of this post. The winners will also be notified via email and the My Judy the Foodie fan page on Facebook; if the winner does not respond within 48 hours, another winner will be selected.