photo courtesy of The Crepes of Wrath
The cold weather plus 2 weeks of winter vacation has inspired me to bake.  I love basking in the warmth from a kitchen full of the sweet smells and heat wafting from a working oven.
I was so inspired last week when I met Christina Tossi, head pastry chef of Momofuku Milk Bar, that I decided to recreate one of her celebrated cookie recipes: Corn Cookies.  And, lucky for me, Christina happily shares this recipe with her fans, unlike many other head chefs who keep many of their culinary creation close to their chests.
Ok.  So, I've eaten corn muffins.
I've baked corn muffins.
But, they've always been unsatisfying – dry and crumbly.
Christina's cookies are the complete opposite.  They're puffed and cracked. They're slightly crunchy on the outside and surprisingly moist and flavorful on the inside.  They taste like the most satisfying bowl of Captain Crunch cereal without all that sugar that seems to sting your teeth!
When you read the recipe, you'll note that Christina uses corn flour.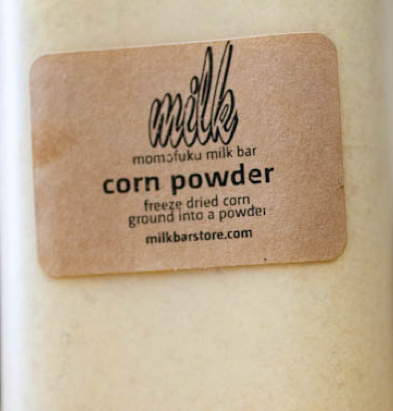 This ingredient is challenging to find which can be a bummer.  I got mine at Whole Foods but, don't fret if you can't locate it. Christina advises substituting it with flour and freeze-dried corn powder that is essentially freeze-dried corn (from Whole Foods or Amazon.com) ground down to a powder in the blender.
Best part about this recipe? You can make the cookie dough and refrigerate it from one hour up to one week before using too!  This step (I learned) is crucial to allow the cookies to maintain their shape when they bake.  You simply can't transfer the cookie dough from room temperature right into the oven; the cookies won't bake properly.
I decided to throw in some extra mini chocolate chips (because who doesn't love the addition of chocolate chips).
Next batch, I'm thinking I'd also like to try dried cranberries or perhaps some crushed nuts too..
Enjoy!
Corn Cookies
(adapted from Momofuku Milk Bar Cookbook)
13-15 cookies
Ingredients:
2 sticks unsalted butter
1 ½ cups sugar
1 egg
1 1/3 cups flour
¼ cup corn flour
2/3 cup freeze-dried corn powder
¾ teaspoon baking powder
¼ teaspoon baking soda
1 ½ teaspoons kosher salt
½ cup mini chocolate chips
Instructions:
Preheat oven to 350 degrees.
Combine butter and sugar in the bowl of an electric mixer; cream together on medium-high for 2-3 minutes.  Scrape sides of bowl, add egg, beat for another 7-8 minutes.
Reduce mixer speed to low and add the flour, corn flour, corn powder, baking powder, baking soda, salt and chocolate chips.  Mix until dough comes together- not longer than 1 minute.
Portion out dough onto parchment-lined pan using ice cream scoop onto .  Pat tops of cookie dough flat.
Wrap the sheet tightly in plastic wrap and refrigerate for at least one hour or up to one week.
Bake for 18 minutes until edges are faintly browned but center is still bright yellow.
Cool cookies completely on the baking sheets before transferring to plate or air tight container for storage.
Enjoy!